We are set to eliminate the need for half a million single-use plastic bottles every year as part of an initative to reduce pollution.
First launched almost two years ago, the £170,000 'Message in a Bottle' project will see the removal of single-use bottles from packed lunches and from sale across our network of 150+ youth hostels. Over 100 publically accessible water fountains will also be available at some of our busiest sites.
These measures are expected to make a real difference when school trips are able to resume fully. Project funders Waitrose & Partners recently published a report on the progress we have made. This report covers five projects the supermarket company has supported through their £1m Plan Plastic fund, which orginated from the sale of 5p carrier bags.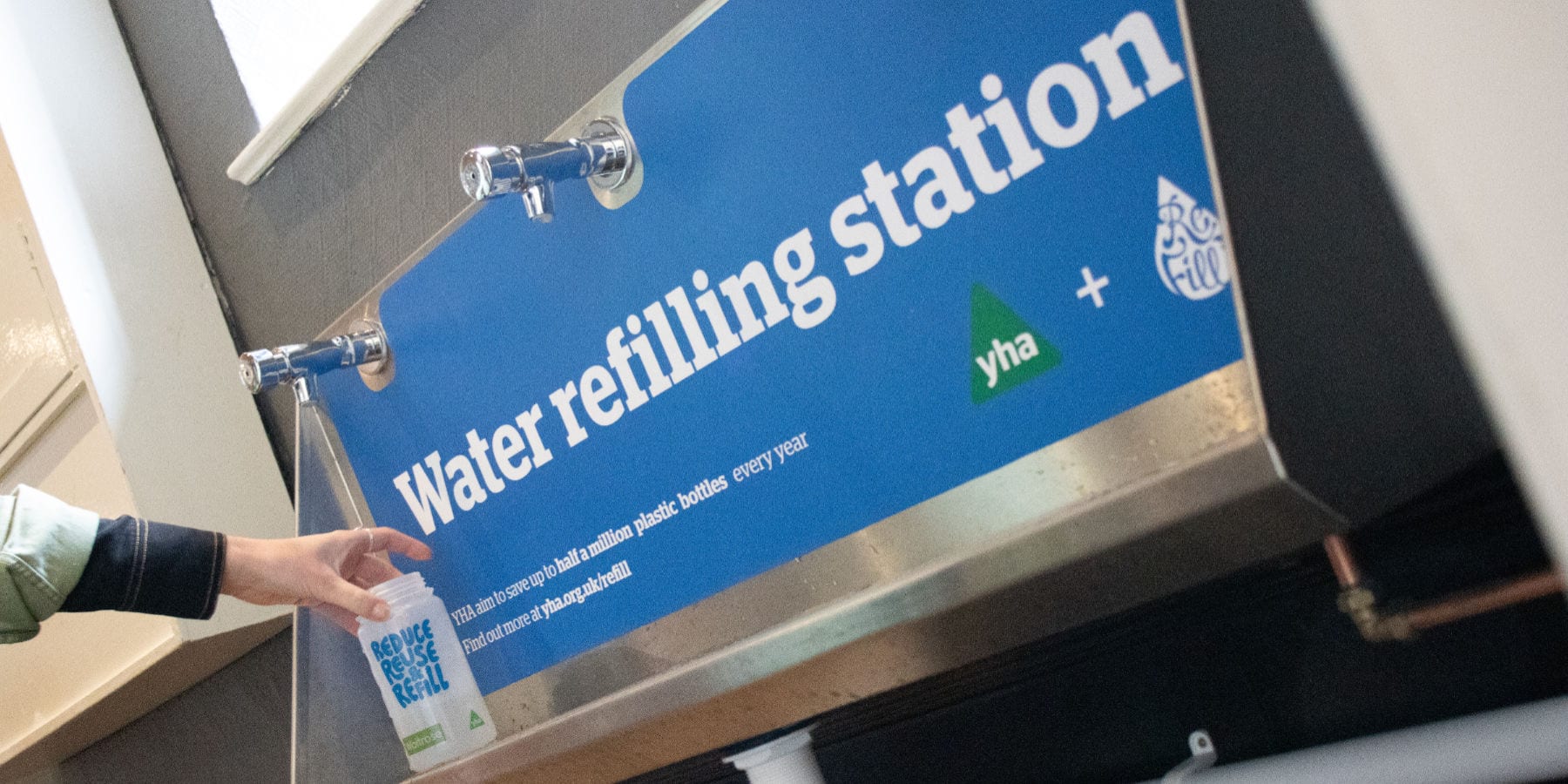 About the project
Each year, we included a single-use bottle of water in each of the 450,000 packed lunches given out for school trips. We sold a further 50,000 single-use bottles of water through refreshment kiosks and vending machines.
We wanted to eliminate the need for any single-use bottles by installing public water fountains at the majority of our hostels. This would reduce plastic waste and educate visitors about plastic pollution using signage at the fountains.
To date, the project has:
Funded the installation of 56 water fountains with nine more awaiting planning consent. A further 15 fountains are due to be installed using project underspend. When all installations are complete there will be over 100 fountains.
Ensured the fountains are publicly accessible and listed on the Refill app, allowing passers-by to refill and avoid single-use bottles.
Led to a review of the single-use plastic used elsewhere by us. Over 100,000 plastic straws and stirrers have been replaced with more environmentally friendly alternatives. We are also planning to replace single-use sauce sachets with pump dispensers.
Influenced the wider environmental sustainability of meal provision. We have experimented with different methods of offering packed lunches, which has reduced food waste and use of paper bags.
Generated annual savings of approximately £100,000 for YHA as we no longer have to purchase single-use water bottles.
The water refill station was the catalyst for a display we created with children staying at the hostel. We wanted to create something which focused minds, highlighting beach waste, recycling and other environmental issues. We created the "How long till it's gone?" whale collage made of different plastics we collected on the beach during our regular beach cleans.
The impact of the pandemic on the YHA has been enormous. All school trips have been cancelled since the start of lockdown in March and visitor numbers have been decimated. Many hostels have closed and some have been repurposed to accommodate key workers and the most vulnerable in support of the national effort. The restrictions have also delayed the installation of nine water fountains.
What's next?
YHA will install the remaining water fountains. We also plan to start delivering environmental messages to children on arrival, as soon as school trips are able to resume fully. The reduction in single-use water bottles will continue year-on-year, saving half a million bottles annually. The project will be included as a case study in YHA's new environmental strategy, enabling other youth hostel association's worldwide to learn from its success.
Discover where we have installed water refill stations across the YHA network.