Salewa 
Mountain Trainer Mid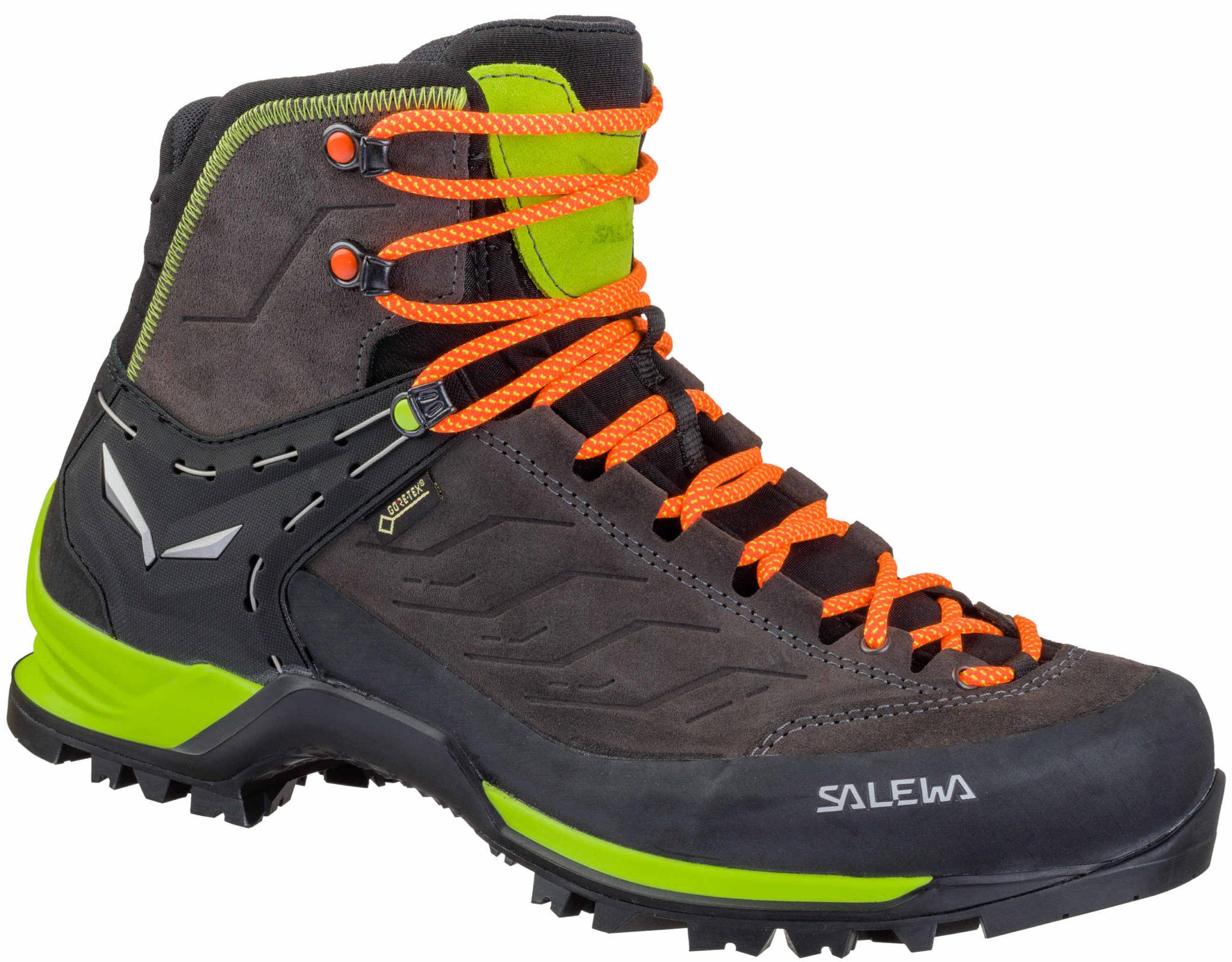 I'd like to be confident that I don't just love these boots for the neon laces, but you can never be  sure. What I do know, is that the Salewa Mountain Trainer Mid GTX is one of the most comfortable and confident-feeling boots I've tested. The cushioning underfoot has that 'straight out of the box' comfort, but it also envelops the heel snugly, and, after a long day out, I didn't feel much pressure on the knees. The lacing starts down by the toes, getting a good fit all along the foot. The supple suede uppers also flex well and I'm sure they'll last with care. And I am rather fond of the laces.  salewa.com
Daniel Neilson
The verdict
Although not superlight, this is a great boot designed for long days of walking and, for me in particular, backpacking.
1000 Mile 
Heat Walk Sock 
There's a school of thought that suggests the socks you wear to hike in are as important as the boots you wear. I'd concur in as far as saying that when you're wearing a quality pair of walking socks, it can make a considerable difference. Here's an excellent case in point. The socks go for under £20 but feel and look technical – which they are. A double-layer construction keeps your feet comfortable while wicking away moisture, and all-over padding keeps things toasty. I put them to the test on a chilly 16-mile hill walk in October – they'll be chalking up a fair few more in the months ahead.  1000mile.co.uk
Ben Lerwill
The verdict
They're warm, comfortable and well-made, making them a wise investment if you're going to be hiking in the cold.
Sherpa 
Nima Tee LS 
A lot of base layers have the look of something you might wear to run a marathon. Not this one. It looks and feels so much like cotton casual wear, in fact, that it initially puzzled me. Closer inspection proved enlightening – it's 85% polyester and 15% Drirelease® fabric, the latter being antimicrobial and breathable. What does this mean in practical terms? You can wear it for two or three days at a time without it getting smelly, you can stuff it into your backpack without it getting all creased and you can rely on it to wick away sweat from your body. It comes in three colours, and even looks pretty good with jeans. On top of all this, part of every sale goes to Sherpa Adventure Gear's fund to help Nepalese children.  sherpaadventuregear.com
Ben Lerwill
The verdict
A base layer that does the essential stuff while also serving as leisurewear. A fine option for hurried packers.
Casio 
Pro Trek Smart 
After several years of asking, and proving many times that I could tell the time on a watch with hands on, I finally got a Casio watch with a calculator on it aged eight. It was 'the future'. I was wrong. This is. The robust exterior of this GPS-enabled watch conceals some astonishing technology – it shows full colour maps (on and offline), holds a compass and barometer, and gives activity status for trekking, paddling, cycling and skiing. The touch screen is intuitive, plus it's voice activated. After linking it to Wear OS by Google on your Android or iPhone, it can also stream GoogleMaps, Play Music, Google Fit and Google Translate as well as third-party apps including ViewRanger. The future does come at a price however: £350! cotswoldoutdoor.com
Daniel Neilson
The verdict
One of the easiest-to-use smart watches designed for the outdoors. It's durable with an almost endless list of functions for trekkers, paddlers, cyclists and more.