The year is 1874. Queen Victoria is almost forty years into her reign, post boxes are first painted their iconic red, Winston Churchill is born at Blenheim Palace, and St Paul's Cathedral Choir School is built.
In 1968, to cope with the huge demand for London hostel accommodation, the former school is turned into a temporary hostel. By 1986, this is the most popular hostel in the capital.
Here's a little hostel history.
Constructed in London's signature Portland stone, adorned with classical motifs and carrying a Latin inscription that runs the length of the building, the exterior is really quite something. When it was a school, the flat roof provided playground space and even doubled as a hockey pitch. Inside, there were two dormitories, a day room, dining room, infirmary, surgery and an oak-panelled chapel. Today, the chapel is a meeting room but you can still find schoolboy graffiti carved inside a cupboard door.
So how did it become a hostel? Well, in 1960 YHA accommodated 90,000 stays in the capital. Just shy of thirty years later and that figure had more than tripled. The post-war international tourism boom had created huge demand. To keep up, YHA leased public buildings during peak season to prop up its three permanent London hostels. More than 35 temporary hostels were used over four decades. In 1968, St Paul's Cathedral Choir School became one such temporary measure.
The choir school had moved to a new site in the fifties. Planners had decided to demolish the area to make way for a coach park. Thankfully, the sixties brought a change of heart and one of the last parts of old London was saved. Opportunism (and the transporting of 240 borrowed beds from Earl's Court) brought success, and the first summer saw almost 30,000 overnight stays in just twelve weeks.
In the late seventies, the promise of a continuing lease was secured and a programme of works to clean the exterior, overhaul the electrics and introduce adequate heating began. Washrooms and toilets were refurbished, and a new leisure room was added in the basement.
By 1986, with the hostel at St Paul's outstripping all other London hostels, the decision was taken to modernise. The hostel closed in 1990 for a complete refurbishment that would take two years. A 'computerised reception'; new, licensed cafeteria; modern central heating; high-tech fire and security systems; and smaller dorms are listed amongst the upgrades.
Since that £5 million investment in the eighties, there have been several smaller renovation projects. Most recently, in 2017, Mace Foundation gave 500 hours of staff time as well as paint and flooring supplies to redecorate the hostel's bedrooms and communal areas.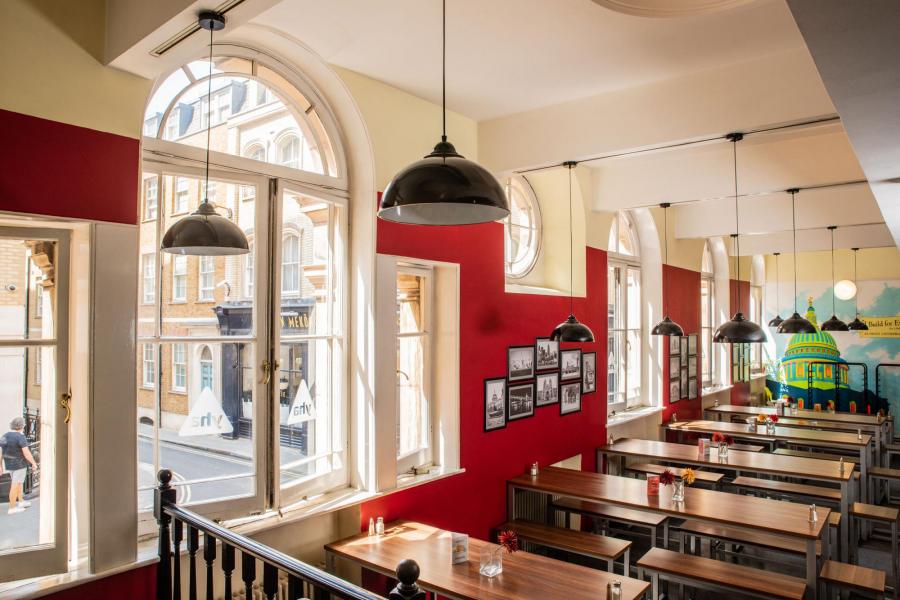 Today, YHA London St Paul's offers a prime location for visits to world-famous attractions. The Cathedral is less than a hundred metres away and Shakespeare's Globe is a stroll over Millennium Bridge. Alternatively, go west through Covent Garden for the bright lights of Theatreland.