YHA Idwal Cottage Youth Hostel 1931 to present
In 1929 and 1930 pioneering Merseysiders were dreaming of a courageous new plan; inventing a British version of the German jugendherbergen to open exploration in North Wales. They imagined a loop of simple hostels from Liverpool to Snowdon and back, spaced 15 miles apart, each a hard day's walk away from the last. YHA Idwal Cottage was one of four planned hostels. It opened on Good Friday, 2nd April 1931 and became an almost overnight success.
In YHA Idwal Cottage's first year of operation, camp beds had to be squeezed into every available space to accommodate the mountaineers that crammed here to conquer the mountains of Snowdonia. In 1932, a quaint wooden sleeping hut from St Michael's hostel was relocated to Idwal. It was used as an overflow dormitory, wet-weather refuge and a cycle store. There was a good deal of approved 'sleeping under the stars' on the veranda and in 1937, canvas screens were provided to create a little more comfort.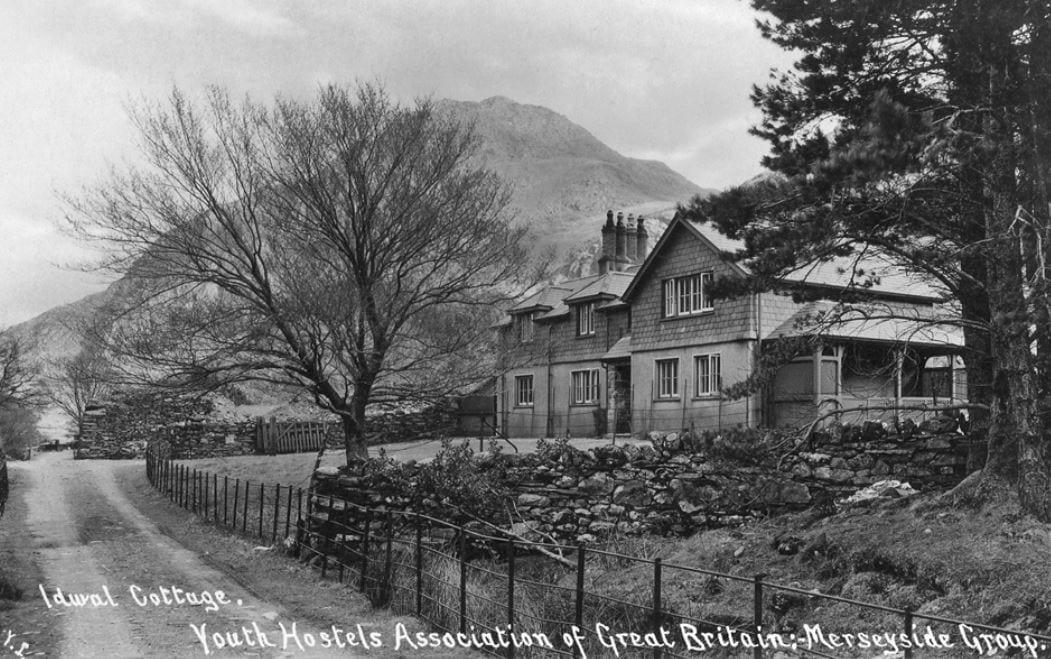 YHA Idwal Cottage was kept from requisition and operated throughout the war, making it a highly prized escape from the turbulence of the chaos hitting places close by. By now Idwal was getting very popular with an occupancy figure of 58%, the highest figure of all the North Wales hostels.
In the 1950s, extensive improvements had begun on the hostel but due to lack of finance, the refurbishment was delayed and took around five years to complete. YHA Idwal Cottage reopened in May 1959. In 1971, refurbishments continued with attempts to improve the electricity in the hostel.
Around the same time, extra beds were made available to accommodate the hundreds of people interested in climbing Snowdon. YHA Idwal Cottage started with 32 beds in 1931, increasing to 42 within two years. The number of beds gradually increased and peaked in the 1970s to 68. Since then, a plan to create greater comfort and privacy for guests was underway and reduced capacity to 44 in 2000 and 36 in 2014 due to the chapel, which include two dormitories, being removed from service.
Fast forward to today, this eco-friendly hostel offers superb Snowdonia accommodation for activity breaks in the Ogwen Valley and is surrounded by all the area's geographical wonders. The hostel is great for strolls to the Cwm Idwal nature reserve, or for walking holidays on the Cambrian Way or the Welsh 3000s. The hostel is still very popular today, just as it was all those years ago.