YHA Manchester [Castlefield] Youth Hostel 1995 to present
For this month's Throwback Thursday, we're looking at the history of another of YHA's popular city hostels.
The final decade of the 20th century seemed a very good time for the opening of new youth hostels in England's larger cities. New hostels were opened in Bristol, Rotherhithe and Liverpool, taking positive advantage of the generous deals from Regional Development Funds and the welcoming arms of city councils, keen to establish urban and tourism enterprises to replace tired eyesores.
The first mentioning of a youth hostel in Manchester was in the year of 1992 and by June 1994, construction began. Building work was underway and completion was expected in December that year, with the official opening to be March 1995. This city centre had made a significant contribution to attractions in and around the city by providing budget accommodation for both groups and individuals where none existed previously.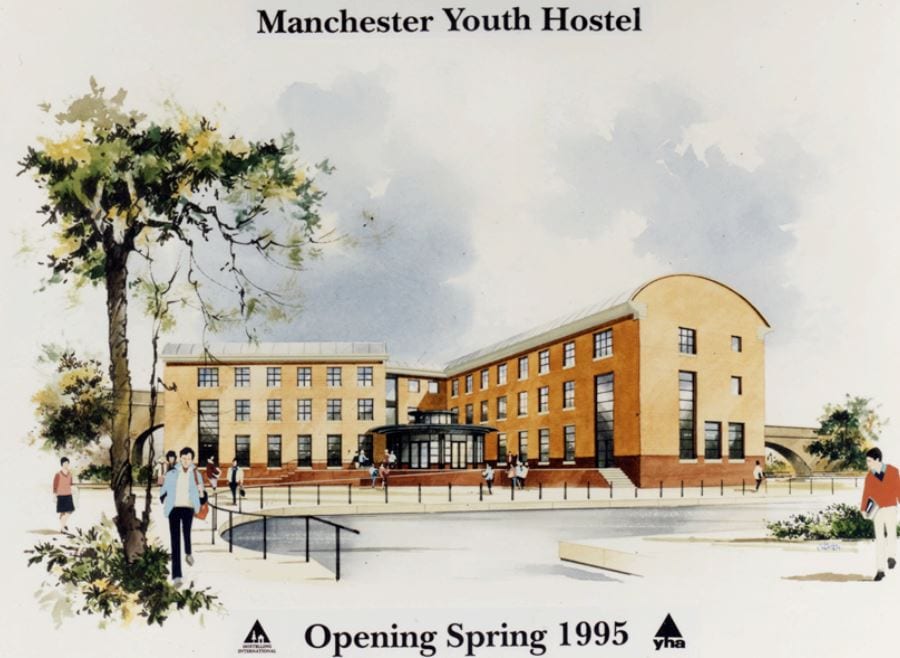 The hostel was a roaring success. With 31,000 overnights in its first, incomplete year, and almost 40,000 in 1996, when bed numbers were increased from 154 to 160. The hostel continued to grow consistently throughout the years, but after 14 years of intensive use, YHA Manchester was ready for refurbishment and modernisation. A £500,000 project was carried out as part of YHA's Change Programme, a networkwide refurbishment project aimed to provide guests with the best possible accommodation experience. The refurbishment scheme aimed on improving the food and opening the bar and restaurant to the public. A new kitchen and servery were installed, and a new bar area was created. All other public areas within the building were given a modern look and new furniture to fit the urban city the hostel was based in.
The official re-opening was on 20th October 2008, and the event aided visitors to get a first glimpse of the new improvements. The hostel continued to grow in popularity, with visitors from all over the world booking a stay.
Today, YHA Manchester is a great city centre base and is within easy reach of some of the best shopping, sport, nightlife, museums and theatres in north of England. Book your stay at YHA Manchester today.