By Jenny Lunnon, YHA's Family Ambassador
Are you a town mouse or a country mouse? If you stay at YHA South Downs in East Sussex you don't have to choose. A picturesque old farm with plenty of outdoor space, it makes a great base to explore the undulating chalk lands of the National Park. Alternatively, head 300m down the lane to tiny Southease railway station and hop on one of the regular trains that will whisk you to the historic town of Lewes in only seven minutes, or to the bright lights of Brighton and Hove in 25. 
We last visited the area in February 2020. A circular walk took us along the River Ouse, past flint-studded St Peter's Church and Virginia Woolf's home, Monk's House, in Rodmell, then up on to the Downs where the children enjoyed leaning into the wind and playing with sticky chalk on the paths. The hill tops would have been a great place for kite-flying, if I'd remembered to bring it. Afterwards we warmed up with hot chocolate in the hostel's Courtyard Cafe.
When it was too wet and windy for walking we headed for Lewes. It's an unspoilt small town, its streets lined with interesting buildings. Landmark Lewes Castle, which can be seen for miles in every direction, makes a worthwhile visit. Because of the rain, we were grateful for the brass-rubbing and other kids' activities at Anne of Cleves' House and museum, and for the cafe with home-made butterfly cakes. When it cleared up we visited Priory Park, which has a playground with a fort and a built-in trampoline, and walked sideways down unbelievably steep, cobbled, Keere street. There's a cinema near the railway station called Depot and many independent shops, including The Tom Paine Printing Press gallery, which sells cards and prints by local artists.
In Brighton and Hove there are lots of things to do with children, such as the i360 viewing pod, the aquarium, and ice-skating outside Brighton Pavilion in winter. But these attractions are all quite pricey, and it's just as enjoyable to simply wander around and see what the creative people of this diverse, inclusive city have been up to. There are sculptures all along the regenerated sea front, including a giant bronze 'doughnut' and two mighty whales' tails. Some convey a message about waste and pollution, such as the terrifying seagull made from old wheelie bins and car bumpers, at Hove Lagoon, and a rainbow painstakingly strung together from more than 29,000 discarded plastic bottle tops, near Volk's Electric Railway.
Brighton is also known for its murals and street art: we liked the subway honouring Rag'n'Bone Man and other music heroes of the city, near the aquarium, and the penguins we found cheering up some street furniture. There's an open air all-weather photo gallery right on the pebbles near the i360 and a seafront playground called King's Road. Small cafes and shops occupy the arches all along the beach, and those in the Lanes and North Laine boast some impressive window displays, from light bulbs to chocolate sculptures.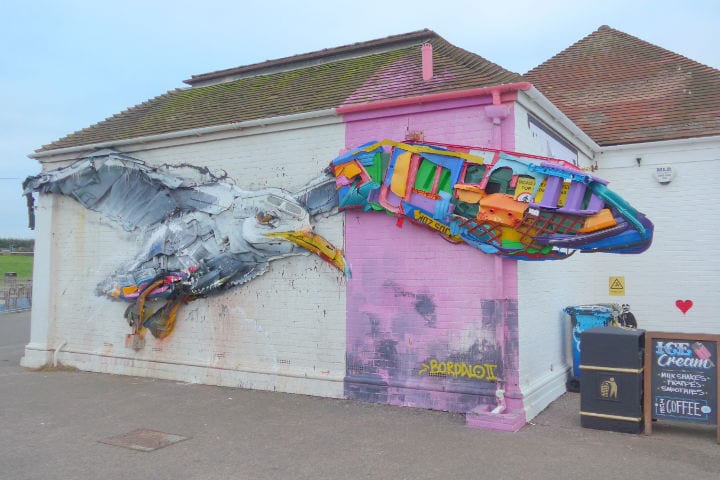 The Jubilee Library in Jubilee Street includes a welcoming children's library, a haven on a rainy day. In community-run Norfolk Square Garden we chanced across a 'Kids' Little Free Library' for book-swapping, in a small wooden house painted with a quote from Dr Seuss and overlooked by a sculpture of The Lorax. Brighton Museum near the Pavilion has displays of unusual furniture, ceramics, and textiles that will appeal to some children, and there are kids' activities such as story-telling events.
Although the beach is mainly pebbly, there are big patches of sand too, and if you walk along the undercliff path in the direction of Brighton Marina and Rottingdean you will discover strange, white, snow-like deposits of chalk on the beach. If you're in the area between October and March, don't miss the great free spectacle that is a starling murmuration: huge clouds of birds whirling over the disintegrating West Pier just before dusk.
At weekends and on public holidays you can use the 'Breeze up to the Downs' bus services to explore other parts of the South Downs, for example by taking the 79 service up to Ditchling Beacon and walking to Devil's Dyke, where you can catch a 77 bus back to Brighton. Look out for the para-gliders fearlessly leaping off the ridge by the Devil's Dyke Hotel!
We think the best end to a day in Brighton is a cone of crispy-not-soggy Belgian chips eaten outside on the Palace Pier.
Please check before visiting to see if facilities and attractions are open at present and whether you need to book in advance.
Monk's House in Rodmell is managed by The National Trust.
Lewes Castle and Anne of Cleves' House are managed by Sussex Archaeological Society.
Breeze up to the Downs bus services.
As well as private rooms, YHA South Downs offers cosy heated camping pods in winter.
Read more about Jenny's adventures here.
Discover more about YHA.