Dwayne Fields came to the UK from Jamaica when he was six. He was brought up in inner-city London, wrapped up in the world of street gangs, until a near-death experience convinced him to change his life path. In 2010, he became the first black Briton to walk over 400 miles to the magnetic North Pole, and ever since he's dedicated himself to inspiring other young people to get outside. Dwayne spoke to The Journey in the middle of planning his next expedition – a walk across Antarctica with a fellow adventurer.
Q: You're planning to cross Antarctica on foot with travel writer Phoebe Smith for a project called #WeTwo. Where did the idea come from?

So I've been wanting to get to Antarctica for the past six or seven years, ever since coming back from the North Pole. It's been like: OK, what's next? I need to do something as big, if not bigger, to keep this message going. About two years ago some of my team mentioned Phoebe's name and we started following each other on social networks. We were both giving out awards at Buckingham Palace and we got to talking. Then we met again at Blenheim Palace about a year ago. We sat down and Phoebe asked what I was up to, and I said I'm working on getting to Antarctica. She said: "That sounds amazing – I'd love to come." And it was as simple as that.

Q: What is the message you want to push?

That's an easy one. The message is, regardless of where you come from, whether you're a white woman, black man, we all seem to be underrepresented in the world of adventure. So we said this a great way to show all the young girls out there, all the young black and ethnic minority kids out there that it doesn't matter where you come from – if you work together you can achieve a goal.

It's not about knocking the white middle-class males that want to do this, but we're saying there's scope for growth. There's room for everyone. The second main focus is that we strongly believe in the environment and protecting it. We understand that to get other people to buy into it, they need to experience it. I've spoken to young people about places like the Arctic or the rainforest and these are distant places to them. The moment you introduce them to wildlife or bring them out into a forest and explain what happens when a forest is working properly – that has an impact. They start to realise it does affect them. It gives them a first-hand buy-in that they can share with their peers. It's a great way to bring the next generation into safeguarding the environment that we live in, as well as the environment further afield.

Q: Why is it so important to inspire young people?

We're currently facing a health crisis, we are getting bigger, we're suffering from more lifestyle-related health issues. It's been proven scientifically that the outdoors improves your health. We're seeing an increasing number of mental health problems, but there's a certain level of peace and safety you feel when you're in the outdoors. It's a great way to socialise too.

Q: In your experience, how do young people from the inner cities benefit?

About two weeks ago I took a mixed group of 17 people out on a night-time hike. It was about 3 o'clock in the morning, we were walking in a forest. Many of them had never met each other before, and the way they were communicating and talking to each other, they were being exactly who they should be at that age: 17-, 18-, 19-year-olds who were just enjoying each other's company. It didn't matter where they were from, what their backgrounds were, what estate they grew up in or their socioeconomic backgrounds, it was everyone doing the exact same task at the same time and fully immersing themselves in it.

I believe that's a good thing. If you can look at someone from a completely different world to you, someone who looks completely different, and think 'actually, we can have a shared experience'. That's missing in society. It's a great leveller.
I'm always saying that nature doesn't care who you are, what you look like or where you come from, the moment you're out there,
it rains on you just as much as it rains on the next person, and if its cold for you it's damn sure cold for the next person as well.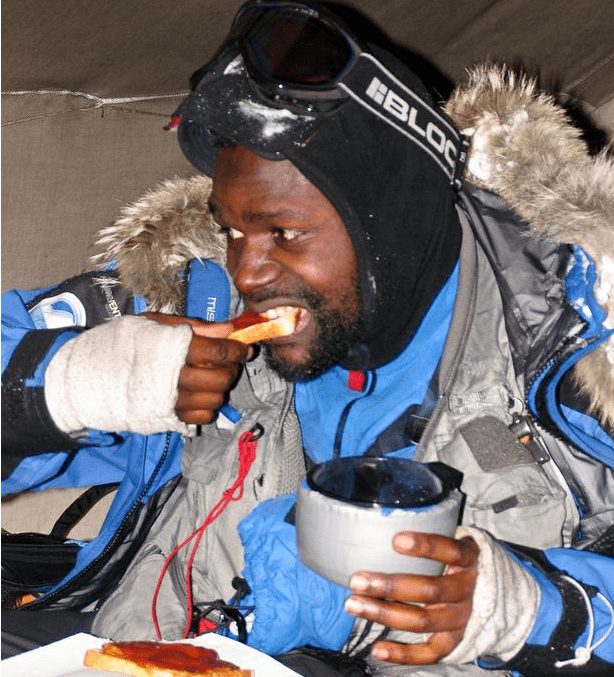 Q: What was your experience growing up, and how did nature provide an antidote?

I grew up like many young people, in an estate. You have a group of friends on that estate. You don't go to school. I ended up getting stabbed by some boys outside of my area, I was in the wrong place at the wrong time. At one point I was robbed at gunpoint. I didn't carry a knife, I didn't carry a gun. But I was really lucky in that I experienced a different way of life, so when these things happened, I realised I was being pulled in a direction I didn't want to go in. I had peer pressure, people saying I should get these guys back, but I thought to myself, well, actually, I don't want to. I'm happy I'm
going to be me.

When I first came to the UK from Jamaica, I was the kid who was vibrant and alive. I loved the outdoors, I liked climbing trees and being active, but I realised very quickly I couldn't walk into the playground and climb the tallest tree anymore. I lost my place in the world and I decided to find a new place, to keep my head down. That's how I was from the age of seven all the way up till about 20, when I decided, actually Dwayne, you need to go back to being you.

I decided to be myself. And the most honest version of myself I could refer back to was that little kid. I decided I'm gonna pursue those things that made me happy, but as an adult.
Now I'm just trying to introduce people to the thing that made me happy, and hope that they take similar experiences from it.

Q: What's the end goal?

We've named it #WeTwo, which can also be #WeToo, so our legacy in the next 10 or 20 years is we hope to see more people doing activities under that guise. We too can do this, go out there and achieve things. We too can spend more time in places like Epping Forest, we too venture out to the Cairngorms. I want to hear in 20 years time: "I saw Dwayne do this or I saw Phoebe do that, and that's why I got started last year" or "that's why I got started 10 years ago, and now I'm leading young people out into the wilderness".

Find out more about Dwayne and Phoebe's expedition at teamwetwo.com.