I started youth hostelling in the days when cars were not allowed at hostels. Whilst it is reputed that some hostellers parked their cars around the corner from the hostel and walked the last 100 yards, the traditional model of walking from one hostel to another brought independence and outdoor skills to many young people of my generation. For me, a hostel-to-hostel tour of the Lake District as a 13-year-old Girl Guide led to a lifetime of mountain walking, and ultimately to my current role as Chair of YHA.
Living only two hours from the Lakes by car, I have visited the area innumerable times, ticking off "Wainwrights" (Lakeland summits) with my husband, Mike, both of us with small children on our backs in the early days, and bribed by Mars bars on the summits as they grew older. Later I ventured into rock climbing, for example on Shepherd's Crag, Gimmer Crag, and Dow Crag.  Hostels, tents and a campervan provided excellent bases, but it was always the car that got us there in the first place.
With increasing concerns about climate change and the inconvenience of traffic congestion and parking, Mike and I set off this February to test out the viability of exploring the Lakes by public transport. A direct train delivered us from Manchester Piccadilly to Windermere station, from where a connecting bus dropped us immediately outside YHA Ambleside, our base for the next few days.  With its excellent transport connections, lakeside location and views across Windermere to the Langdale Pikes, this must be one of the best positions for any tourist accommodation in the whole National Park.  Even in early February, the hostel was buzzing with walkers, cyclists, wild swimmers making use of the pier immediately outside (I wasn't tempted by that one!), families with small children, and even a young couple from Russia. The hostel is large, with 250 beds, and exudes all the warmth and friendliness that is so characteristic of smaller hostels.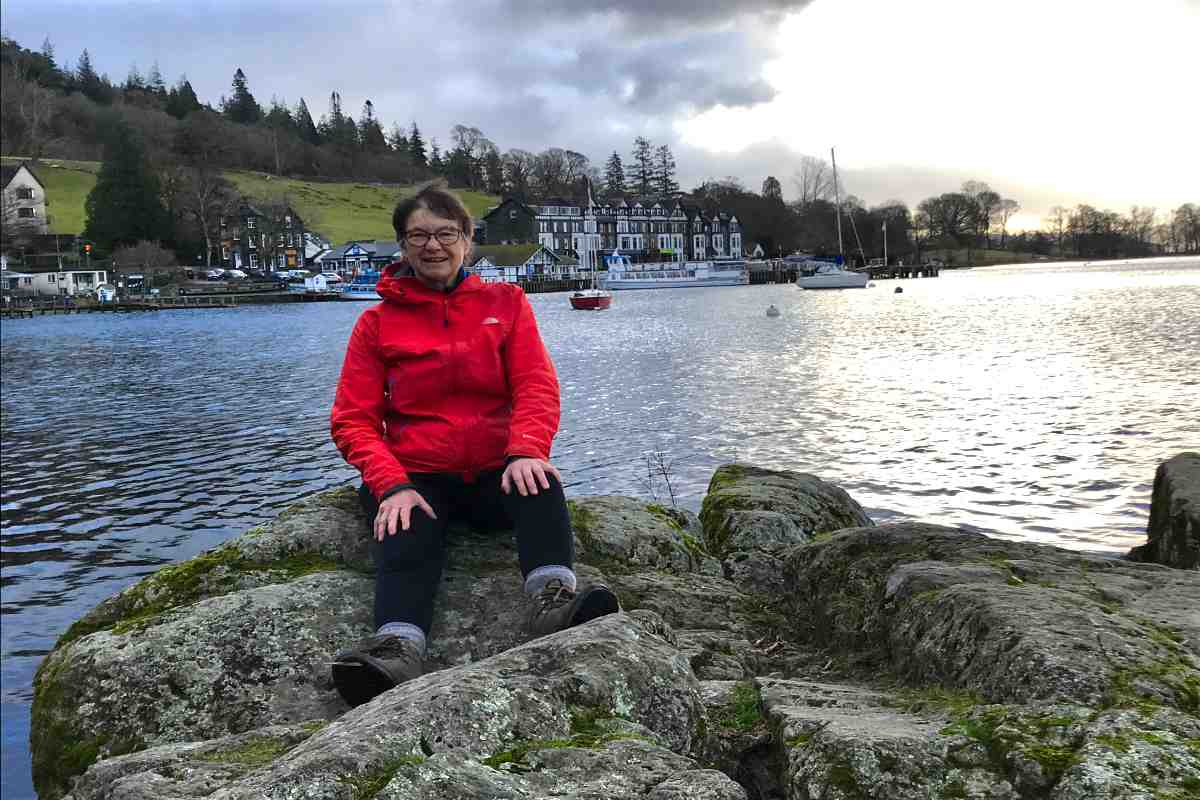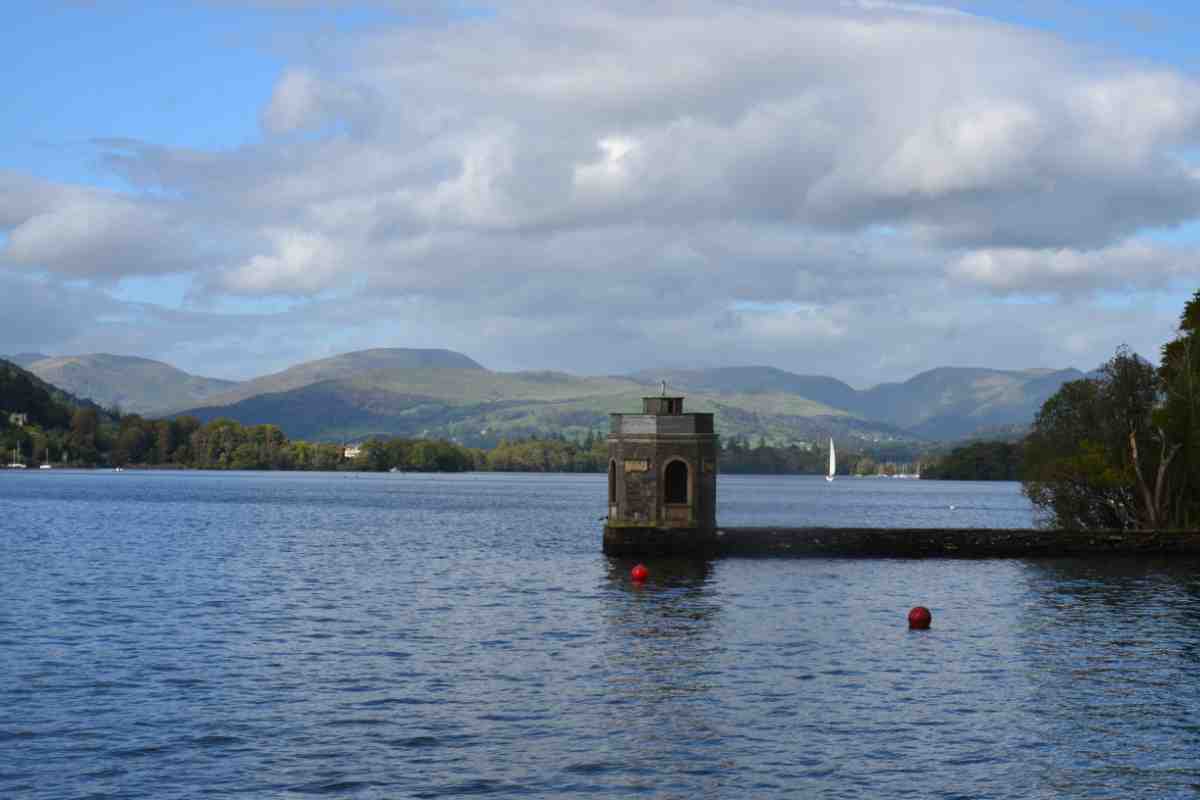 On our first day, we walked from the hostel door, over the delightful Loughrigg Fell, down past Rydal cave – a mecca for small children – to Rydal village with its Wordsworth associations. Then back to Ambleside and up past the impressive Stockghyll Falls to Wansfell. In better weather, the Fairfield Horseshoe would have been an attractive all-day option.
Day two brought low cloud and rain, so we caught the bus, again from outside the hostel, towards the Beatrix Potter village of Hawkshead, and Coniston. Alighting near Wray Castle, a National Trust property on the west side of Windermere, we had planned an easy walk along the lake and over Latterbarrow and Claife Heights to the Windermere Ferry. As it turned out, the route was more challenging than anticipated, with large numbers of fallen trees blocking the path following the winter gales. After much clambering over and slithering under trunks and branches, and on several occasions retracing our steps all together to find a different route, we emerged at the Windermere Ferry, by a sign, predictably saying "Danger: path closed due to storm damage". The ferry took us across the lake to Bowness, from where a range of buses return to Ambleside. 
Our last day saw us on the morning bus to the head of Langdale, one of the most beautiful and accessible Lakeland valleys, with a major traffic problem for much of the year. Arriving at 10.00 am, with the last bus back at 5.00 pm, there would have been time, in better conditions, for the classic ascents of the Langdale Pikes, Crinkle Crags and Bow Fell. We settled, however, for a mid-level traverse of Lingmoor Fell, descending to the village of Elterwater, then up again past YHA Langdale and over Silver Howe to Grasmere. We had time there to pay our respects to Wordsworth's grave and to stock up on Grasmere gingerbread from the tiny shop in the corner by the churchyard, before catching one of the frequent buses back to the hostel.
So, what did we make of this new perspective on the Lakes? With some careful forward planning, it was great. Travelling by train with a book is infinitely preferable to sitting in motorway traffic jams and being dropped off by bus in honeypot locations beats queueing and the expense of parking any time. And of course, public transport opens up the opportunity for end-to-end walks, rather than always having to finish at the start point. Ambleside is particularly well placed for bus travel, with at least hourly services running between Lancaster, Kendal, Windermere, Ambleside, Grasmere and Keswick and adequate but less frequent services to Langdale and Coniston. The Kirkstone Pass and Ullswater would also be accessible via Windermere. Single journey tickets can be quite expensive, but Stagecoach offers a range of day, week and group tickets which bring the costs down substantially, and for those over a certain age, travel is free. And the cost of the train from Manchester to Windermere? £6.45 return with a railcard, or £9 without.
At our YHA Trustee Board meetings, we increasingly focus on sustainability and being true to YHA's founding values. Travelling by public transport is one way in which YHA's roots have taken on a modern significance, and in which we can all contribute to maintaining a healthy balance between access to our National Parks and protecting these unique environments. Why not give it a go?
Discover more about YHA.