"Goodbye orange door, I love you!" said the little girl next door as her family hoisted their rucksacks and left their chalet in the dim October morning light. How attached kids can get to a place in a very short time: we too have often had to say formal 'goodbyes' to hostel rooms.
It was also a great example of how children, with their lack of preconceptions, can often surprise their accompanying adults regarding what they enjoy most in their experience of a new place. Though I too really liked the brightly-coloured, freshly-painted doors of the chalet accommodation at YHA Chester Trafford Hall, and indeed the buildings themselves, which are surprising and unusual, and turn out to have an interesting history …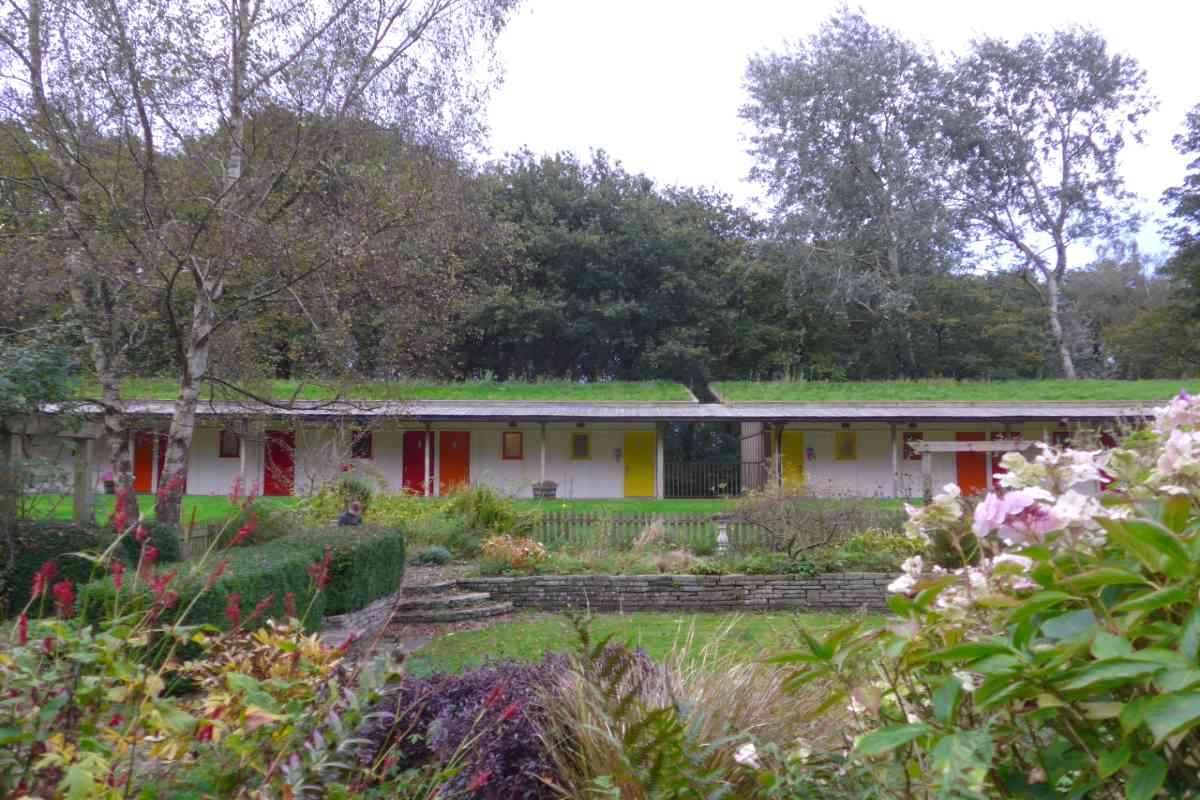 YHA Chester Trafford Hall, in the hamlet of Wimbolds Trafford, is YHA's newest hostel. The main building is Trafford Hall, a splendid Georgian mansion built-in 1756. Its high-ceilinged, big-windowed rooms make up the hostel's social spaces, including dining rooms and lounges, a self-catering kitchen, and an excellent games room complete with a pool table and table football. (There's also a table tennis table on the terrace outside). Sitting in the grand ballroom, it's funny to think that it was once occupied by a business making fibre-glass boats; boats were also spread out over the lawn.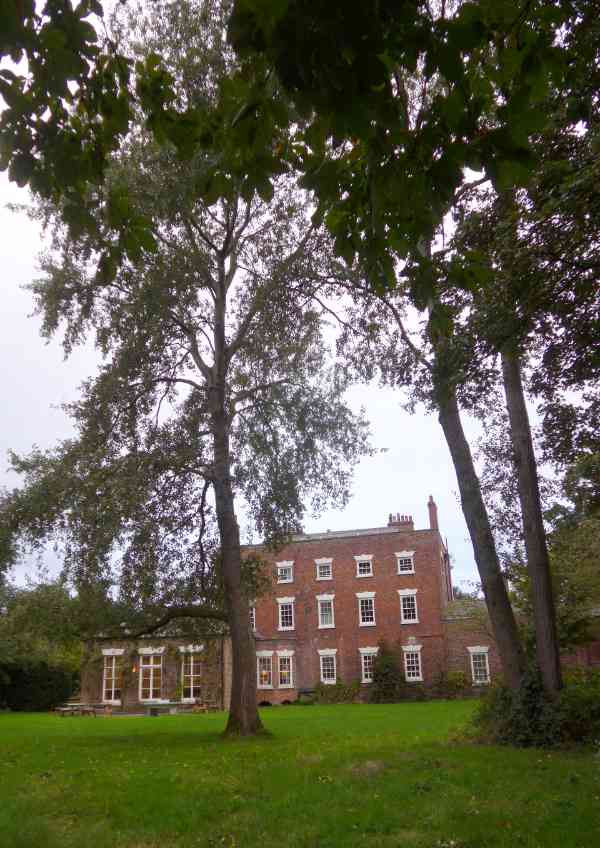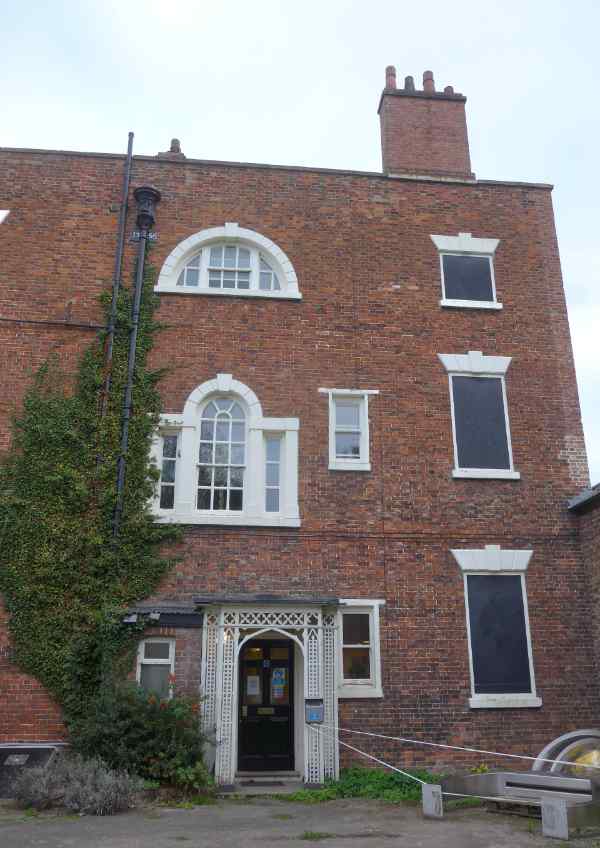 By 1991 Trafford Hall had fallen into serious disrepair. It was acquired by the National Communities Resource Centre as a residential training centre for people tackling problems in low-income communities; issues such as poor housing, crime, and unemployment. With the help of a generous building firm, the charity renovated the main building. They also decided to build extra accommodation in a rectangle around the edge of the old walled garden, linking it by a covered walkway to the main house.
Working with a specialist environmental architect from the Centre for Alternative Technology, and with the help of 19 keen but — at least at the outset — untrained and unskilled volunteers, NCRC built 24 chalet rooms using the Segal method of self-build. Lightweight wooden frames were erected and braced, then insulated to a high standard with Warmcel: cellulose fibre insulation made from recycled newspaper. Rubber membranes were stretched across the roofs, then a layer of topsoil and, finally, turf. The beautiful but overgrown gardens were also restored by volunteers, and from the start were tended using organic principles.
In 2002-3, the NCRC rebuilt the house's Victorian stable block, again using sustainable building methods, with thick insulation and a conservatory that boosts heating through passive solar gain. A biomass boiler and solar photovoltaic cells were installed, making it a carbon-neutral building.
In 2020, the NCRC joined The Regenda Group, a charitable Industrial and Provident Society which works in the fields of housing and regeneration, and YHA was asked to run and manage Trafford Hall. Since August 2021 it has been welcoming hostellers as well as continuing to host groups for conferences and residential training courses.
What we loved most about it, apart from the cosy, grass-roofed rooms, was the 'Secret Garden' in the middle of the chalet blocks, with its gnarly old fruit trees, grapevine-covered pergola, vegetable and flower beds, and mossy pond. There was still colour in the sumac and some dogged orange nasturtiums, and the sunken garden was surrounded by waving grasses and seed heads. It's an enclosed, safe place for children to play. At the back, between the chalets and the open fields, is an oak wood, full of birdsong in the pink dawn. In spring it will be carpeted with snowdrops and later bluebells. Altogether there are 14 acres of grounds to explore.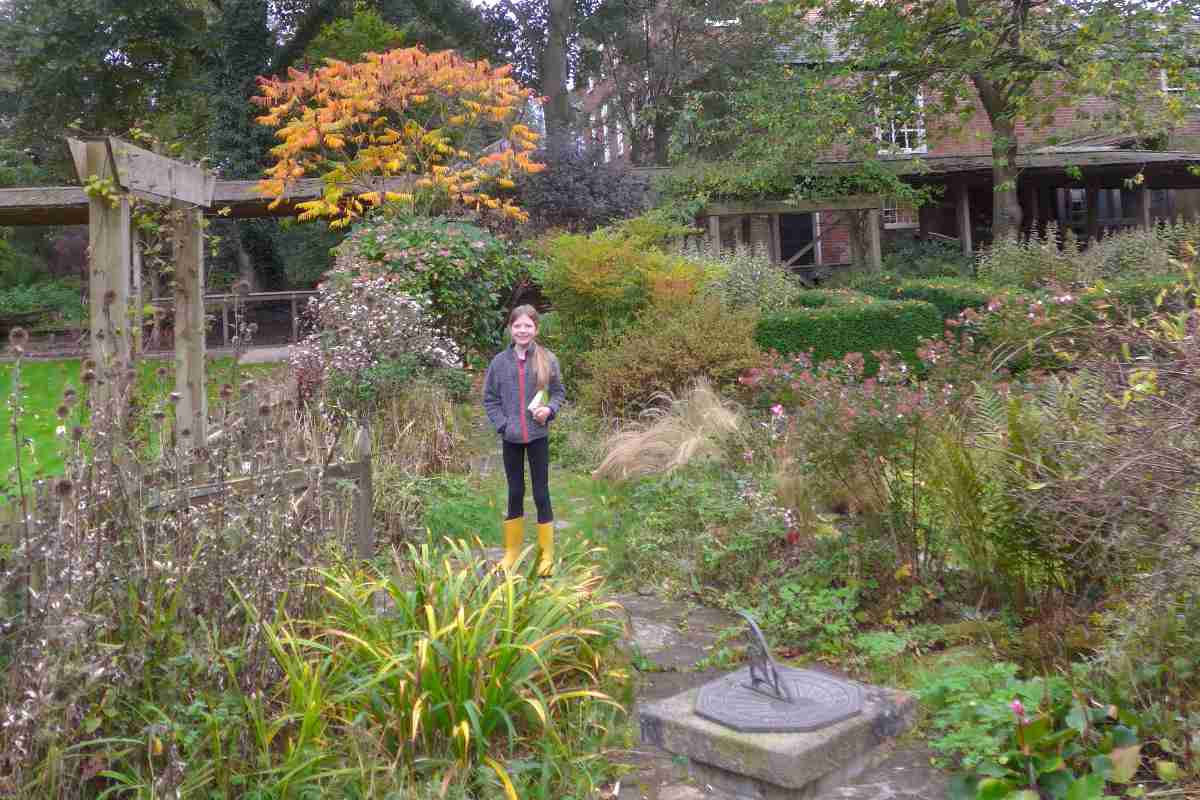 As we were en route to the Lake District we had to say our own goodbyes to the colourful doors the next morning. We spent a peaceful Sunday in Chester, five miles away, walking around the city walls. These are the oldest, longest, and most complete in Britain; some sections are nearly 2,000 years old. With children, traversing them felt like an adventure trail with surprises around every corner. We came across a racecourse, a castle, a cathedral, a curlicued Victorian clock … There are many places where you can ascend and descend the walls to explore further. Below the 14th century Water Tower there was an assault course-style playground and — one of the good things to come out of difficult times — a small choir practising gospel songs in the open air.
We picnicked in the square by the imposing Victorian Town Hall, near a bronze sculpture of a baby elephant, a gift from nearby Chester Zoo. The ShareShop, which works with homeless people, including refugees, provided some exceptionally good coffees.
Chester must have some of the most eclectic architecture of any British city, including the uncompromising modernist blocks of the 1976 Salmon Leap estate, down by the River Dee, but it is dominated by its famous black and white original Tudor and Tudor-style buildings, which house a range of shops and hospitality venues.