Along with a camera and a coffee pot there's one more thing I try not to forget when packing for a trip: our kite. To untangle its colourful tail streamers and throw it straight up into the gale blowing off the sea brings an instant and joyful feeling of connection with nature and a sense that now we really are on holiday.
A gift from a friend four years ago, we've flown it everywhere from Rhosili Bay on the Gower to Boggle Hole in Yorkshire. This summer we launched it from the beautiful pebbly beaches of East Devon's Jurassic Coast, which we explored from our base at YHA Beer.
Our favourite beach was Branscombe Mouth. It's around three miles from the hostel, though there are shorter and longer walking routes: inland through the green lanes; along the clifftop; or, best of all, through the Under Hooken, an unusual landscape created by a landslide in 1790, when 15 million tons of chalk and greensand suddenly slipped from the cliffs towards the sea.
Today descending the path to the undercliff is like entering a rainforest: it's filled with creeper-covered trees, buddleias, butterflies, and birdsong. A map detailing all these walks is available from hostel reception. If you're too tired to walk back, buses depart from the village hall in Branscombe village, 3/4 mile from the beach (do check the bus timetable as they are infrequent).
At Branscombe there's a cafe and a small shop that sells all the essentials (including kites), delicious blackcurrant sorbet, and bubble mixture. Our children loved standing with their backs to the sea, holding the wand aloft and letting the wind do the work. This meant very rapid and random bubble blowing and they threw themselves about like goalies in an effort to pop them.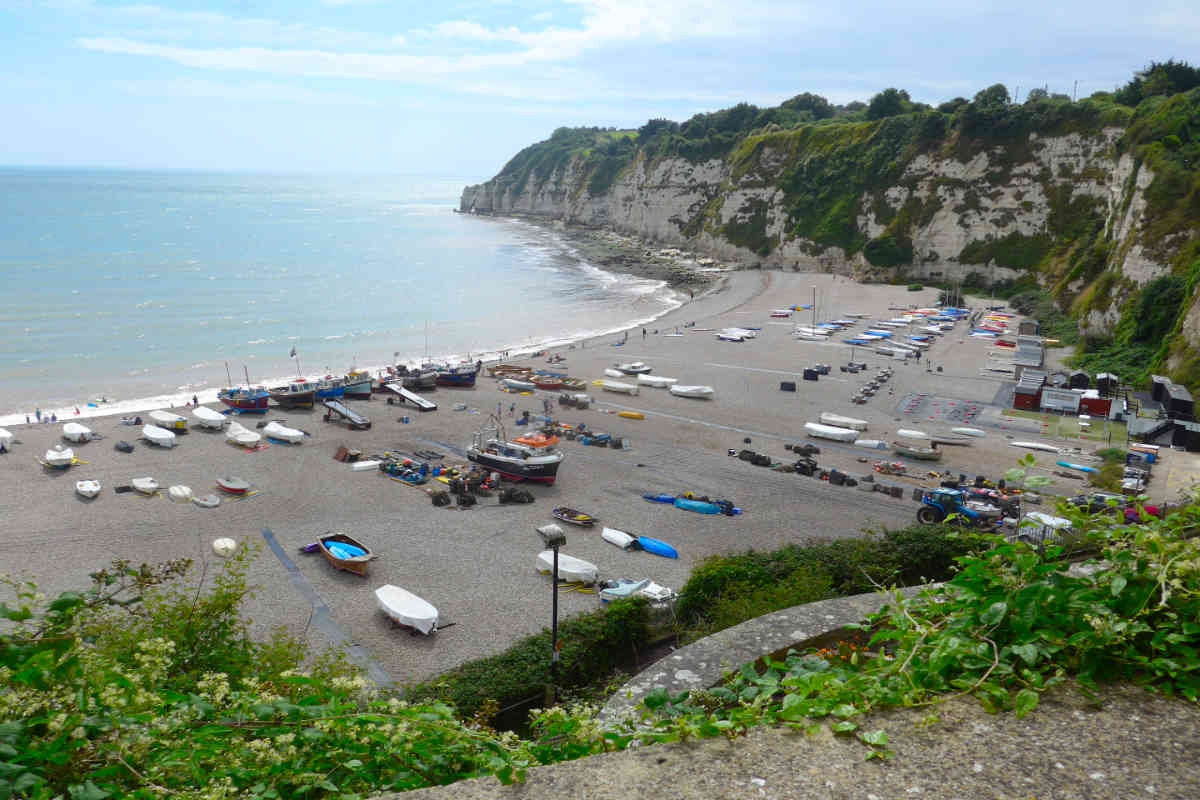 Other good beaches nearby include the one in Beer, which has cafes right on the beach, deck chairs, and exercise equipment; Seaton, with its brightly-painted beach huts and decorative serpent benches, a half hour walk over the cliffs in the other direction from Branscombe; Jacob's Ladder beach in Sidmouth, named after the wooden staircase you can use to descend the cliff from Connaught Gardens; and Budleigh Salterton, where there are seashore gardens, including one planted in and around an old boat.
Though the local beaches are pebbly, many of them – including Branscombe and Jacob's Ladder – have at least some patches of sand at low tide, certainly enough to build a sandcastle. Beach shoes and surf socks helped our children to run around freely on the stones and paddle in the sea.
We also went on a day trip to The Donkey Sanctuary near Sidmouth, where it was fun to hang out with people of all ages who were appreciating the company of these gentle and stoical creatures: no wonder they are used as therapy animals. It's free to get in but visitors can support the Sanctuary's work by visiting the cafe or buying something from the gift shop, such as a beautiful hand-knitted donkey.
Another day we visited Bicton Park Botanical Gardens, which is full of curiosities, from an arboretum of monkey-puzzle and other unusual trees to a model of a rabbit warren, a curvilinear Victorian greenhouse that predates the Palm House at Kew, and a Russian-style Hermitage covered in wooden fish scales.
In Seaton town the Cactus House playground offers trampolines and a hammock swing as well as dinosaur-themed crazy golf. On Fore Street there is a good bookshop called Owl and Pyramid that specialises in children's books, and a shop with vending machines dispensing local milk and milkshakes.
We spent a peaceful afternoon under the scudding clouds at Seaton Wetlands, watching black-tailed godwits and little egrets from hides beside salt water lagoons and the estuary of the River Axe. The vintage trams of Seaton Tramway pass through the wetland too.
In Beer itself the headline attraction for younger children is Pecorama. Beginning with a ride around the site on a small steam train, we went on to explore the playgrounds and colourful gardens, which contain a shell grotto and a floral rainbow. The main attraction however is the indoor exhibition hall. This showcases model train layouts large and small, called things like 'The Bedroom' and 'The Loft Conversion'. There are some surreal sights, including a snowy landscape where minute skiers seem oblivious to the fact that a UFO has landed nearby, and a cityscape where mechanical ducks swim in an endless figure of eight.
Or you can spend dawn to dusk in a sleepy Catalan town while shunters push the rolling stock back and forth. It's interactive — there are lots of buttons to push — and you can also watch modellers at work. The shop sells Peco locomotives and buildings and even miniscule buddleias and rows of allotment leeks.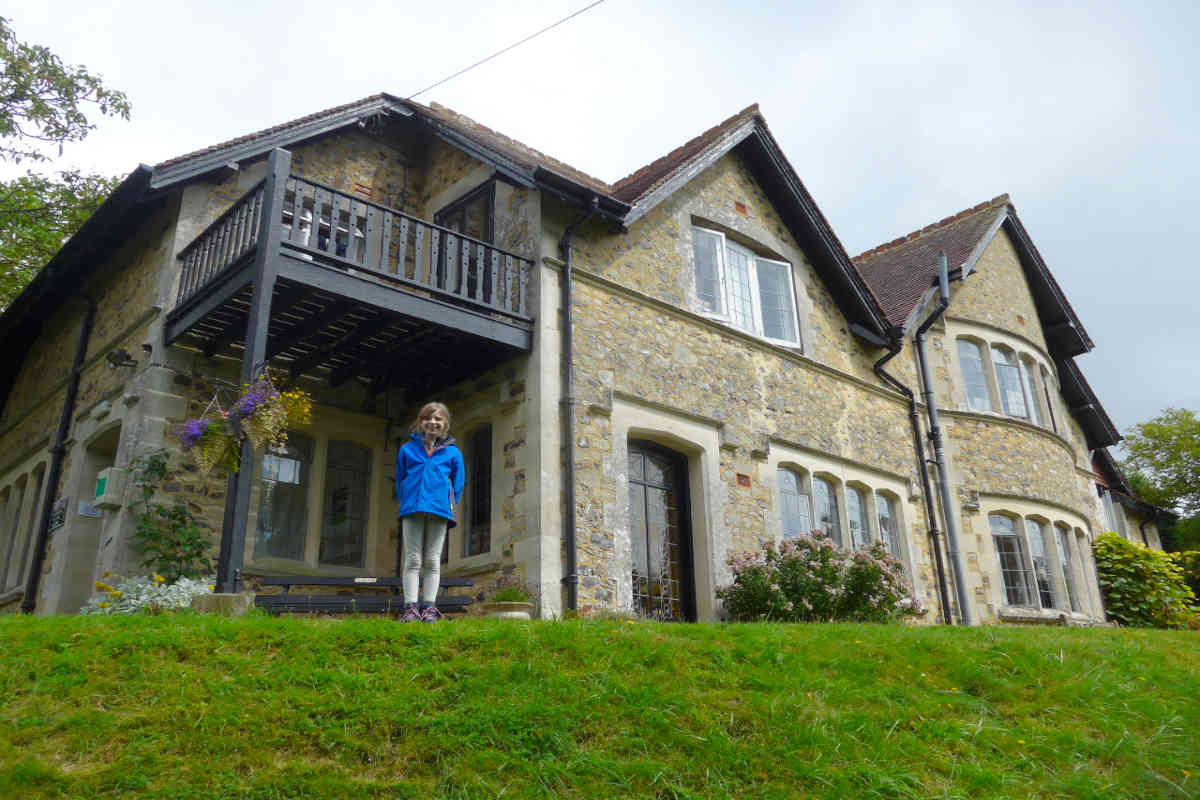 YHA Beer, located on the edge of the village in a peaceful valley, has been a youth hostel for 60 years. It's a comfortable and welcoming Arts and Crafts era house built for the artist Charles Bartlett at the beginning of the 20th century. There are curved, mullioned windows, golden parquet floors, and window seats: our room even had a stained glass window. The terraced gardens contain two large bell tents and plenty of picnic tables.
Rabbits scamper across the combe at dusk, and every morning we heard a tawny owl. One evening we borrowed the hostel's bat detector: different species can be identified by the frequency of the sounds they make.
One of the great pleasures of this trip was the re-opening of the self-catering kitchen, where I was reminded how easy it is to go from asking where the colander is to swapping tips on good beaches to discovering shared enthusiasms.
We met several other parents who have children on the autism spectrum and it was interesting and encouraging to swap insights and experiences with them.
On our way home we visited Salisbury Cathedral. Our children liked the calm atmosphere and the reflections of the vaulted ceiling and stained glass windows in the continuously flowing waters of the modern font by sculptor William Pye.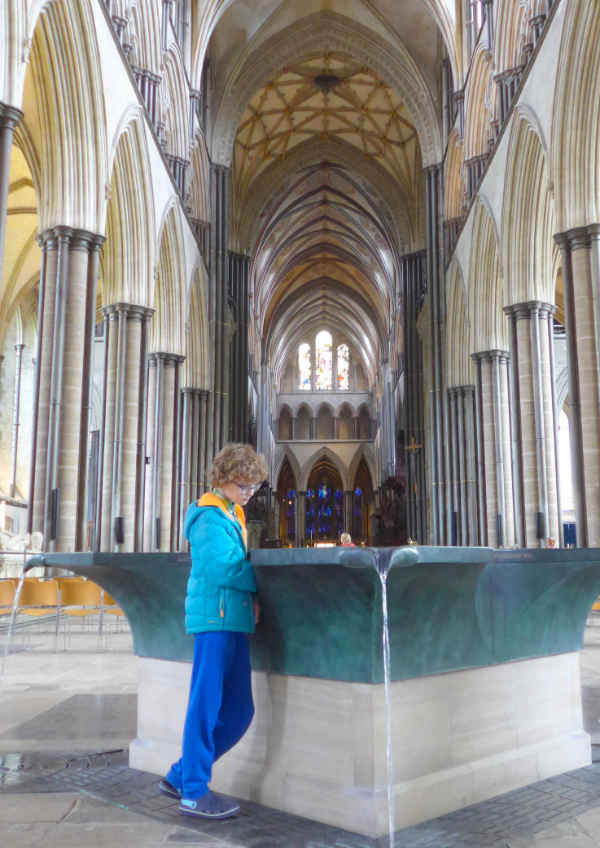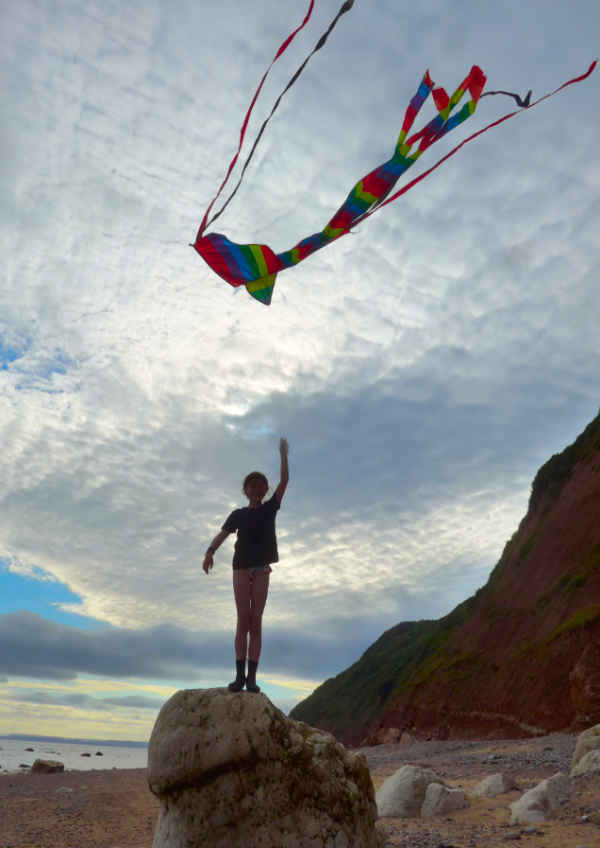 We flew our kite several times on this trip, and the beautiful pointlessness of this activity helped me to leave behind everyday worries and regain a sense of perspective, just as Mr Banks does at the end of Mary Poppins. Now that summer is over it's time to start daydreaming about where we'll take our kite next year …