"Don't be a Guillemot!" We might have been bemused by this social distancing sign had we not earlier peered over the cliff and seen these streamlined, penguin-like seabirds huddled together on a ledge beside the crashing waves. Previously we'd encountered them only via the zany imagination of poet John Hegley: "I am a diver/Ocean-arriver/Underneath I go/I am no skiver/I am a guillemot".
We were in Durlston Country Park and National Nature Reserve on Dorset's Jurassic Coast. We hadn't even heard of this hidden gem of a park before we arrived but loved it so much that we spent half our half-term week there. It was only 10 minutes' walk up the hill from YHA Swanage, or a short bus ride from the town centre.
At Durlston, which covers 320 acres, we went for long walks over the downs and along the South West Coast Path including to the lighthouse at Anvil Point and on to Dancing Ledge, where there is a sea-side swimming pool blasted out of the rock a century ago so local schoolchildren could swim safely. Sky larks sang from above the clouds and sprang up from the gorse.
We spotted a brambling and a yellowhammer, and a peregrine falcon shot down from the sky like a jet. There were wild-garlic-carpeted woods in which to shelter from the midday sun: looking through the pine trees at the blue, shimmering, water I was reminded of the south of France.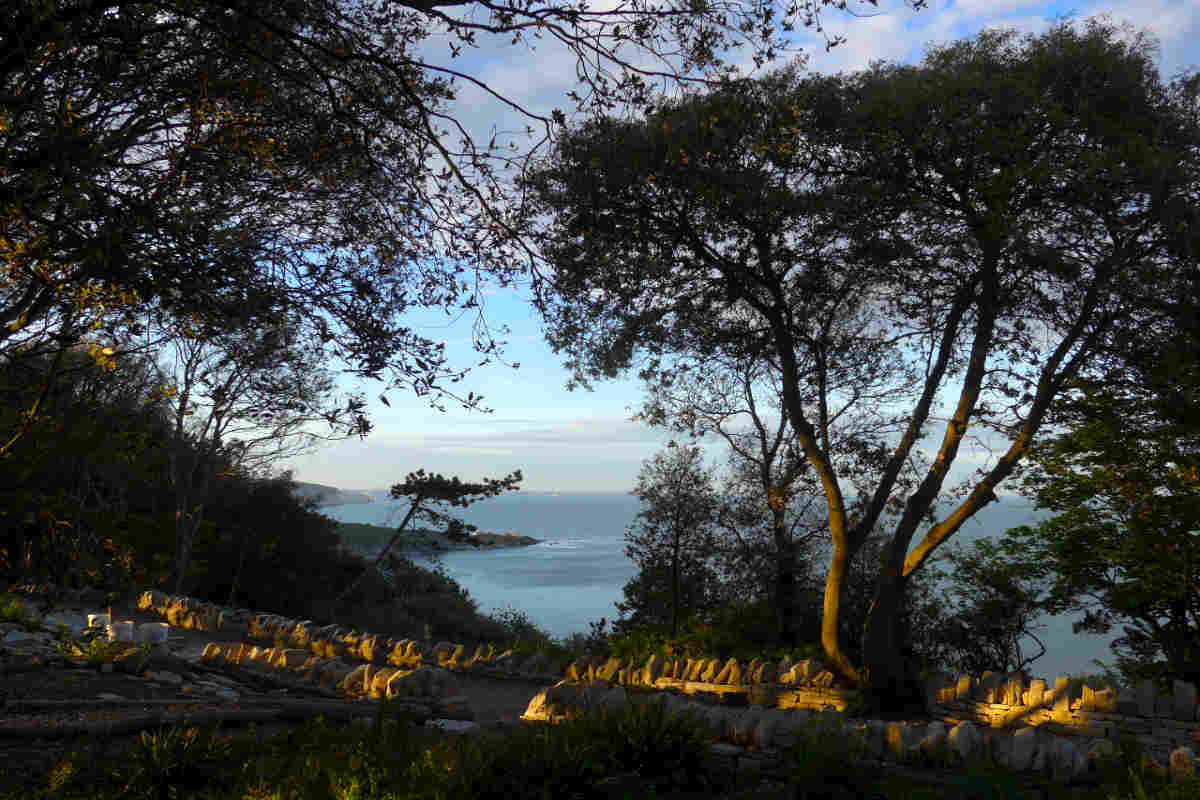 Townsend Nature Reserve borders the park and is also well worth a visit. It's a Site of Special Scientific Interest because of its rare flowers and insects, including early spider orchids, Adonis blue butterflies, and long-winged coneheads.
The restored Victorian castle includes a visitor centre where you can watch the guillemots on a web cam, and a cafe with terraces overlooking the sea. At the top is a belvedere from which we spotted a pod of five dolphins. With good binoculars they can be individually identified by the shape and markings of their dorsal fins.
Just down the hill is a huge Portland stone globe that was placed there in 1887. It is surrounded with lettered panels containing a mixture of scientific facts — such as how fast various birds fly — and poetic musings on the universe by Tennyson, Pope, and Wordsworth. The modern counterpoint to this very Victorian world-view is The Timeline, beautifully designed and carved in stone by artist Gary Breeze.
It takes you on a walk through 4.54 billion years of the earth's geological time, noting significant events such as the Cambrian Explosion of Life, and teaching much better than a book can just how long those eons were compared to the mere half millimetre of human civilisation at the end. On other stones Nigel Calder meditates on stardust and Jane Evans on "the tremendous secrets of the rock".
Hard-working volunteers have been rebuilding the old dry stone walls which line a new woodland trail for kids. It includes things to balance and swing on, animal sculptures, and a mellifluous musical instrument made of wood and metal poles, which our son enjoyed playing (it was tuned to D, G, and E, he informed us).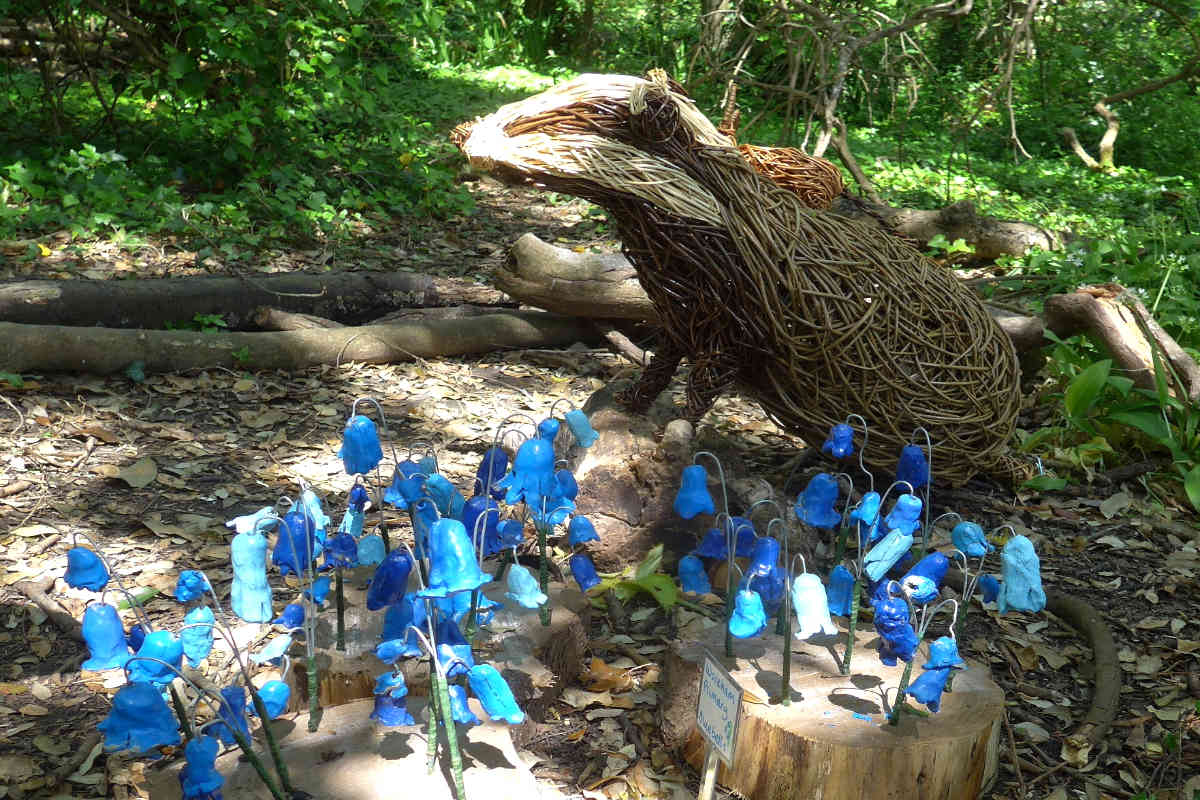 Dorset Council has put a lot of thought into making Durlston accessible to all, and in 2020 it won Gold in the Visit England Awards in the 'Accessible and Inclusive Tourism' category. The first part of the coastal path has a surface and gradient that make it suitable for wheelchair users and people with pushchairs; there are access ramps, and a lift up to the belvedere.
They have considered how to welcome visitors who are autistic, who use sign language, or who have dementia — and people with many other additional needs. The park is free to enter; there is a small charge for special events such as glow worm walks and stargazing evenings.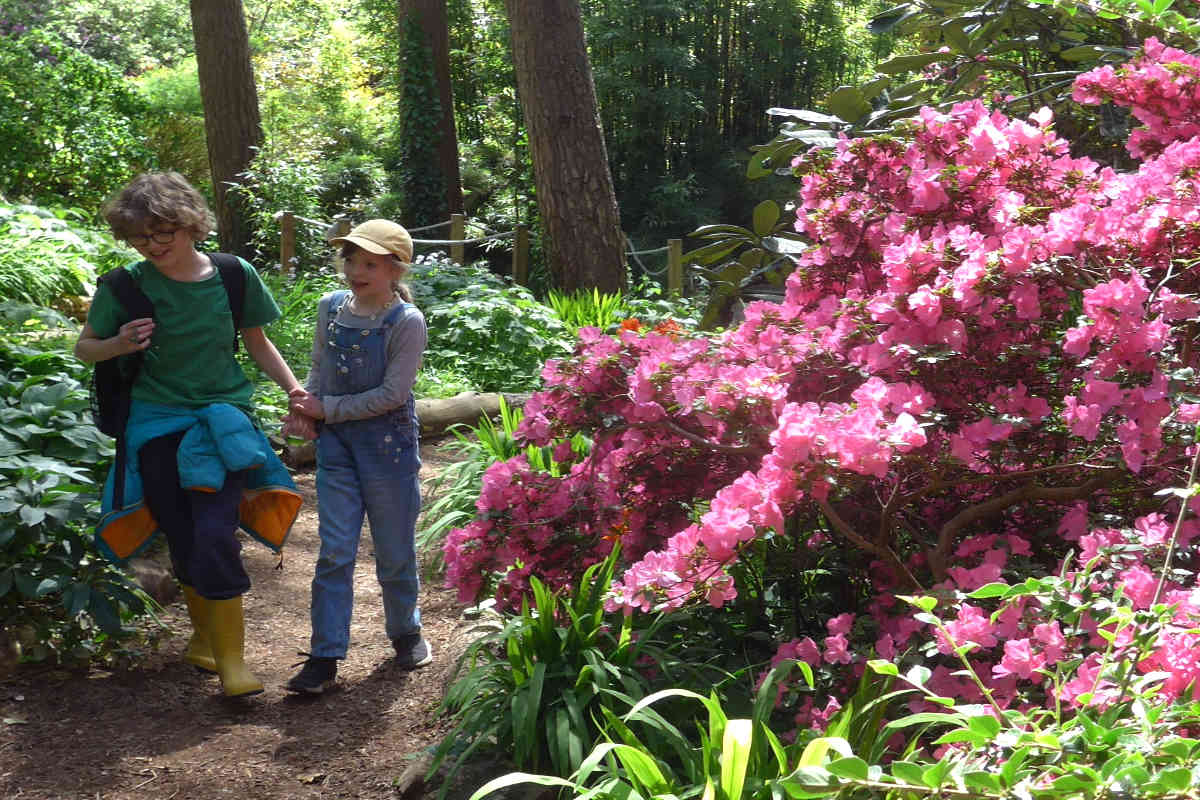 Another highlight of our trip was visiting the national treasure of Corfe Castle, dimly remembered from my own childhood. A medieval skyscraper, it was destroyed by gunpowder during the Civil War in 1646 and is now an imposing ruin with spectacular views in every direction.
The National Trust does a great job of bringing the castle's 1,000 years of history to life for children. Afterwards we walked on the peaceful heath at Corfe Common.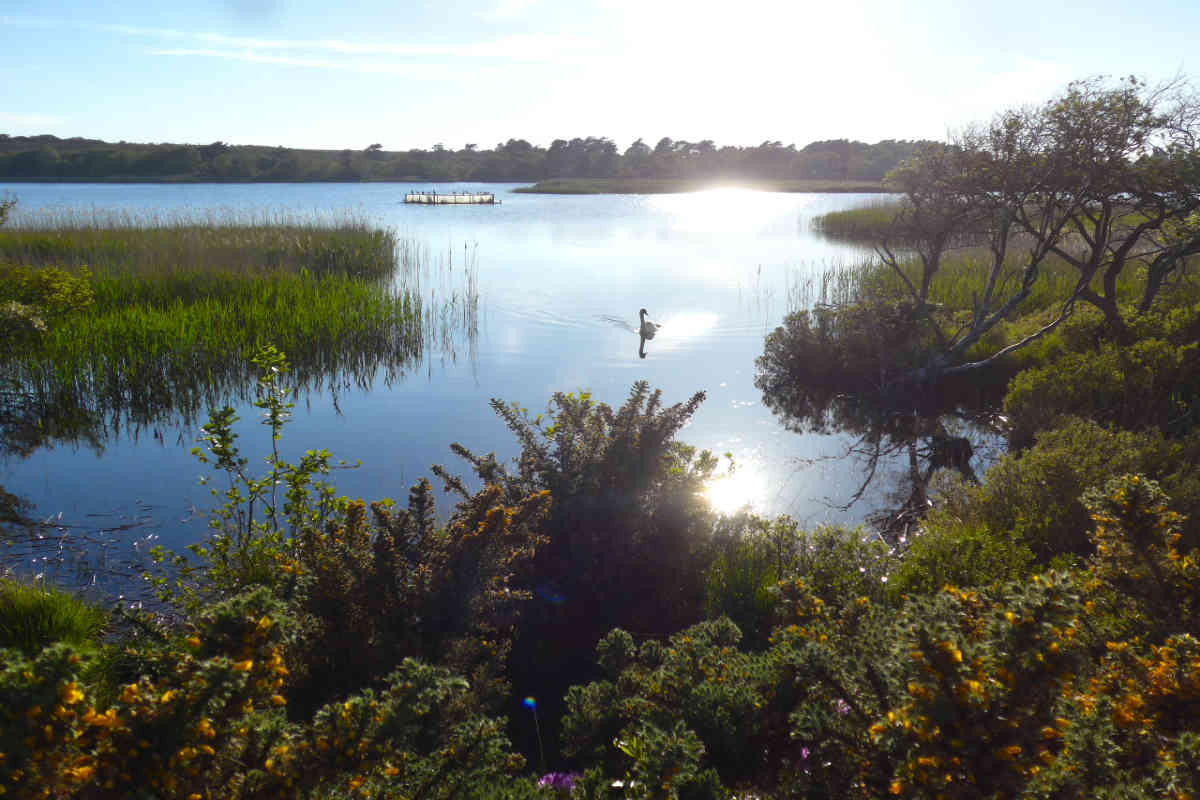 The number 50 Purbeck Breezer bus travels regularly between Swanage and Bournemouth, and is an enjoyable way to explore the area, including the beautiful sandy beaches of Studland Bay. Behind Knoll Beach there is a heathland nature reserve with a lagoon called Little Sea and a giant natural sand pit.
In Poole we visited the Italian and Japanese gardens at Compton Acres, then the old harbour, which contains more than 100 historic buildings. We saw new boats being built and old boats disintegrating. With a little more time we could have gone to see the red squirrels on Brownsea Island or on a puffin-spotting boat trip organised by local conservation charity Birds of Poole Harbour.
From a child's perspective the best thing about the number 50 bus is that it goes on a boat: the chain ferry that plies the harbour mouth between Studland and Sandbanks.
Our trip back to Swanage at sunset on the open top seats was like being on a roller coaster: freezing cold, we laughed hysterically as we rounded the corners. Our daughter said it was the most fun she had on the entire trip.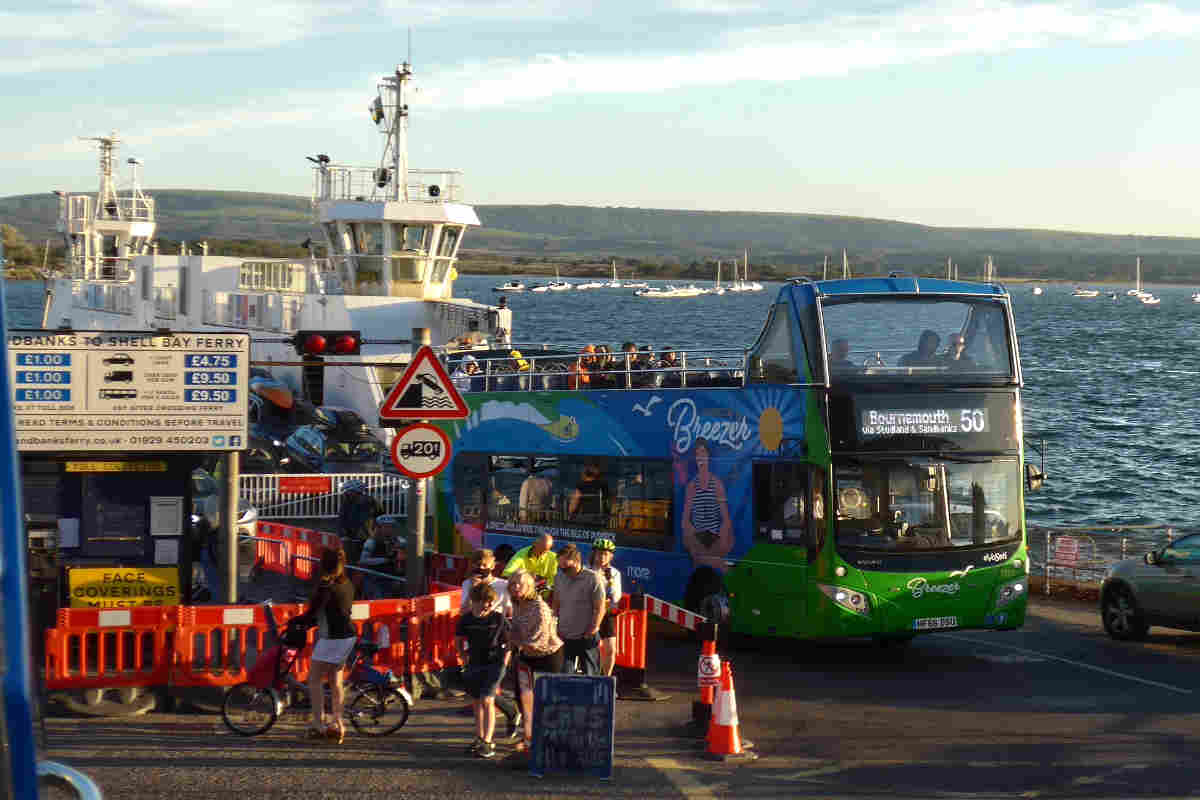 YHA Swanage is a beautiful Victorian villa with views over the bay, and it made a great base for exploring the town and its surroundings. It was originally owned by James Anderson, a sea captain whose Great Eastern Steamship laid the first telephone cable across the bed of the Atlantic, in 1866.
Refurbished in 2018, the hostel is modern and comfortable, but still has a grand staircase, mosaic hallway floors, and wood panelling in the lounge and dining room. It has a fully accessible bedroom for wheelchair users.
The town centre, beach, and pier are few minutes' walk down the hill along almost-traffic-free Mount Pleasant Lane, along which you can literally make a beeline for the excellent made-on-the-premises cake shop Love Cake. There is a chocolate shop and kitchen called Chococo, as well as lots of antique and charity shops to browse.
It is impossible to do everything in one visit to Swanage. The boards in the YHA reception provide many more ideas for day trips and activities. For example, children who love dinosaurs will probably enjoy The Etches Collection of fossils in Kimmeridge.
Due to Covid restrictions, the self-catering kitchen was closed, but food — including breakfast, and supper club meals — could be ordered from the hostel kitchen. The lounge and dining room were open but with limits on numbers. 
Other measures included hand sanitising stations and extra cleaning routines. We wore masks and practised social distancing, behaving like dolphins … not guillemots.
More information
Ordnance Survey Explorer Map OL15: Purbeck and South Dorset
Local buses: A group dayrider ticket for up to five people costs £24.50. If you take a car on the ferry the toll is £4.75 each way.