Is there a more carefree way to travel than on the open top of a double-decker bus? On a sunny spring morning we wound slowly through the lanes towards Land's End, looking down on clouds of blackthorn and out to the turquoise sea. We heard the cheerful twittering of goldfinches and breathed in the coconut-and-pineapple scent of the gorse.
Just beyond Penzance we had a bird's-eye view of The Merry Maidens stone circle. According to local legend, 19 young women were turned to stone as punishment for the crime of dancing on a Sunday; two nearby stones — The Pipers — were responsible for the music.
At Sennen Cove the beach was so beautiful that we had a quick vote and ran down the stairs to spend a few hours there, eating chips from The Blue Lagoon Fish Bar before continuing by bus past the ruined chimneys of tin mining country around St Just to St Ives and finally back to Penzance.
We had a member of the team at YHA Penzance to thank for this adventure, because she'd done some research for us about the Cornish bus network. It used to be a clunky and frustrating system with different bus companies declining to accept each other's tickets, but has recently been re-organised by Transport for Cornwall and is now straightforward and affordable. The timetables are clear and the bus stops easy to spot.
A seven-day go-anywhere family bus ticket is unbelievable value for money at £40. We used ours every day, mostly on the Land's End Coaster tourist buses that travel regularly in both clockwise and anticlockwise directions around the peninsula of West Penwith, but also on buses to Mousehole and the number 5 from the Penzance rail/bus stations up the hill to The Pirate Inn, a short walk from the hostel.
The day after we arrived, though, after a long train journey, we needed a rest. A 15 minute walk from the hostel along public footpaths took us to Trengwainton, a verdant sub-tropical garden that our son said was "like The Jungle Book". There were tree ferns and bananas, old magnolias and camellias covered in mosses and lichens, and streams lined with arum lilies. The children enjoyed an Easter egg hunt and we had lunch in the excellent cafe.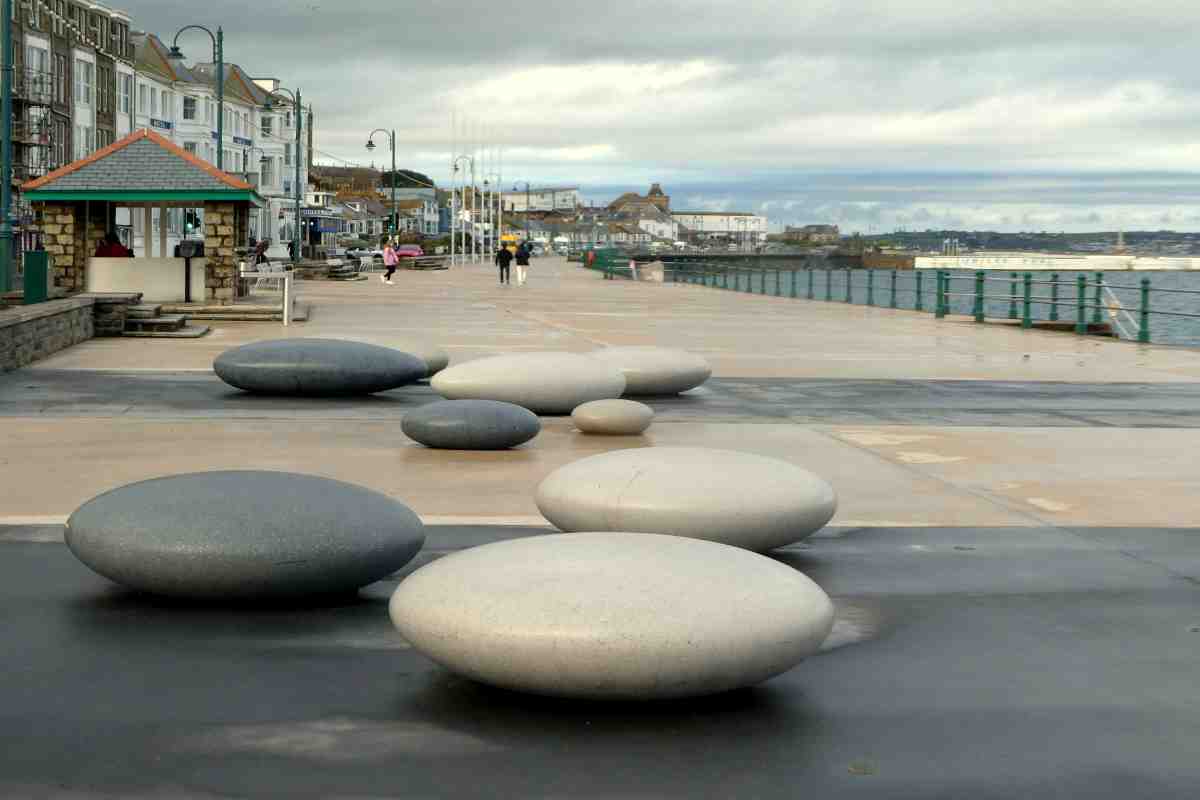 Later we wandered down to the sea from The Pirate Inn, along traffic-free Love Lane. Stopping off at a couple of playgrounds, we continued along the promenade, with its photogenic giant pebbles, to the Jubilee Pool. This Art Deco sea-water lido was built in 1935 and has now been restored to its original glory, with the added benefit of a smaller pool heated to between 30-35 degrees by energy from a geothermal well 410 metres below the ground. Swimming here is a unique and very enjoyable experience.
Next day we embarked on our week of exploration by bus, going first to the castle on the island of St Michael's Mount near Marazion. The helpful team in the National Trust Welcome to West Cornwall Centre near the rail/bus stations made sure we booked both an entry slot and a boat to and from the island, as the timing of the tides during our visit meant we couldn't cross by the causeway.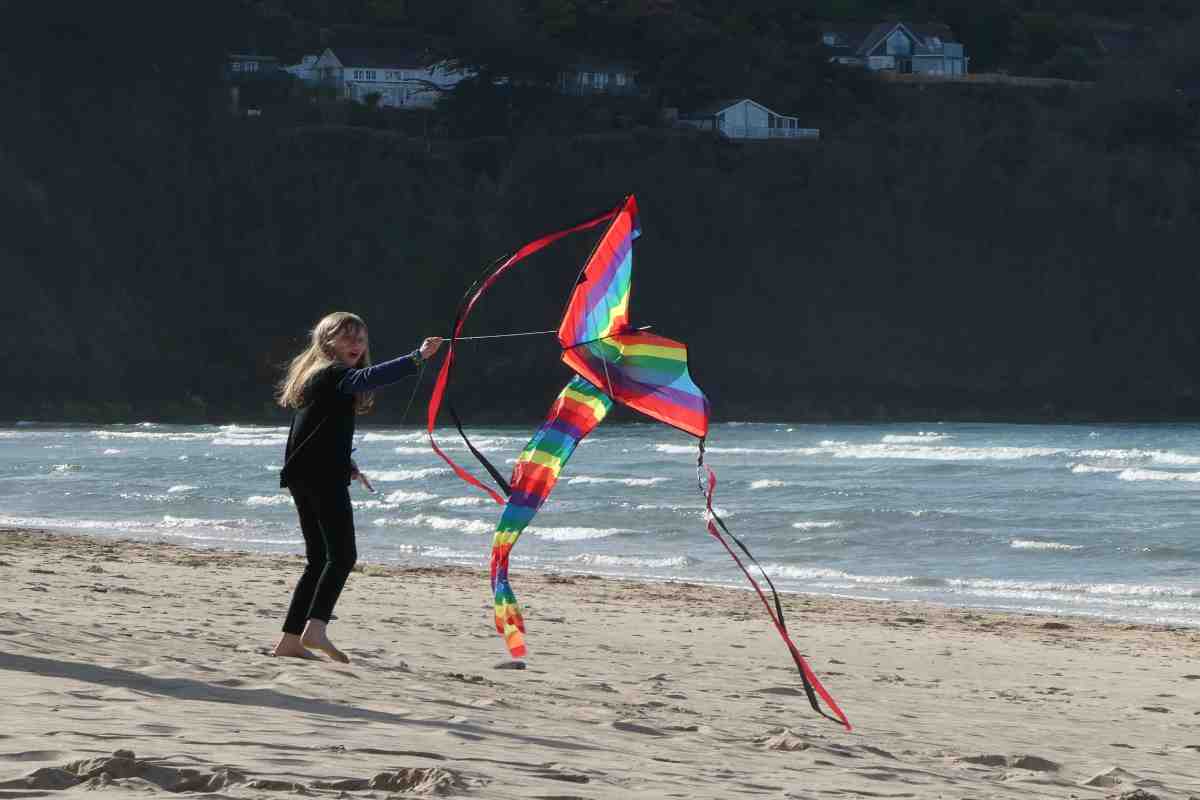 Most days involved at least one trip to a beach, all of them different. We loved the crashing waves and granite cliffs at Porthcurno, and the sand dunes and meandering river at Sennen Cove; flying our kite on the empty white expanse of Porth Kidney, near Carbis Bay; and searching for sparkling jewels of sea glass in the evening sun at Porthmeor in St Ives.
The tiny harbour beach at Mousehole is sheltered and great for kids to try out paddle boarding or canoeing. The Old Coastguard, nearby, has a pub garden with panoramic sea views. Many people in the village cultivate spectacular displays of succulents and outside some houses there are tiny plant stalls with honesty boxes. A kind gardener gave me some cuttings from her aeoniums.
We visited Morrab Gardens, a public park in the centre of Penzance planted with proteas and palm trees. There were fat tadpoles in the fountain and, in nearby Penlee Park, a children's playground with an assault course, including an unusual rope bridge. We also enjoyed Penlee House Museum and Art Gallery, which contained paintings of local people and landscapes by the artists of the British Impressionist Newlyn School, and a room about social history, including the story of Cornish tourism. We spotted the statue of pioneering chemist and inventor Humphrey Davy and went to look at some of Penzance's historic buildings: The Egyptian House, the Admiral Benbow Inn of Treasure Island fame, and the house where Maria Branwell, mother of the Brontës, lived. All these can be found in Chapel Street.
We spent a peaceful couple of hours at the Barbara Hepworth Museum and Sculpture Garden in St Ives, which contains many monumental bronze works in a beautiful setting just off Fore Street. You can see her studios as they were during her lifetime, the hammers and chisels laid out neatly and paint-spattered overalls hanging from the hooks as if she's just about to come back from a tea break.
A walk along the coastal path took us to Zennor, famous for its mythical mermaid. She is said to have lured away a member of the church choir, who had an especially beautiful voice, to live with her in Pendour Cove. She is commemorated in a wooden carving in St Senara Church that is at least 500 years old. D H Lawrence lived in Zennor while writing Women in Love, and many other writers and artists have found inspiration in its dramatic landscape, including Virginia Woolf and Patrick Heron.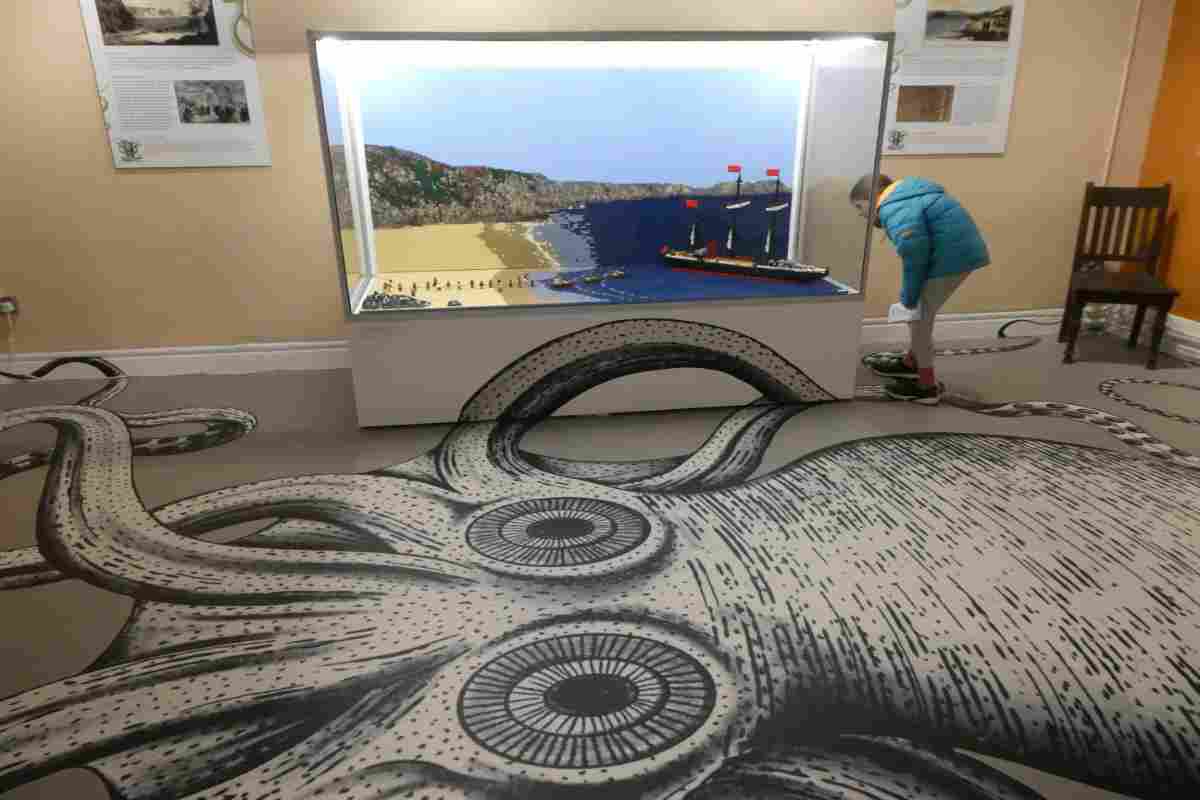 We spent an unexpectedly fascinating day at the PK Museum of Global Communications — formerly the Telegraph Museum — at Porthcurno. It was in this tiny, remote cove, in 1870, that the world's first international telegraph cable was brought ashore, connecting Britain to India and later many other parts of the world. This marked the very start of the era of rapid global communications that we now take for granted. Later, in WWII, Porthcurno played a crucial role in intelligence operations.
This is a brilliant museum, with imaginative multi-media displays that bring many aspects of human ingenuity to life. For example, there is an exhibit that explains exactly how you locate a fault in a cable that is buried deep under the sea, a seemingly impossible task. You can explore the tunnels that were used to protect communications during the war, and don a hard hat to climb the escape route stairs to a view point. 97 per cent of global communications still travel by cable rather than satellite, and the museum brings the story right up to date with a room about fibre optics. Visitors who arrive by bus receive 50 per cent off entry (a £15 saving for us).
YHA Penzance, in a handsome Georgian mansion called Castle Horneck, made a great base. It is quietly-situated on the edge of town, approached — after carefully crossing the ring road — via a wooded lane, past streams and waterfalls. The bell tents and Landpods are pitched on what used to be the house's bowling lawn. The field behind the hostel was speckled with daffodils when we arrived, morphing to bluebells by the time we left. It's next to a vineyard called Polgoon and surrounded by fields of cauliflowers the size of astronauts' helmets.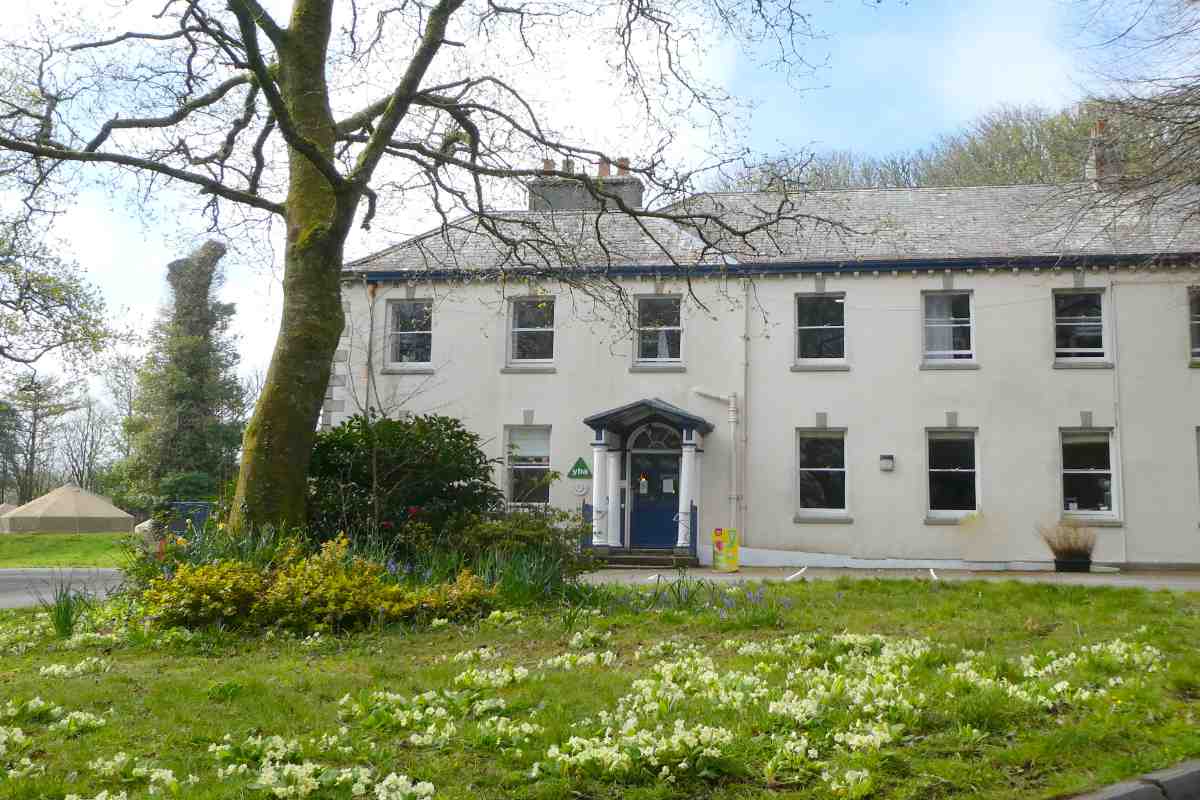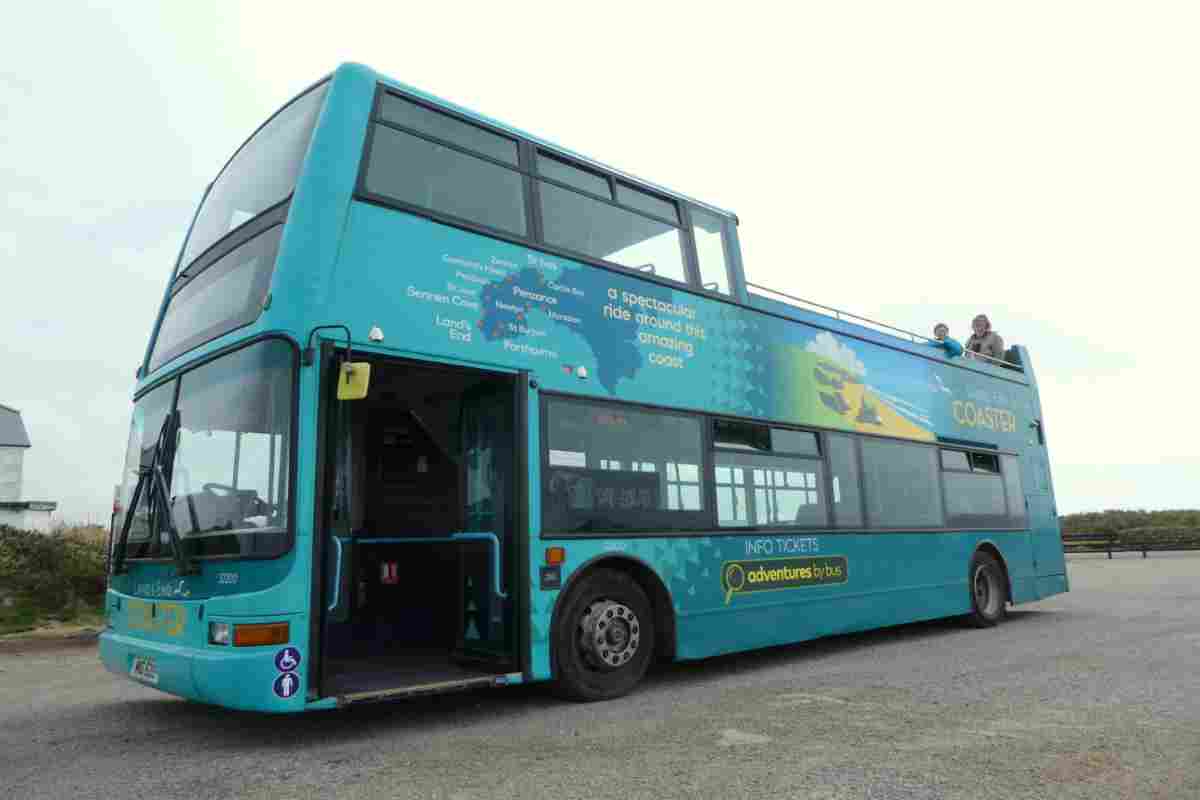 With our bus pass, a driver at Land's End explained, we had the freedom of Cornwall and could have travelled as far as Bude, 74 miles from Penzance. But there was more than enough to do in West Penwith and it was a pleasure to explore without having to negotiate narrow lanes, hairpin bends, and protruding buildings … or find somewhere to park. Taking the bus was not only better for the environment, but also much more fun, and cheaper, than going by car.