We've put together a list of magnificent multi-day, Peak District walks, leading through dry dales and across open moorland- approved by Ben Lerwill.
Peak District walks are great. Breathing in that crisp air and taking in the superb views is what walking in the Peak District National Park is all about.
Day one:
YHA Ravenstor to YHA Eyam (12.3km)  So the prospect of following a hiking route between three YHA hostels – a chance to wander for three days in the Peak without retracing my steps – held immediate appeal. Here's how I got on. (Spoiler alert: it was flipping great.)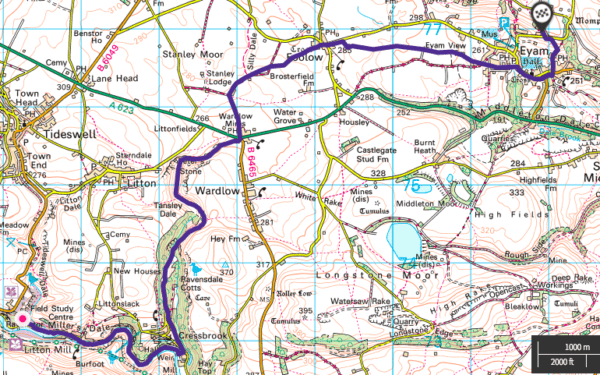 It was just me, the river and the rainbow trout. I'd left the hilltop mansion of YHA Ravenstor barely an hour earlier, and I was already utterly alone. The River Wye was running wide, green and clear, stirred only by the slow underwater meanderings of its fish. A glossy mallard appeared from around a bend, flying hard upstream, then all was quiet again. I stood on the bank among ivy-wrapped ash trees, and watched the river.
When you're covering less than ? miles in a day, it allows for plenty of dawdling along the way. It was something I'd be grateful for over the rest of the walking route. It was hours before I wound around Millers Dale. I headed north through handsome Cressbrook Dale – its high sides shaggy with wildflowers and veined with drystone wall. It's a spectacular limestone stack at the head of the dale, but once served as a spot for public gibbeting. Its gruesome history doesn't affect the deep views from its top. I hiked on, as the countryside opened up.
The past is everywhere in the Peak District National Park. You walk and you reflect. Bronze Age settlers left more than 500 burial barrows behind them. The Romans came here for lead, and laid out a couple of still-existing roads while they were at it. Later centuries saw the emergence of wealthy country estates, again capitalising on the profits of lead-mining. And perhaps most famously of all, the village of Eyam  is still synonymous with the Black Death period.
Eyam chose to isolate itself in the mid-1660s – no one in, no one out – after a local tailor unwittingly introduced plague-infected cloth into the village. Its noble stance was never forgotten. Today it's a sweet, picturesque place, and many of its cottages still bear memorial plaques. After crossing undulating field footpaths to reach the village, I walked through it slowly, and climbed up to the wooded Victorian folly of YHA Eyam.
Day two:
YHA Eyam to YHA Castleton Losehill Hall (17.9km)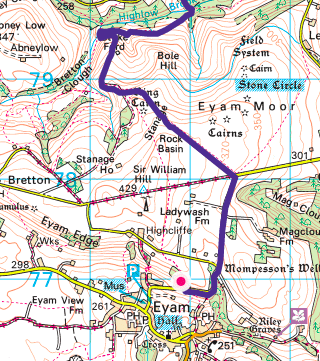 Eyam sits roughly on the border of the White and Dark Peaks. The boundary between the porous limestone of the south and the moodier, boggier gritstone of the north. I was heading north. I breakfasted well – a hostel full English doesn't eat itself – all the better to take on the steep ascent up to Eyam Moor. Here, skylarks twittered overhead and the clouds allowed patches of sunshine to wash over the dips and tussocks of the moor top.
There followed a mellow stretch of walking, with long views opening up across Hathersage. Further east, is the mighty rampart of Stanage Edge. Soon my path converged with the Derwent Valley Heritage Way, which I followed north until it met the riverside. A fly fisherman was trying his luck from the bank. Up above, a sparrowhawk traced circles in the sky. I kept on, until my path struck west through the forest, up the knee-punishing incline of Parkin Clough.
The day's high-point came 45 minutes later, in the form of the Win Hill summit. From here, an array of the Peak District's big-name highlights – Ladybower Reservoir, Mam Tor, Kinder Scout – helped shape a windblown 360˚ panorama. I pulled on my wool beanie and devoured a packed lunch, eyes fixed on the view.
My afternoon route snaked down towards Hope, through sheep fields, over footbridges, past farms. Castleton arrived two hours later, exactly when it needed to, which is to say when I really needed a cup of tea. YHA Castleton Losehill Hall is another of the region's grand old manor houses, built in the Victorian gothic style and set in 27 acres. It served my purposes brilliantly. Brew. Book. Pizza. Beer. Bed.
Day three:
YHA Castleton Losehill Hall to YHA Ravenstor (15.1km)
The day's route started in glorious fashion, leading up between the high banks of Cave Dale. By now I'd reached that zen stage of my many Peak District walks, where the mere act of placing one boot in front of the other and focusing on the surroundings brings a light-headed pleasure. I walked past tumuli and grassed-over pits as the national park spilled out on all sides, then descended back down to the White Peak plateau.
By now I was following another popular Peak District walks , in this case the Limestone Way. It led me into the sheltered warmth of lovely Hay Dale, where within seconds a spotted woodpecker flashed above me and into the trees. I'd passed relatively few other walkers since setting off two days ago, but now they appeared every 10 minutes or so. In the similarly charming Peter Dale – all green curves and towering banks – I stopped to chat to an elderly couple hiking the other way. "It's bloomin' nice, this," beamed the lady. "It's what walking's all about."
The day had a fine finale, taking me the full length of Monk's Dale before bringing me back to the wooded shores of the Wye, a river so pleasant along this stretch that the water even sounds clear. I reached YHA Ravenstor heavy-legged, but in high spirits. I'd wanted a proper Peak District walk – something full of big vistas and close-at-hand enchantment – and I'd had one. Roll on the next visit to embark on some other spectacular Peak District walks.
Are you planning on visiting the Peak District but struggling for an itinerary? Check out ours here.