Explore one of the most beautiful places on Earth with this blog from
10 Adventures
.
As we enter autumn, the end of hiking season is in sight for the big mountains, but not for budget hiking holidays in the Lake District. Our readers don't want the season to end, and this month we are answering two recently asked questions: "Is there anywhere I can get a great week of hiking in before winter?" and "I need to train to do the Tour de Mont Blanc next July. Where can I train for a week on a budget in May?" The answer is… budget hiking holidays in the Lake District.
Why the Lake District?
If you're looking for some great hiking when the Alps or Rockies are snow-covered, start planning your trip to England's Lake District. Budget hiking holidays in the Lake District has it all: stunning scenery, great walks, charming villages, and friendly locals.
Located in the northwest of England, the Lake District is England's largest national park and a newly appointed World Heritage Site. The Lake District has surprisingly great hiking, though this great hiking has somehow remained largely unknown outside of the UK. It is home to Scafell Pike – its highest mountain, Wastwater – its deepest lake, and charming towns and villages, like Keswick and Bowness-on-Windermere. The Lake District is green, picturesque, and offers some exceptional hiking. The best news for those chasing a shoulder-season walking holiday is that the best times to go are May, September and October. The crowds are significantly lower while the weather is usually still good.
How do I get there?
If you're in the UK, the best way to get to and around the Lake District is in a car. You can also take a train to Penrith and then use local buses to get around the Lake District.
If you're coming from outside the UK, the easiest way is to fly into the excellent Manchester Airport and pick up a rental car (head north for two hours on the M61 and M6). Alternatively, there is a direct train from Manchester airport to Oxenholme (90 mins) and you can catch onwards buses from there.
Where should I stay?
We almost always stay at YHA hostels in the Lake District. YHA hostels are of great value and are often spectacularly situated, offering views you won't forget for budget hiking holidays in the Lake District. Developed with hikers and budget tourists in mind, the properties offer the perfect refuge after a day outdoors. YHA hostels also greatly help in maximising your budget, not only with low room costs, but each location has cooking facilities, creating an opportunity for savings on meals!
Follow our suggested itinerary for an exceptional week-long walking holiday in the Lake District.
Day 1: Arrive and explore Keswick
Find your way to the charming town of Keswick, located close to pretty Derwent Water. You can use British Rail to get to Penrith and buses to Keswick. Explore Keswick and maybe take a cruise on Derwentwater. Stay at YHA Keswick. The property occupies a lovely position next to the River Greta and has expansive views toward Skiddaw mountain. Importantly it is only a three-minute walk to shops, restaurants, and pubs, in case you need to top up any last-minute supplies. Top tip: ask for a first-floor room to enjoy a balcony overlooking the river.
Day 2: Newlands Horseshoe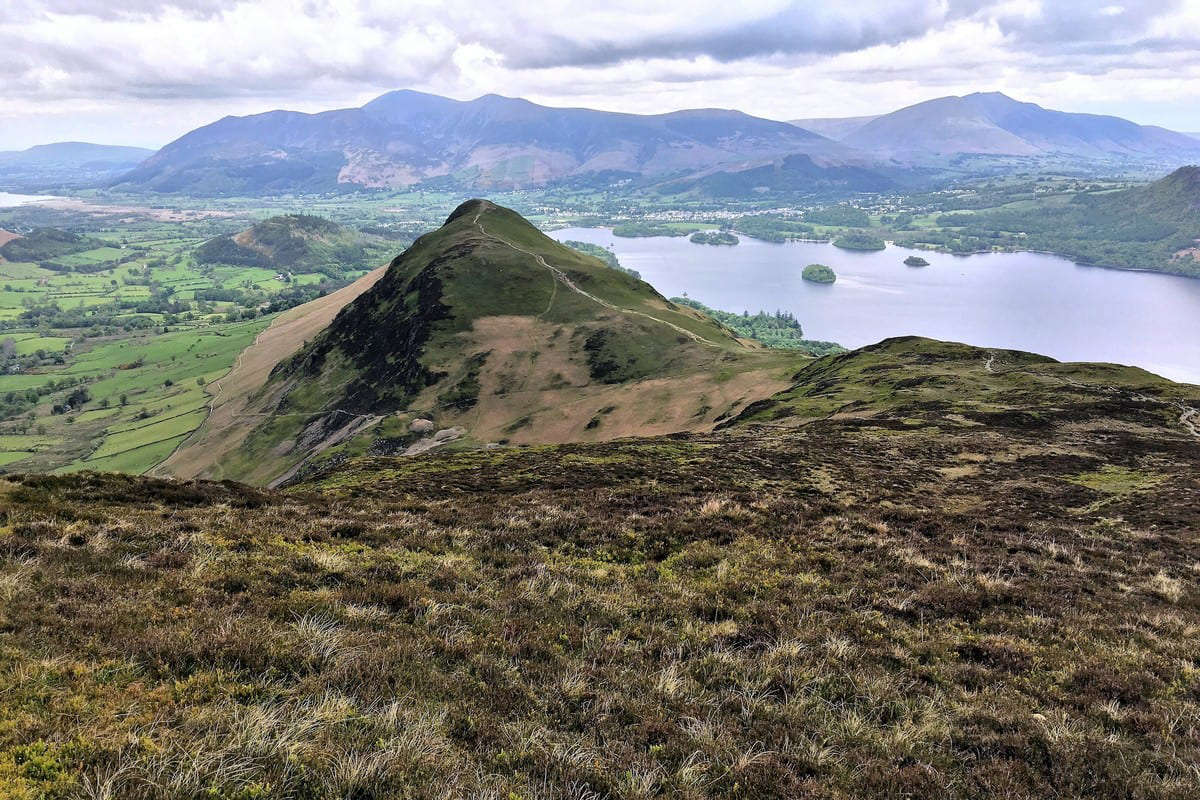 Walk the wonderful Newland's Horseshoe, which will give you a chance to really stretch your legs out at the start of your trip. The circular 17.25 km route has 992 meters of elevation to tackle and has spectacular views all along the route, especially in the final descent from Catbells. We recommend you start and end at Little Town, which has parking at the trailhead and is a five-mile drive from Keswick.
Stay another night at YHA Keswick. Head into town and check out one of the many wonderful pubs, or simply stay in and have a drink in the hostel's own bar!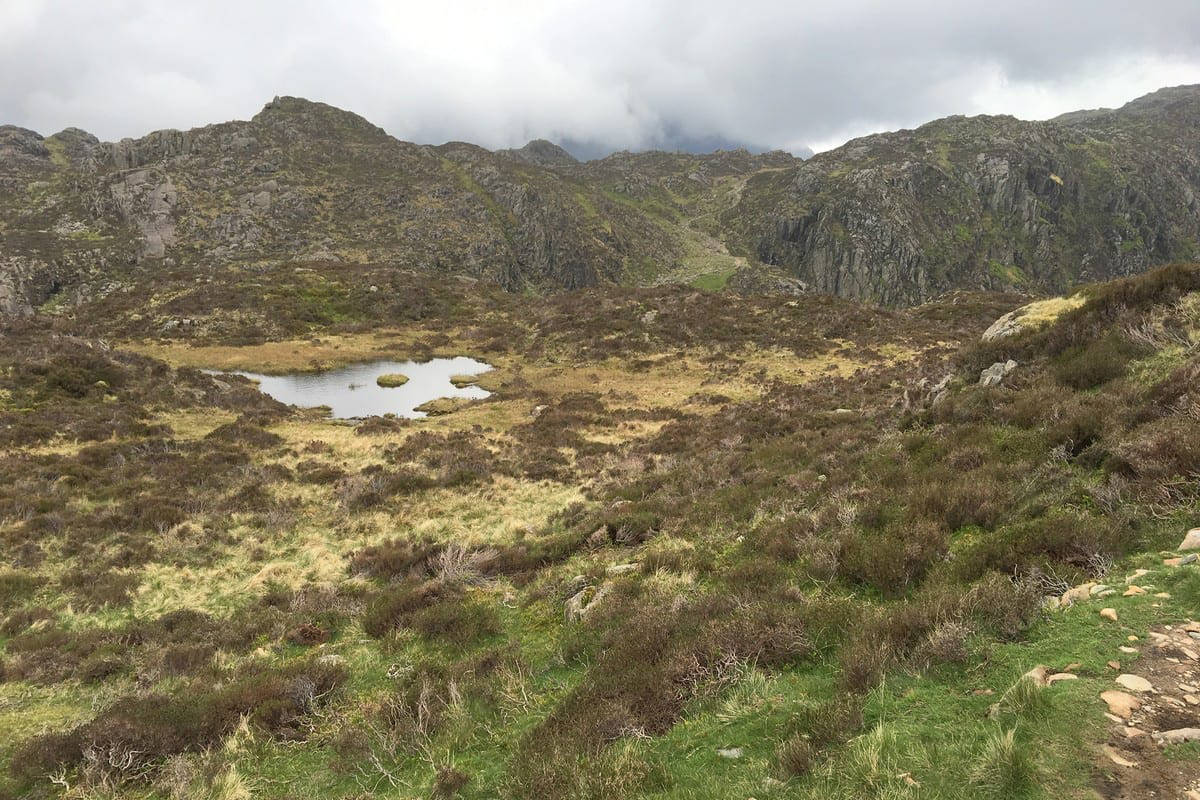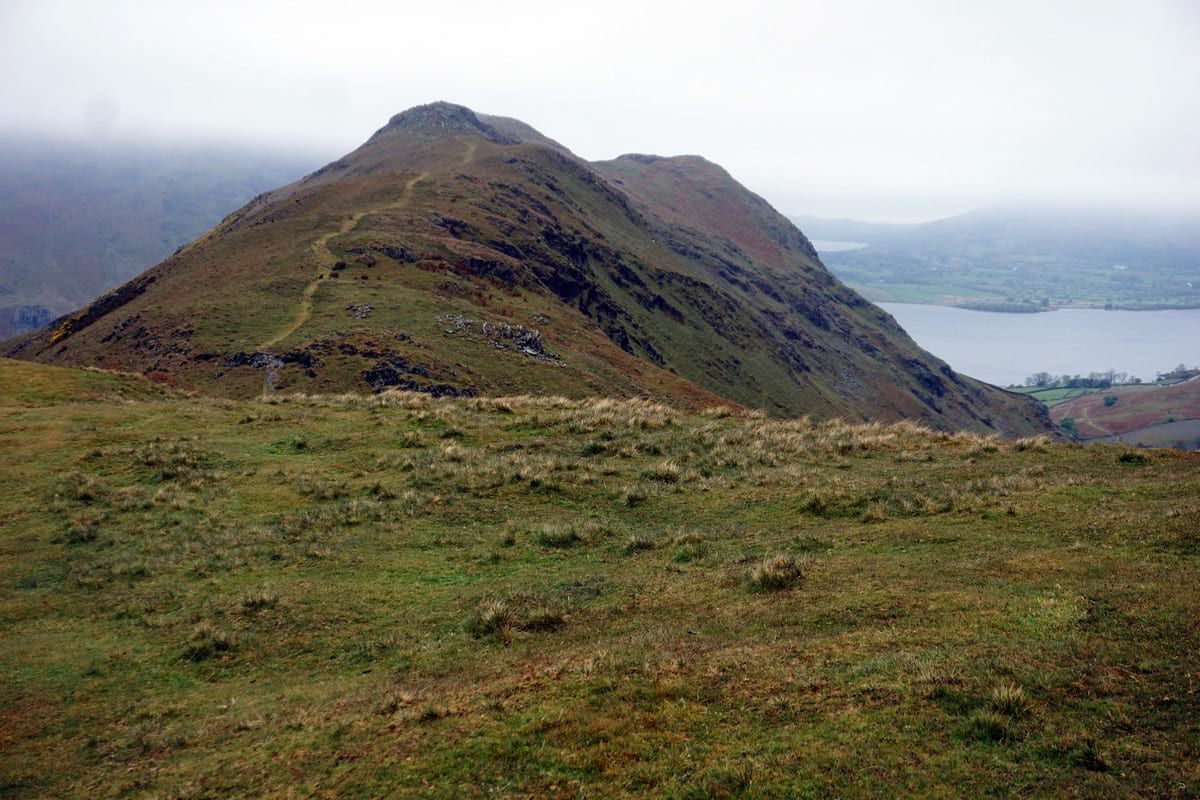 Walk the spectacular Haystacks, near Buttermere. This walk is one of the gems in the Lake District, and has a unique feel compared to most of the other walks in the area. Allow a solid half-day to cover the 8.1km loop and revel in the history of the place; this was one of Lakes pioneer Alfred Wainwright's favourite places. If you're feeling good and there's still plenty of daylight, this hike can be extended by walking back to Buttermere via High Crag, High Stile and Red Pike, a spectacular trail!
You could also do the nearby Rannerdale Knotts walk, which gives great views over Crummock Water.
Stay at YHA Buttermere, which offers old-school charm in a tranquil setting. Look out for the endangered red squirrels in the gardens and take a sunrise walk down to Crummock Water, where you can take a bracing dip in its chilly waters.
Day 4: Scafell Pike (or Langstrath Valley)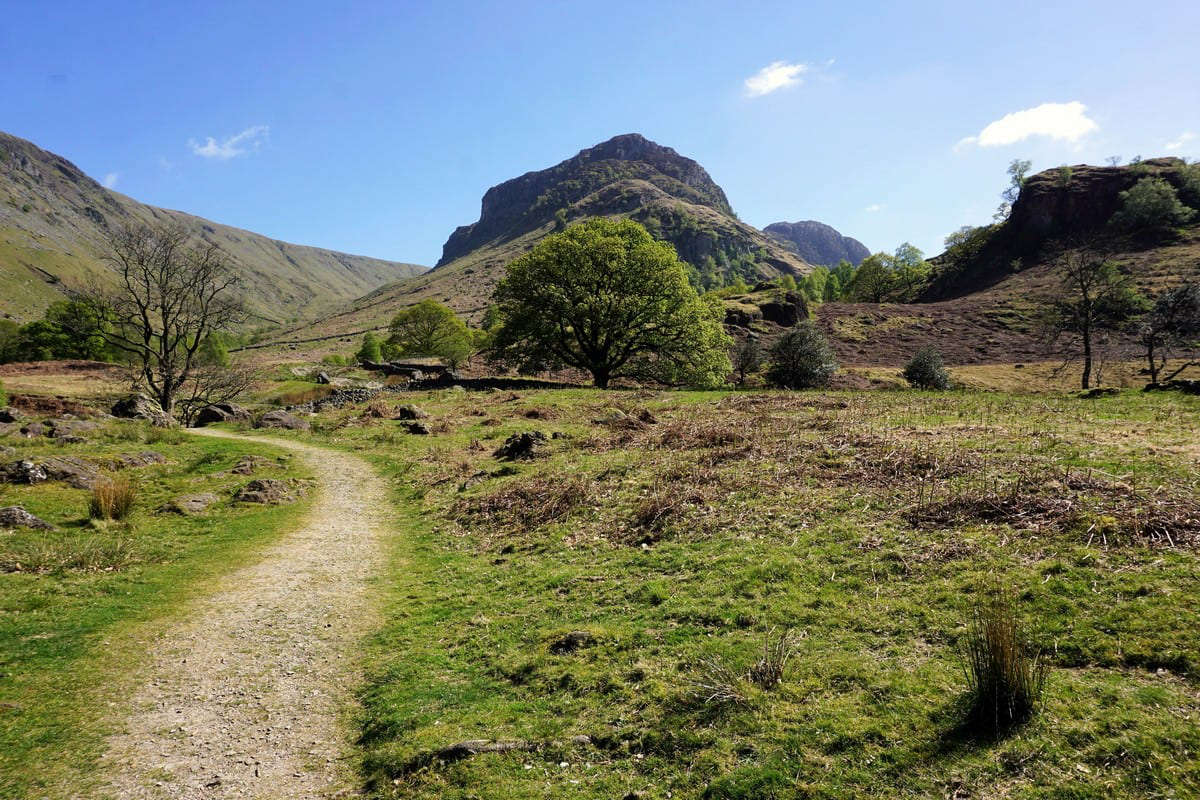 Walk to the highest peak in England, Scafell Pike. At 978 metres, it's not only England's highest mountain but also its highest war memorial, given to the National Trust in memory of those who died in WW1 so that people would have the freedom to enjoy the mountains (a brilliant idea!). We recommend starting from Seathwaite which will give a longer (14.8km), but far prettier ascent, compared to the faster route from Wasdale Head.
If you are looking for a less strenuous day, then the walkthrough Langstrath Valley is a perfect choice. You will still cover 13.4 km but among much flatter terrain with a route that meanders along riversides and valley floors.
Stay at the cosy and welcoming YHA Borrowdale. The hostel is a longstanding Lake District favourite and works as an ideal bolt-hole between hikes. The formidable Scafell Pike, Great Gable, and Castle Crag mountains are on your doorstep.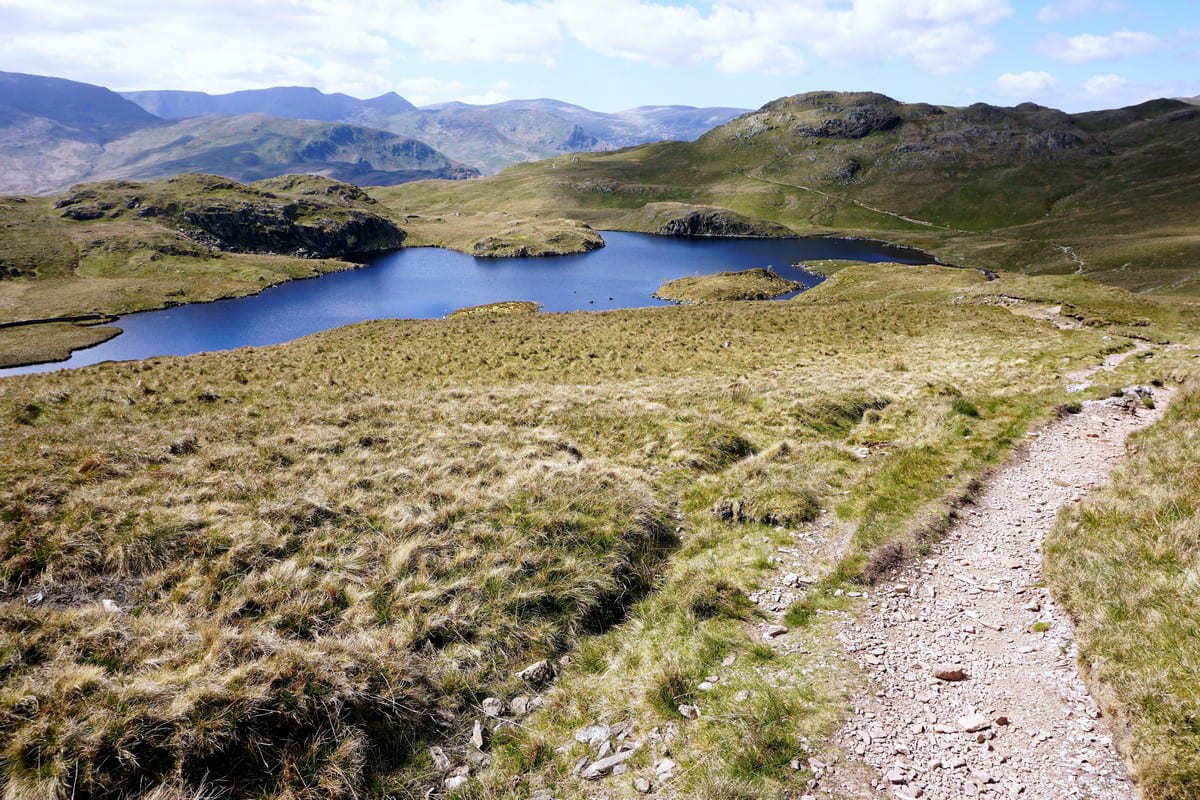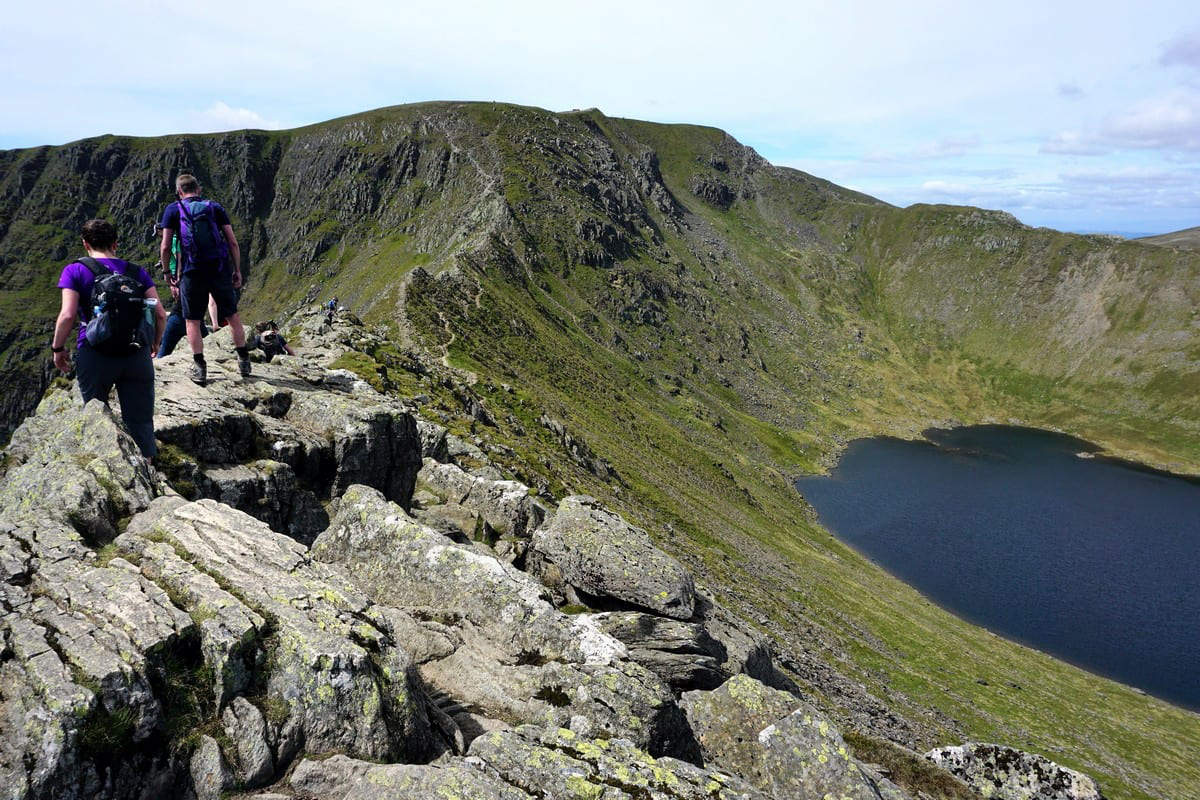 Walk the exquisite Roman High Street Circuit, a great walk that takes you through an untouched valley, then up to the summit of Thornthwaite Crag. From there, explore the wonderful views along an ancient Roman Road to the stunning Angle Tarn. The loop is 15.6 km so be aware that this can be a long day.
Another nearby option is the hike up Helvellyn (England's third highest mountain at 950 meters), another Lake District classic. Those who don't like heights or using their hands may not be huge fans of this walk, as it takes a bit of a scramble to ascend by Striding Edge and to descend by Swirral Edge. However, for those with a head for heights and who are looking for an exhilarating adventure, this could quite easily become one of your favourite hikes. If you have an extra day, this is a great walk to add to your itinerary.
Stay at YHA Patterdale, a lively and retro Scandinavian-style retreat surrounded by ridges and fells. This hostel has got great atmosphere, charm, and location.
Day 6: Fairfield Horseshoe
Walk the challenging 18km Fairfield Horseshoe loop. There is something wonderful about a walk that starts and ends directly in the centre of a charming English Village and that's exactly what this walk does. The ups and downs on both ridges will take their toll (plan for at least a six-hour hike), but fine views overlooking much of Lakeland are a worthwhile reward for your efforts.
Stay on the shores of Windermere at YHA Ambleside. After a day of adventure, order a local ale and fill your belly with authentic, wholesome British fare at the excellent adjoining Lakeside Pub, while looking out on Windermere. If you're lucky, you'll have a room with a view of Windermere, which is absolutely stunning.
Day 7: Explore Bowness-on-Windermere and then home
Drive down to Bowness-on-Windermere and explore this charming village, before heading home.
If you can squeeze in one more day on your holiday, then take the 90-minute drive to Wasdale Head, going over Hardknott Pass along the way, an epic drive. Once in Wasdale Head, walk the stunning Mosedale Horseshoe, a classic walk in the Lakes. This walk usually has fewer crowds due to the out of the way location. Like the rest of the Lake District, there's a YHA hostel here as well, YHA Wasdale Hall. This 19th century country manor is one of our favourites in all of the Lake District.