Walking is a free way of taking in Britain's scenic sites; here are our 6 favourite walking destinations in the UK.
Lizard Peninsula Coast
About as far south as you can go but still be on the UK mainland, the Lizard Peninsula is a gorgeous stretch of coast with many untouched coves and picturesque fishing villages (you'll think you've stepped into a postcard). The Lizard coastline is one of the most popular UK walking destinations on the South West Coast Path thanks to its blooming spectacular sea views. You might even be lucky enough spot a Cornish dolphin showing off in the waves!
Located close to this scenic stretch of land is YHA Lizard Point. Its idyllic location puts you smack bang in the middle of panoramic sea views, historic Cornish landmarks, beachcombing, walking and unique flora and fauna. Literally, what are you waiting for?
Pembrokeshire Coast Path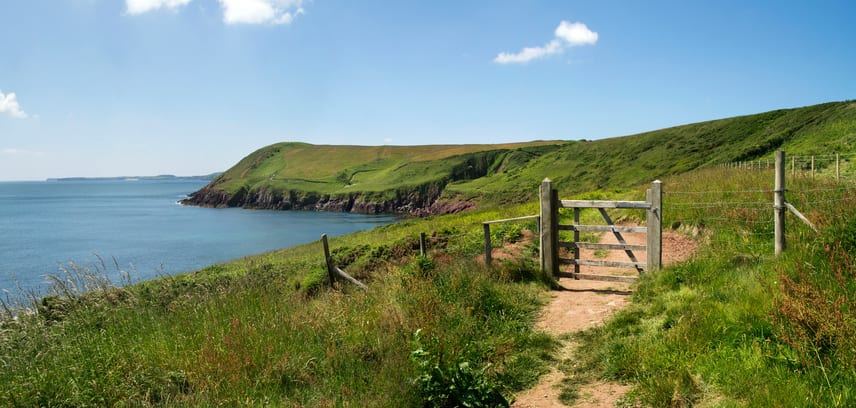 The world-famous Pembrokeshire Coast Path in North Wales twists and turns its way through 186 miles of dramatic clifftops, winding estuaries and sheltered sandy beaches. A good pair of walking boots and a sense of adventure are the only musts for this path, where you'll find walks to suit all abilities, making it a popular choice for walking destinations in the UK.
You're spoilt for choice when choosing the perfect base close to the Pembrokeshire Coast Path. There are 4 YHA's situated in this stunning location, all close to local shops and pubs.
Dovedale Circular Walk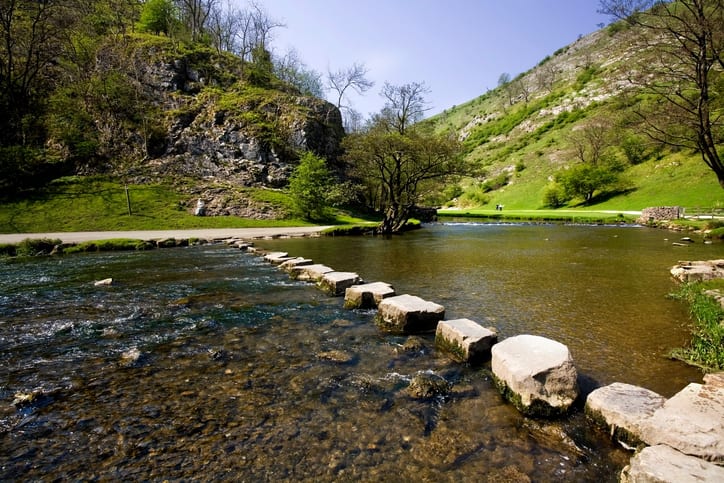 Dovedale is Peak District walking at its best. Those views do not disappoint, and the paths are well maintained and full of friendly faces. The walk is family friendly and full of exciting features to keep little adventurers entertained, such as Dovedale's iconic stepping stones and the unique limestone formations of Tissington Spire and Ilam Rocks. For very little legs there's a short version of the walk that's only 1.5km long.
On Dovedale's doorstep is YHA Ilam Hall, a stunning 17th century gothic manor that's just a 25-minute walk from Ilam Park.
Dartmoor National Park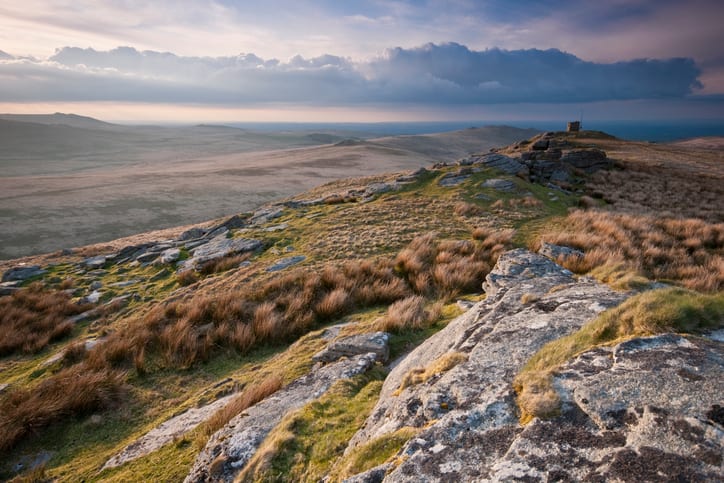 The moorlands, forests, rivers and rugged granite tors of Dartmoor National Park are a walker's paradise. As the oldest National Park in the UK, Dartmoor is home to many local myths and legends, including the mysterious rock formation at Hayne Down said to be the fearless hunter Bowerman who was turned to stone by a coven of witches. The best way to explore Dartmoor is to make use of its vast network of footpaths. The national park consists of many walking routes which vary from an easy stroll to a challenging trek, so whether you're a plodder, a hiker or a budding mountain marathoner – there's something for you. One of the most popular walks takes you from Castle Drogo to Fingle Gorge, a two-hour round trip past a medieval castle and through an oak-lined gorge to an ancient stone bridge.
A perfect base for exploring the national park is YHA Dartmoor. The hostel is a comfortable rural retreat surrounded by the open moorland and just chuffing stunning scenery.
Lake District National Park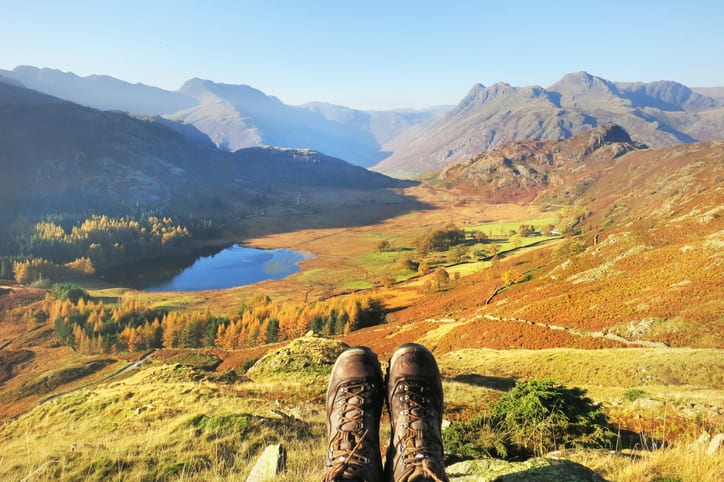 A very popular walking destination in the UK! The Lake District National Park is made up of nearly 1,000 square miles of mountains, lakes and rivers – you'd be hard pressed to find a bad view amongst that lot. It welcomes almost 16 million visitors a year and has been the inspiration for some of this country's most artistic souls, including William Wordsworth and Beatrix Potter.
Second to no one, the Lake district is home to both the highest peak and the deepest lake in England. You can't step out of your front door without setting foot on a well-trodden, well-maintained and well documented walking route, not least the 214 fells laid out in Alfred Wainwright's famous seven volume guide. And it's all absolutely flippin' beautiful.
When it comes to looking for somewhere to stay in the Lake District, you're spoilt for choice. There are many YHAs in the Lakes, each in a unique and spectacular location.
Stanage Edge Circular Walk
Strong, dark and brooding Stanage Edge in the Peak District is four miles of gritstone whose epic views and sheer rock faces make it a mecca for both walkers and rock climbers. The surrounding dry-stone tors, historic buildings and windswept moors have been sewn into England's cultural and literary landscape by the Brontë sisters, who grew up surrounded by this wild beauty. Whichever route you take, you'll be rewarded with breath-taking views, not to mention the haunting debris of long-abandoned millstones and the hair-raising sight of climbers ascending the Edge's face.
Nearby Stanage Edge is YHA Hathersage. This hostel is continually buzzing with climbing and walking enthusiasts who cannot get enough of the Peaks.
Discover more about YHA.