Step right this way for some Insta-inspiration autumn photography locations. Take a look at our run down of eight wonderful places to frolic amongst falling leaves this autumn. With a subject matter this photogenic, a simple point and click in any direction should do it. Pop these autumn photography locations into your GPS and sensational scenery squarely into your viewfinder:
The New Forest
From sweet chestnut to mighty redwood, wild heath to grassland, the New Forest is a blaze of colour at this time of year. Visit the walking festival or come and see wild ponies and acorn-seeking pigs wandering free.
Walking Festival Calshot Ramble – meeting point at: ///simply.roosters.zoned
Nearest hostel – YHA New Forest
The National Forest & Calke Abbey
Stay close to home with a spin around the relatively easy CONKERS Circuit. Alternatively, jump in the car and within 20 minutes you'll arrive at Calke Abbey. Not only will you find an enviable collection of pumpkins and gourds, the estate is also home to 80 fallow and 25 red deer who are in their element at this time of year.
Start the Conkers Circuit at: //evolution.forget.destined
The car park entrance at Calke Abbey can be found at: ///trumpet.operation.sunblock
Nearest hostel: YHA National Forest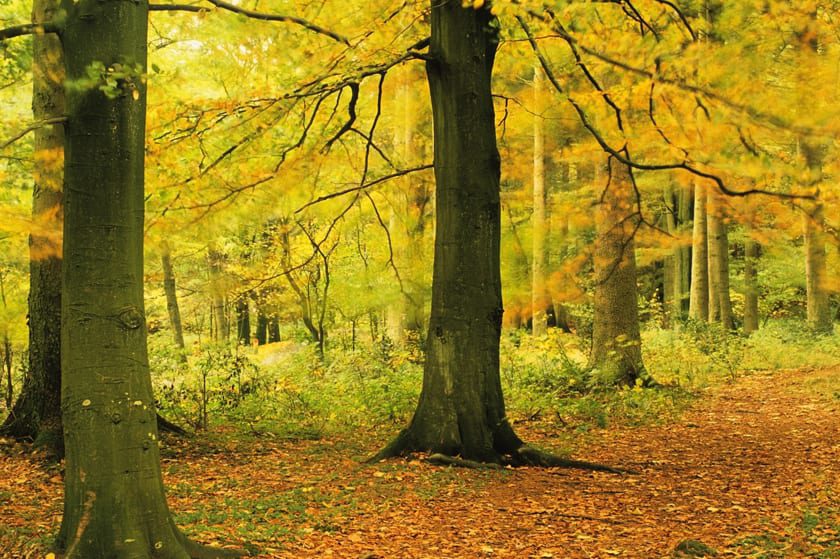 Grizedale Forest
Take a trip to the trig point at the top of Carron Crag to see the surrounding hills and fells at their very best, swathed in warm autumnal tones. A very popular autumnal photography location!
Trig point at top of Carron Crag found at: ///zebra.crafts.revisit
Nearest hostel: YHA Ambleside
Bute Park
A great autumn photography location which looks spectacular is Bute Park. Cardiff Castle looks like something from a fairy tale, flanked by so many branches of orange, red and green. Once the castle's back garden, Bute Park boasts one of Wales' best urban tree collections.
Entrance to the park on Castle Street at: ///runs.hedge.apron
Nearest hostel – YHA Cardiff Central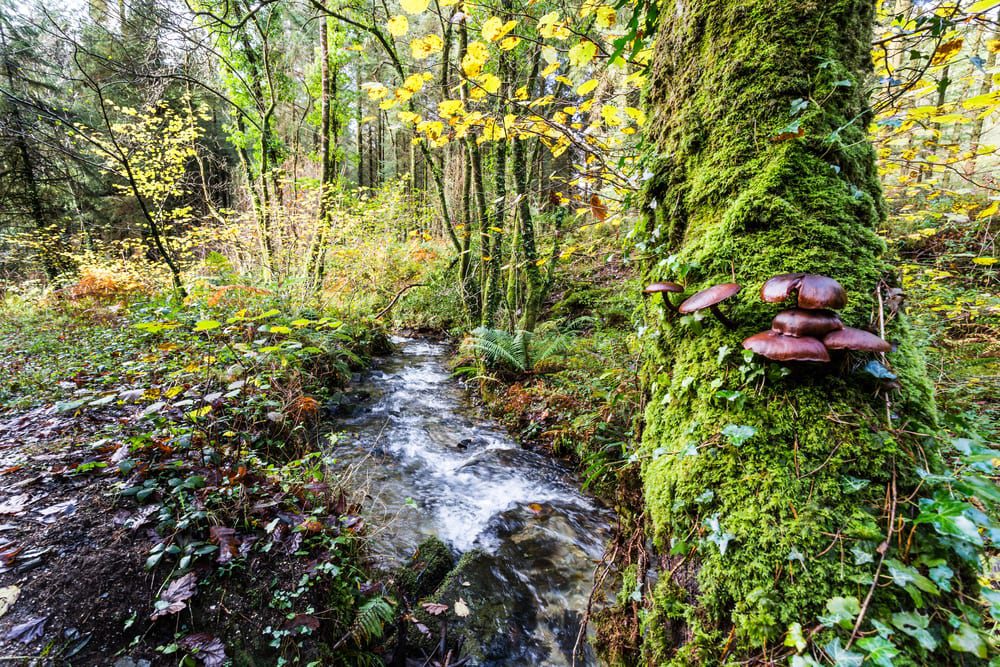 Cardinham Woods, Bodmin
Hop on your bike and cycle for an hour along National Route 3 to Cardinham Woods near Bodmin. This 650-acre plot is populated by oak, rowan, alder and willow and there are many way-marked walking and cycling trails to keep all ages entertained.
Start the bike ride from the hostel at ///nightlife.comically.corals
And head for the entrance to the woods at ///mango.guitars.cargo
Nearest hostel: YHA Eden Project
Bodnant Garden
A mere 15-minute drive from either hostel transports you to the rare beauty of this National Trust treasure. An historic collection of world trees, the garden is home to UK Champions including a number of century-old rare exotics. Expect Japanese acers, American conifers, late flowering plants and weird fruit: Dead Man's Fingers anyone? It's not wonder its a popular autumn photography location!
Car park entrance at ///loans.flamingo.cherish
Nearest hostel: YHA Conwy or YHA Rowen
University Botanic Garden
With over 8000 plant species, the research collection is a bit special. It's also a lovely place for members of the public to discover the drama and diversity of plants. Follow the curated autumn trail to discover the season's infinite variety.
Find the Station Road entrance to the gardens at ////void.kings.human
Nearest hostel: YHA Cambridge
Beningbrough Hall
Jump on the bike and cycle the 8.5 miles along Sustrans Route 65 to reach the baroque mansion and beautiful gardens of Beningbrough Hall. With a garden for all seasons, year-round wildlife and a wider estate that offers walks through woodland glades and along river paths, it's a cracking spot for an autumn stroll and an autumn photography location.
Start bike ride from hostel at ///anyone.prom.craft
Cycle to the car park entrance at ///cape.oven.speedily
Nearest hostel: YHA York
We've made these great spots easier to find by using their 3 word address from what3words. It's system assigns every 3m square in the world three random words, making spots like these easier for us to share and you to find. So, wherever you see ///word.word.word this is an exact 3m square you can navigate to. To use the 3 word addresses shared here, download the free what3words app, enter the words and click 'navigate' to get directions. We also use 3 word addresses for all of our YHA hostels: you can find the 3 words next to the address in the location information section.
Download the W3W app here.