Take on our charity challenge and help us raise vital funds!
Looking for a worthwhile challenge this winter? February sees the launch of YHA's Virtual Adventurer: Pembrokeshire edition, organised in partnership with mapping platform UltraBritain. Marking the second time we've held a Virtual Adventurer challenge – the first, in 2021, saw lots of you virtually complete the Lake District's William Wordsworth Way – it's a chance to clock up the kilometres while helping to raise crucial funds for our work.
The concept is a simple one. It costs just £15 to participate in the challenge, and once you're signed up you can pledge to walk, run or cycle 30, 100 or 300km over the course of February. The distance can be completed in chunks of your choosing, at your own pace, and there's no minimum sponsorship amount. All your walks, runs, hikes and bike rides can count towards your total towards the charity challenge.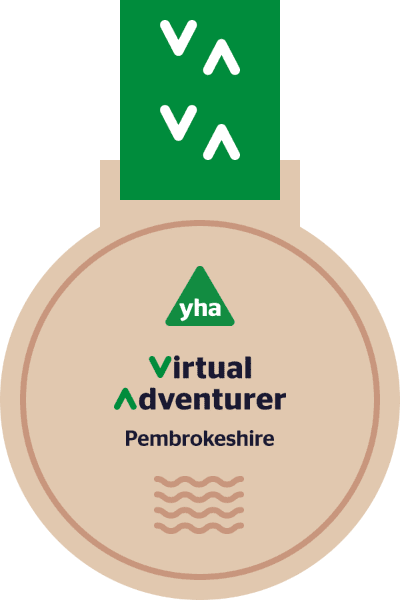 So where does Pembrokeshire fit in? Well, no matter where you're exercising, you'll be able to register for a free UltraBritain profile. This means that every time you log the kilometres you've accumulated – either manually, or automatically through the simple process of linking a Strava account – you'll be able to watch your avatar progress along the spectacular Pembrokeshire Coastal Path.
The 300km option represents the full length of the trail… cliffs, bays, puffins and all. With UltraBritain's software, you'll pass real-life landmarks and six YHA hostels along the way. You can also add your own photos and share your progress with friends and family online. Once you've entered, we'll invite you to set up a JustGiving page – and there's a further perk, too. Anyone who raises more than £50 will be entered into a draw for a two-night break at a YHA in Pembrokeshire (terms and conditions apply).
And the very best part? All money raised supports our work in connecting people with nature, the outdoors, heritage and culture.
Become a YHA Virtual Adventurer
Pledge to travel 50km, 100km or 300km in February. You can walk, run, cycle or do a mixture of all three. It's up to you.
Read next: Meet Amira the Wanderlust and find out how she's grown a large and inspiring community of women through the outdoors.