In August 2020, on an Instagram post, Amira Patel wrote: "Diversifying the outdoors one step at a time. Being a hiker and a Muslimah does have its struggles as it's something not many people see, but I don't let this stop me. I don't let my hijab, my clothing or my niqab stop me from travelling and hiking. I believe one person can make a difference and inspire. It just takes that one step. Appreciate all the love and support we've received, and I'm so happy to see my group expand."
And how this group has expanded. Amira the Wanderlust, as she is known, has grown a large and inspiring community of women through her organisation Wanderlust Women. It's a growing group of Muslim women who hike together, paddleboard, climb, kayak, surf, and find peace in the outdoors.
"I went through a difficult few years in my life, and the outdoors was my healing space," Amira tells The Journey. "I started doing a lot of solo walks and it helped me to connect to my religion. Islam is all about being mindful, about solitude, and about being grateful. I'd pray outside. I found a beautiful feeling that I had with the outdoors, a spiritual connection."
Amira had always travelled. Her dad would take her and her brother on trips worldwide with work, and her mum was always outdoorsy, taking them cycling and hiking. And then, after a few years of "being a teenager" and a university student, she took herself exploring across the UK, and then Europe.
I went backpacking for a month, and that's when I truly found in myself the spark of adventure. I knew that's what I wanted to do, that this is me." That was about five years ago, when her vision for a safe space for Muslim women, for women from South Asian backgrounds, began to form. But life got in the way – and then Covid struck. Unable to work in the beauty salon she managed, she began to explore the British outdoors.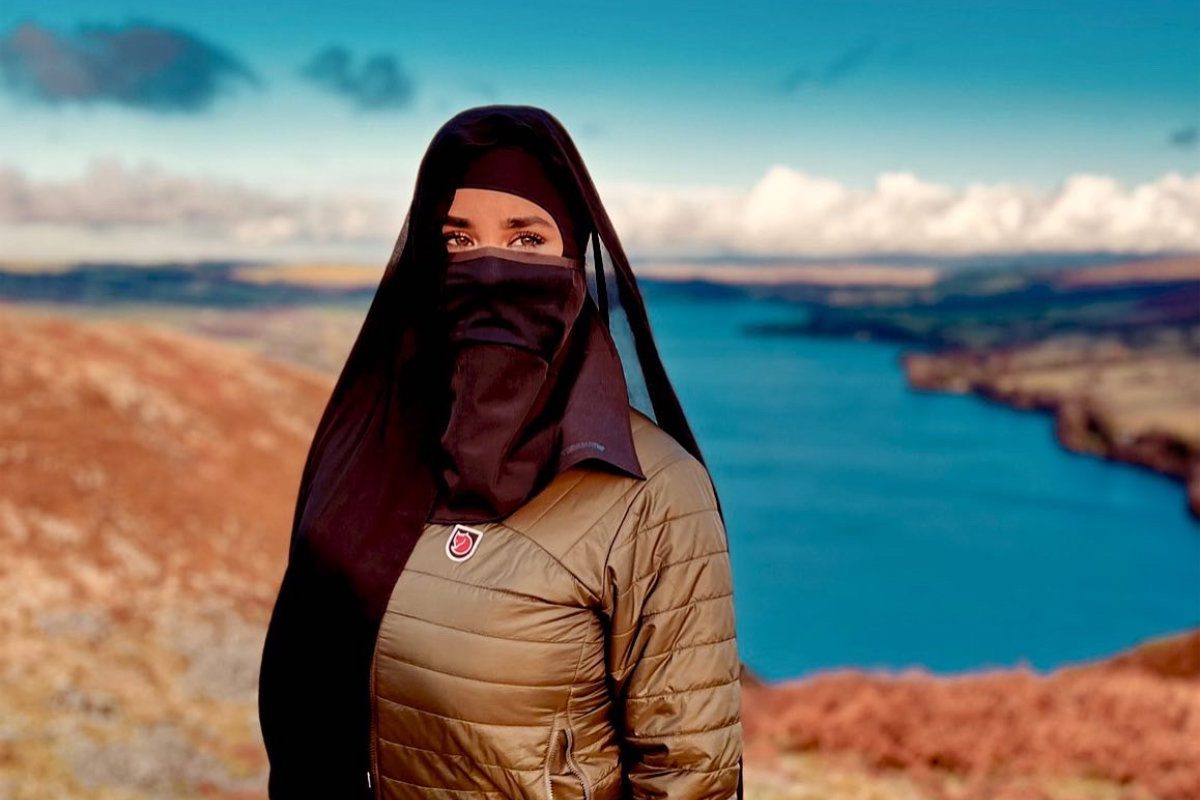 "I learnt about Wainwrights [the 214 peaks described in Alfred Wainwright's Pictorial Guide to the Lakeland Fells] and started walking them. I also did the Three Peaks Challenge, and each time I did something I became more and more connected."
She started putting her pictures on Instagram and soon began attracting attention. "So many people started getting in touch saying they loved what I was doing, asking about wearing a veil, and lots of other questions."
"I started wearing the veil at the beginning of 2020, and I did have concerns for myself. I wondered if I'd be seen differently and if I could still do the things I wanted to do. And then I put a post up saying that you shouldn't let what you wear define your purpose in life, what you can and can't do. And so many people got in touch; they resonated with it and found it inspiring. And then it hit me that there's no representation of people like me in the outdoors. That's when I realised there's a bigger purpose to this and the idea that I'd had five years ago, I decided to make it happen."
Within a day of setting up the Instagram page (@the.wanderlust.women), she had more than 1,000 followers, tickets for her first guided walk near her home town of Bolton went in minutes, and organisations including the Kit Collective got in touch to offer help. Throughout 2020, Amira took groups of women hiking, gorge walking, kayaking, canoeing, and rock climbing. Wanderlust Women got coverage in the news, and appeared in films. She was asked to talk at the prestigious Kendal Mountain Festival.
It's not all been plain sailing of course. "It's always going to be the case that if people see something that's different, you will get questioned. You will get racism; you will get Islamophobia. "Generally, the outdoor community is quite welcoming, but outside that, there's polite racism, microaggressions, and I think that's something a lot of women face in the outdoor industry."
"Things like: Where's your map? Do you know where you're going? Is this your first time here? And on social media, you do get racist comments, but that's just fuel to keep on doing what we're doing." Amira has ambitious plans for Wanderlust Women, including the first international trek, skills  courses, and developing clusters of Wanderlust Women around the UK. She'd also love to have a Wanderlust space in the Lake District with prayer facilities, halal food and women-only facilities. On a personal level, she has plans to do the Coast-to-Coast, undertake a Mountain Leader course, complete the Wainwrights, and run a marathon to raise money for The Period Poverty Project.
But her core ethos is clear: "The work I do is to advocate for people who are underrepresented in the outdoors, to speak on behalf of Muslim women and women from South Asian backgrounds."
Read next: Seven ways to enjoy the 'Natural Health Service' in 2022.