Outdoor swimming, you'll have heard, is officially a 'thing'. Along our beaches, riversides and lakeshores are enthusiasts, perhaps wetsuited, taking the plunge into the waters of Britain. It's hardly a new phenomenon, but its popularity has never been greater. And why? Because people are discovering that outdoor swimming is one of the most refreshing, soulful activities there is. We've enlisted the help of Kate Rew, founder of the Outdoor Swimming Society (OSS), for an introduction.
The OSS was founded in 2006 to 're-establish our connection with the open water.' Kate started it with an eye on championing the practice of swimming in rivers, lakes, lidos and seas; in short, to give people permission to swim again. "When we began… we really had to work to convince people swimming outdoors wasn't dirty, dangerous and illegal," she says. "Lots of people's grandmothers still did it – but it wasn't an active movement." It is now. The Outdoor Swimming Society is free to join and now has more than 100,000 members.
OSS members share a belief and an attitude, not a demographic. We embrace outdoor swimming's ability to slip us out of recognisable reality and into something better. We embrace swimming's ability to enlarge and celebrate the beauty of every day and enhance the landscape and people we meet within it.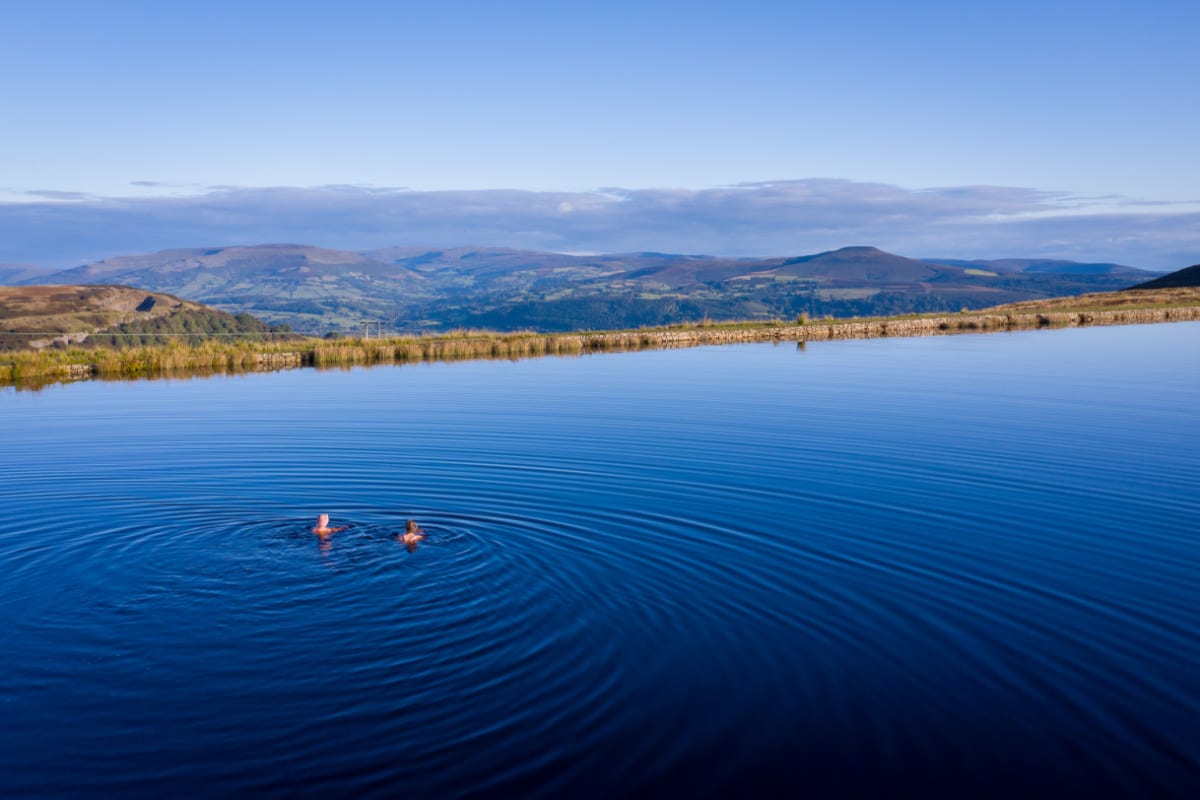 11 tips for responsible outdoor swimming
Leave no trace, taking all litter (yours and others) away with you.
Be sensitive about numbers and the impacts on popular swim spots, and go elsewhere if it is busy.
Be aware of fire risk and avoid starting a fire or causing damage with barbecues or cigarettes.
Do not pick, uproot, damage or trample plants or trees, including waterweed which is important for invertebrates.
Avoid removing rocks or disturbing land features, as invertebrates can live under these.
Be sensitive to bank side vegetation and avoid damaging banks when entering or exiting the water.
Avoid disturbing livestock or wildlife, including animals, birds, fish and invertebrates.
Keep your distance from wildlife, particularly from nesting birds in spring and summer.
Keep clear of areas important for fish breeding and spawning, such as gravel shoals and riffles, especially between autumn and spring.
Be especially careful in areas designated to protect nature. Research the place you are visiting, for example look up Sites of Special Scientific Interest (SSSIs) and nature reserves, ask people or wildlife/conservation organisations familiar with the local area, or if possible the landowner or site manager, to see what the protections are and what particular care to take.
Be bio secure – CHECK, CLEAN, DRY: check swim gear for organisms after swimming, clean it well, and dry gear before swimming again #spreadthewordnottheweed.
10 tips for staying safe when outdoor swimming
1. Spot the dangers
Ask locals for advice, and read local warning and guidance signs before heading into water at a new spot. Find your exit point before entering the water.
2. Swim sober
Alcohol and drugs impair judgement, swimming ability and body temperature.
3. Swim with others
Consider taking someone with you when you go into water, especially if you've not swum alone before.
4. Increase your exposure to open water gradually
Enter the water slowly, getting used to the temperature.
5. Avoid jumping in
Check for depth and hazards, and get used to the water temperature.
6. Watch children at all times
Find a safe area for children to play in and watch them all the time.
7. Swim at lifeguarded beaches
If new to swimming outdoors or long distance swimming, stick to lifeguarded beaches and obey the flags. If you get into trouble, signal for help by raising an arm or leg.
8. Recognise the signs of drowning
People who are drowning are usually silent. Call for help – dial 112 or 999 and ask for the Coastguard, or Fire and Rescue at an inland location.
9. Learn how to spot a rip tide
If you get caught in a rip, stay calm. Swim parallel to the shore until free of the rip and then head for shore. If you can stand, wade, don't swim.
10. Remember the SAFE swimmers code
SPOT the dangers
ADVICE – follow safety advice and read signs
FRIEND – swim with others
EMERGENCY – call for help, recognise the signs of someone in trouble
Photo credit: Adobe/.shock