Discover the best of cycling in the Lakes with this blog from guest writer, Kevin Merrey.
Now, I could probably be described as a road bike obsessive. I spend evenings looking at maps and reading about routes for new places to cycle: the more mountainous the better. I've cycled in some stunning parts of the world, but there are places that are hard to beat. And my favourite is the Lake District National Park.
"It's a cycling paradise, home to some serious race events… but it's also a place ideally suited for shorter, more leisurely rides through beautiful countryside."
I've been cycling since I was a kid in the 80s. Back then it was all about BMXs, making jumps off homemade ramps and trying to clear mates who were laying down. From there, for me, it was a natural progression to mountain bikes in the early 90s: big, heavy, clunky things, with rubbish brakes and gears that skipped. But they let me explore further and embark on some real local adventures. Looking back, it was this time when I got the bug for proper exploration on a bike. Those early years of my life were full of cycling adventures, big and small.
Fast forward to the noughties and it was the curly handlebars and skinny tyres of road bikes that I began to take more seriously (that and wearing lycra!). I started riding ridiculously light carbon bikes, and over time the distance of my rides just kept going up. But back to the Lakes.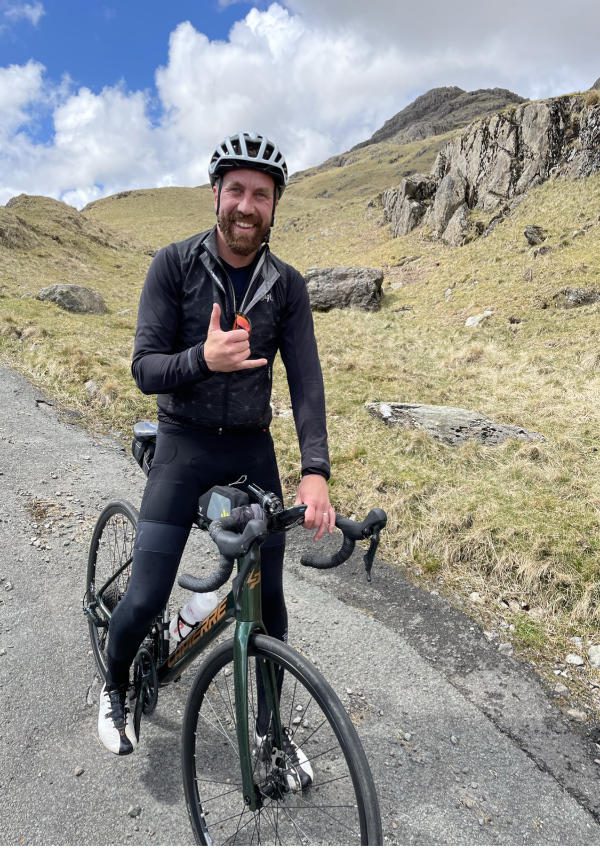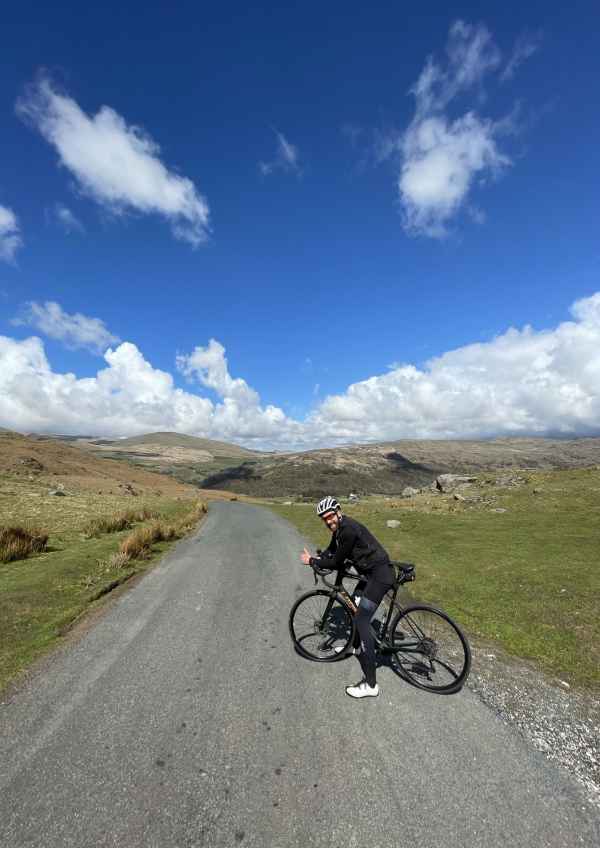 I first cycled here about seven years ago, and I've been returning ever since. The attraction for me lies not only in the beauty of the place, but also the seemingly endless possibilities for amazing days in the saddle. It's a cycling paradise, home to some serious race events such as the Fred Whitton Sportive and the Hardest 100, but it's also a place ideally suited for shorter, more leisurely rides through beautiful countryside and unspoilt villages and farmsteads. Because of this it really is geared up to cover the whole spectrum of cycling, from road and mountain bikes to e-bikes, with dedicated cycle paths, bike hire shops and countless places to stay.
During the summer of 2021, a mate of mine joined me up in the Lakes. We both live in the southern end of the UK, so travelled up together for a weekend of hiking and cycling (and a few beers to boot). Our base for the trip was a two-night stay at YHA Ambleside, a place perfectly suited for a weekend of outdoor activities. On the first full day we headed into the local hills for some hiking and scrambling, but the main event for us was day two, a pre-planned 40-mile road cycling route around the heart of the National Park. It took in famous climbs such as Hardknott and Wrynose Passes, as well as tranquil backcountry cycling around the quieter parts of the map.
We woke up to a slightly drizzly morning, but not long after setting off from the hostel (post full English breakfast and a large mug of coffee, courtesy of YHA) the sun broke through the clouds and before we knew it we were cycling in the bright, warm morning sunshine. The route took us away from the quaint town of Ambleside, just north of Lake Windermere, and along quiet country lanes. We headed west across the Lakes. It started as a fairly low-level ride, gently undulating through an achingly pretty landscape, before arching northwards towards the heart of the National Park. Steeper climbs lay ahead.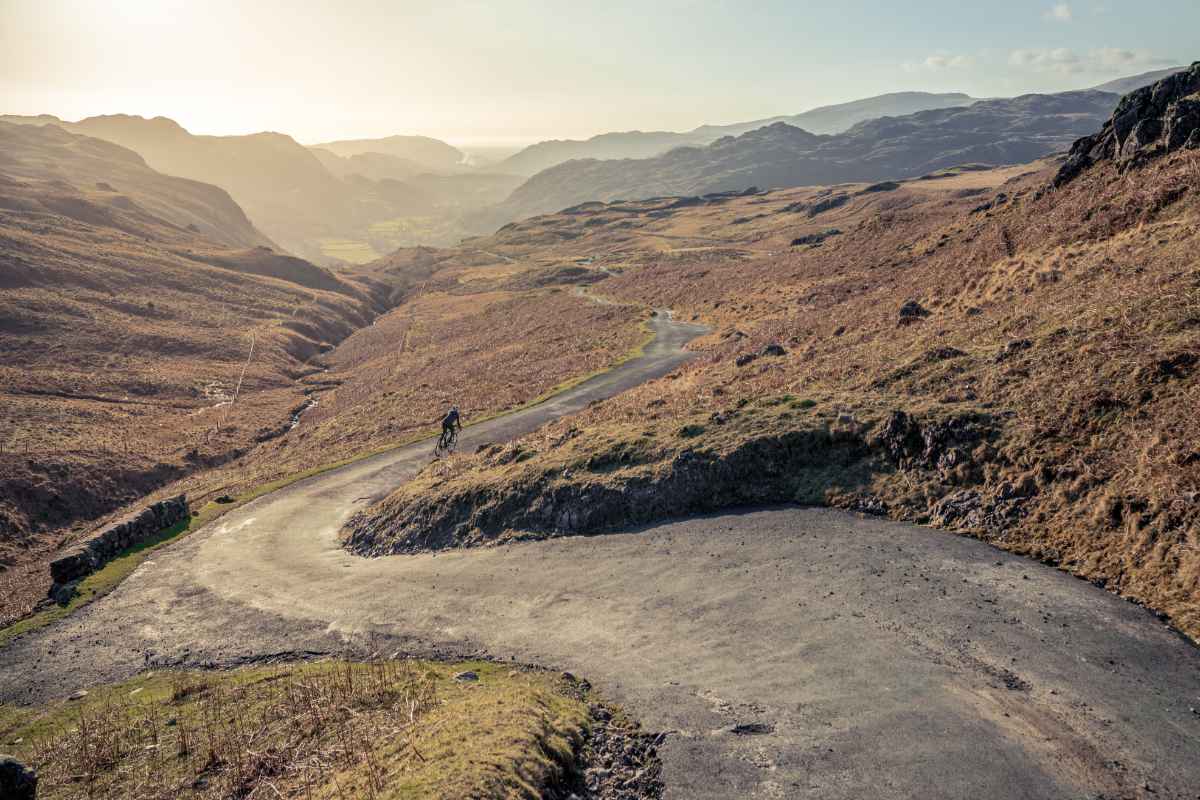 Our mood was high and we chatted as we whizzed along, all the while trying to soak up the beauty of the surrounding countryside and make the most of riding in one of the best cycling regions in the country. We stopped here and there for a quick break and to eat our cycling snacks of local oat bars and pork pies (our fuel of choice for the day's ride!). Slowly but surely, we clocked up the miles, travelling further into the Lakes and towards one of the steepest climbs in the country, the aforementioned Hardknott Pass. It's a climb with sections of up to 33% gradient, which is hard enough to walk up, never mind ride a bike that just wants to roll back down.
Hardknott Pass, along with Wrynose Pass, are ancient routes that head through high-sided glacial valleys, with views out across the Lakes in all directions. Hardknott is named after a Roman Fort that stands next to the road halfway up, but low stone walls are all that remain of a once-important fortress that acted as a defence against attack for the Romans in the second century AD. It's in plain sight from the road, but for a better look, you can pull over and view it from the higher grassy bank. Although to be honest, we wouldn't have stopped if it had been the Taj Mahal — at this particular moment in time we were laser-focused on getting to the top. Eventually, after no small amount of puffing and sweating, we made it triumphantly through both passes.
From here on in the ride was more downhill than up, with further stunning views along the Langdale Valley and the River Rothay. We finally cruised back into Ambleside to complete a fantastic ride around the heart of the Lake District. To finish the day off back at the hostel, after a nice hot shower to soothe tired muscles, we had a well-earned beer and a filling meal that we chowed down in no time. It had been a weekend to well and truly cure any 2021 blues: hiking and cycling through these craggy celestial landscapes, a place where the ridges and valleys do something to your soul. There really is nowhere quite like it.
Fancy a cycling break? Book one today with YHA.