"Skateboarding," says Lyndsay McLaren, "is for everyone." And she has proof. Lyndsay is the founder of an innovative grassroots organisation called Neighbourhood Skate Club, which helps girls and women to experience the joys of one of the Tokyo Olympics' most attention-grabbing sports.
"We say we empower women through voice, movement and skateboarding. Movement because although we think about skateboarding as a lifestyle, it's actually a full-body workout. So when I'm teaching, I'm talking about weight-shifts, where to lean into, how to connect to your core and feel the ground through your feet. By using that language, it takes away the aggressive side of skateboarding, the intimidating side, and brings you into yourself, letting you connect to your body. So when you learn and get cruising, there's a joy there."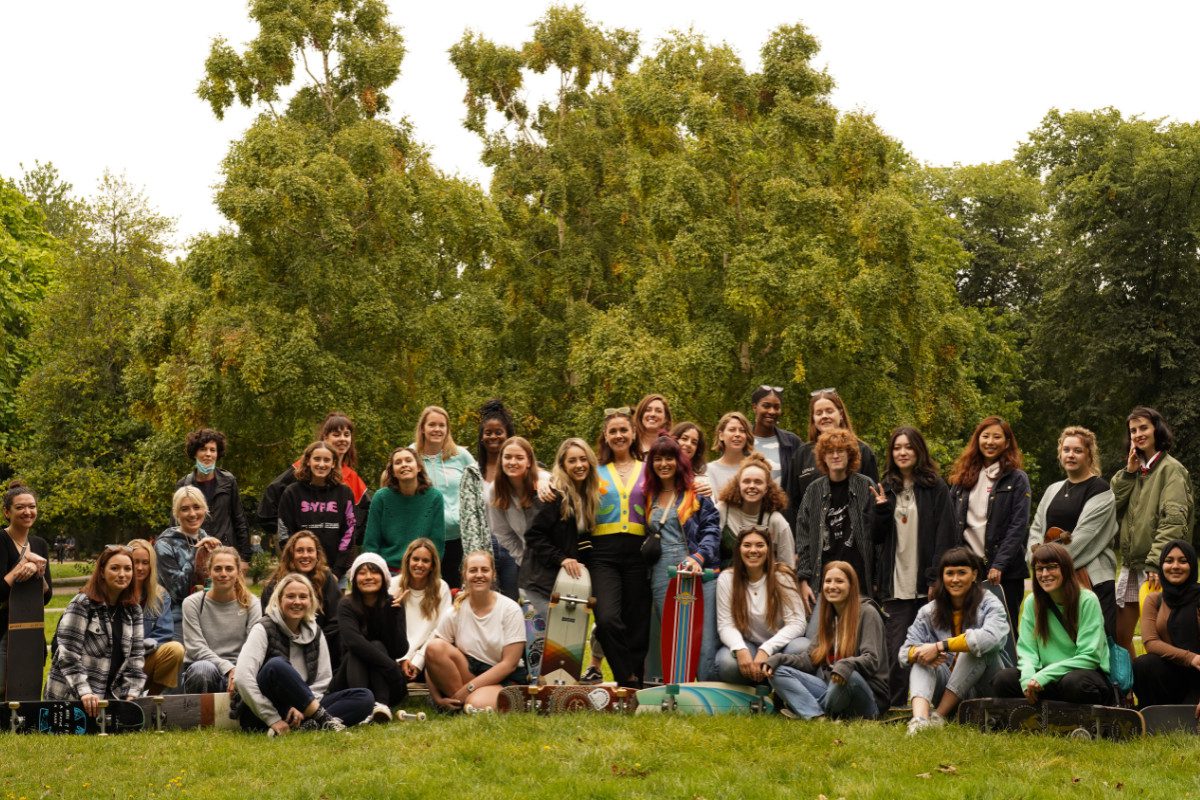 Neighbourhood Skate Club is a classic example of a movement growing organically in a very short space of time. Scotland-born Lyndsay works in the skate industry full-time and competed professionally in downhill skateboarding when living in the US. But it wasn't until coming out of lockdown that she started teaching, when two family members – women in their 30s – asked for lessons. She then began to explore offering one-to-one lessons through her own Instagram page, and within two days was booked up for six weeks.
She developed a teaching method where the goal was to get them standing alone rather than being handheld. Word spread.
At the same time, Lyndsey also noticed how many women of all ages were skating, alone, around Victoria Park in East London. "I realised I wanted to turn what I had into something that brought all these solo women skaters together." She started Neighbourhood Skate Club in May 2021, and her first monthly group skate had an RSVP list of 80 women – all ages, all abilities. There was clearly an appetite for a safe place for them to skate.
She's now working with parents of children in nearby estates to set up workshops for kids, and most recently with larger organisations who work with inner-city children (keep an eye on @NeighbourhoodSkateClub for details).
"I noticed how much women felt they had to learn in a tiny space because they felt so vulnerable, especially women learning to skate in their 20s, 30s and 40s. They'd stay off to the side, they'd be terrified to take up space. So part of this, for me, is to give women a feeling of being empowered and strong enough. To say, 'I'm here – I'm not going to feel ashamed because I'm learning to skate and I'm not a 14-year-old boy.'"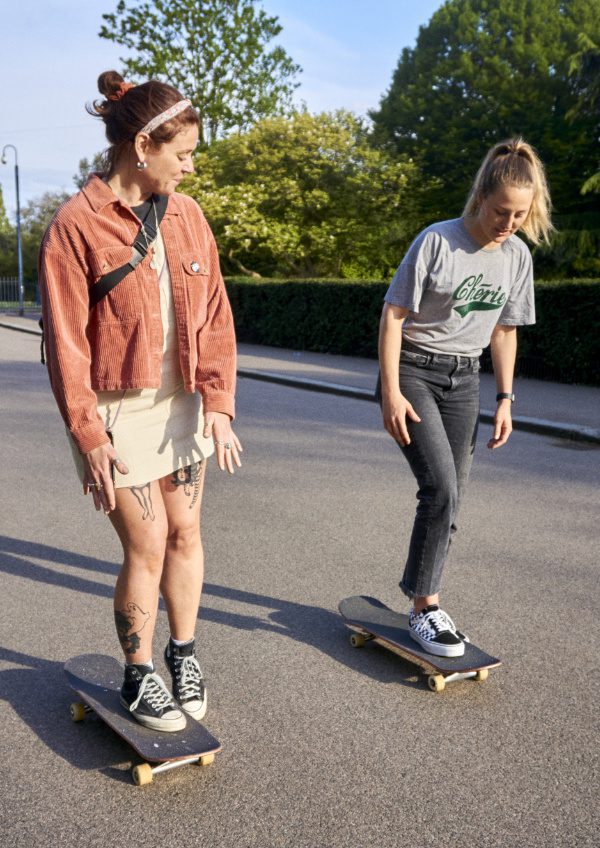 Neighbourhood Skate Club is one of many skate clubs across the country that provide a safe place for people to skate, no matter what their background. Chances are there's one near you.
Skate Gals & Pals
London
A collective of skaters with the aim to empower marginalised communities and amplify their voices. It caters  for marginalised communities' needs and for BIPOC individuals through Melanin Skate Gals & Pals.
Rollin' With The Girls
Leeds
A platform that represents female skaters in Leeds. "We aim to inspire girls locally to take up skating by showing the basics of skateboarding, the fails and, of course, the makes!"
Queer Skate Collective
Various locations
An inclusive, intersectional and welcoming group giving all Queer people a safe, sober space to skate. Based in Edinburgh, Glasgow, Dundee and Newcastle.
How to get into skateboarding
1. Get involved with activities near you
Look for local skate communities, skate parks or skate lessons taking place in your area! Use social media to explore, reach out, and get involved. You might not even need a board of your own to sign up – many places and groups offer borrow boards to get you started.
2. Visit your local skate shop
When you're ready to get a board of your own, go to your local skate shop and ask advice from the shop staff. Ask about boards, trucks and wheels so you can build up a skateboard that is customised to your specific preferences. Hard wheels are good for skate parks and tricks, and soft wheels are good for cruising. Pro tip – don't forget to buy a skate tool so you can adjust your trucks!
3. Find yourself a skate spot
Remember this can be as simple as a smooth bit of concrete or pavement – whether that's outside your house, in your back garden, or at a local park. Find somewhere you feel safe and comfortable to practise.
4. Watch skate videos
Find out more about tricks from YouTube, TikTok and other social media platforms. Remember you don't NEED to do tricks to be a skateboarder. If all you want to do is cruise around then that's OK!
5. Join the online community
Follow @NeighbourhoodSkateClub on Instagram for tips, tricks, workshops, inspiration and more!