Welcome to a special edition of The Wanderer, The Woof Edition. This month's edition is edited by me, Alan, the Border Collie. So, what's all this in aid of you ask? Well I'm here to bark about YHA's latest offering, The Woof Hostel.
You can now go with your owners to many different YHA Camping & Cabins sites and selected Exclusive Hire properties – meaning no more lonely weekends for me.
And the price of all this pooch-friendly fun? It's just £5 a night for me to stay if my owner is glamping, £30 per dog for Exclusive Hire stays and absolutely free if my owner is pitching their own tent. You'd have to be barking mad to ignore that.
From the sweeping beaches of Perranporth, to the woodlands of YHA Buttermere, there is something for every dog and their best friends. Us dogs have an appetite for adventure (and leftovers) so let's go on a YHA break together.
Don't worry if you're not a fan of us dogs, there are plenty of dog free areas. For inspiration on other types of holidays and travel tips visit The Wanderer archive.
Milton's keen on this one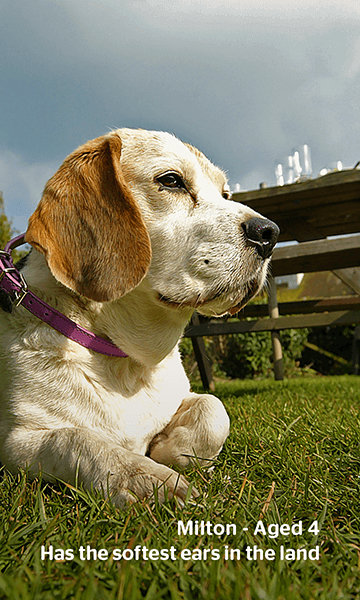 This large 18th century farmhouse is available for Exclusive Hire in Bradwell Village, near Milton Keynes. This incredible venue sleeps up to 30 humans and four doggy friends. What's really got my tail wagging is that it's just £30 per dog for the duration of your stay. There's a self-catering kitchen, with a dining room that seats 30 people. Attached is a large garden, so be prepared to play a lot of fetch.
The area has lots of good places to lead your mum or dad around. North Loughton Valley Park is really close by. Follow the river to sniff out the Roman villa. Willen and Caldecotte lakes are brilliant places to watch water birds. And when you're tired, the Victoria Inn in Bradwell village is a nice place for a lie down while your pack leaders relax.
Holly How about this one
YHA Coniston Holly How

Welcome to another hostel review by Harrison and Manny.
This week we're reviewing the beautiful YHA Coniston Holly How in the Lake District.
Dogs can stay with their owners in tipis for just £5 a night. Only minutes from the village and Coniston Water, this traditional Lakeland house is close to many different activities suitable for all doggies.
Being in the Lake District, there are plenty of places for us dogs to go. Go for a good run around, exploring the area with a guided walk (just stay well back from those pesky sheep) or, if you're feeling adventurous, go for a hike. Start at the Tom Gill waterfalls and then go for a big walk around the giant puddles of Tarn Hows. Your humans will love the sights, Manny and I love the smells.