Hostelling was born of a love of long distance leg stretches and first facilitated the linking of locations on foot. The idea of going places entirely under one's own steam still really appeals. So, here are four stunning coastal walks that are just perfect for summer. Escape to the sea and set yourself free!
You can track back through previous editions in The Wanderer Archives.
The Pembrokeshire Coast Path
Seal pups, Dylan Thomas and a rocket bus
The Pembrokeshire Coast is magnificent; there are no two ways about it. But there are innumerable ways to section it up and walk it. We're going to navigate the north. Here the hostels boast peerless views and are set up to accommodate walkers. Plus a local bus service provides access to various points along the path so you choose where to stride and where to ride.
Walk one:
YHA Pwll Deri to YHA Newport Pembrokeshire: 23 miles (don't worry, there's no need to walk the whole way)
Walk north from YHA Pwll Deri to see the lighthouse at Strumble Head. From there it's a rugged six mile ramble over the cliffs to Fishguard. Caregwastad Point is two miles into the walk and the site of the failed last invasion of Britain. A tapestry depicting the 1797 scene hangs in Fishguard's Town Hall. Next, walk down to Lower Fishguard to see the quaint old harbour where Dylan Thomas' 'Under Milk Wood' was filmed in 1971.
Hop aboard the 'Poppit Rocket' bus and you'll be in Newport in no time. But if you have the time and inclination to wander longer, jump off at Pwllgwaelod beach and make the circuit around Dinas Head to see the Pembrokeshire Coast at its best. Then it's back aboard the Rocket and home to YHA Newport for the night.
Walk two:
YHA Newport Pembrokeshire to YHA Poppit Sands: 11 miles
Named the New Zealand of the Northern Hemisphere, the northern end is the highest and most dramatic section of the Pembrokeshire Coast Path. Along the route you'll encounter seriously impressive rock formations such as the cliff folds and collapsed cave around Ceibwr Bay. Beyond that, Cemaes Head is the best place to spot seal pups in autumn. Turn the corner and the Teifi Estuary comes in to view. The area's home to bottlenose dolphins, porpoise and, for the night, you!
Insider tips from our Pembrokeshire Coast Hostel Managers:
1. These hostels are self-catering only and there are few places to pick up supplies on the path. Take food with you or plan meal stops before you set off. The Old Sailors on Pwllgwaelod beach serves fantastic seafood and, once or twice, served Dylan Thomas. Beyond Poppit Sands, the Ferry Inn is a popular gastropub with a gorgeous deck over the Teifi Estuary.
2. Many of our guests like to lighten their load by using the walkalongway.com luggage transfer service. Worth a look with all those miles to cover and views to marvel over.
3. 2016 is the year of adventure in Wales. Spend a third day canoeing in Cardigan Bay. Go for a paddle to discover the history, wildlife and hidden sites of the Teifi Gorge.
The South Downs Way
Natural highs on the South East coast
You'll chalk up miles of smiles with this walk over the downs, around dew ponds, and past ancient settlements and forests. And that's all before you reach the first of two brilliant British seaside resorts or the famous white cliffs of the South Coast. This route deviates from the longer, Lewes-bound inland option with a diversion to Brighton. But what's life without a little variety!
Walk one:
YHA Truleigh Hill to Ditchling Beacon: 9 miles
Your adventure begins at the recently made-over YHA Truleigh Hill, a quiet spot right on the South Downs Way. Head east to trace the arc of hills above Brighton to pass Devil's Dyke, the largest chalk valley in the country. Next, Newtimber Hill rises north of your path and it's beautiful; bluebell woods and 1000-year-old lime trees decorate otherwise open downland.
Continuing north east, you'll pass the Jack & Jill windmills and then it's time to start your ascent of Ditchling Beacon – site of a warning fire in times of invasion. In the Iron Age the summit had a hill fort, the steep northern slope providing a natural defence. The views from this, the highest point in East Sussex, are second to none. With nine miles complete, it's time to board a bus to bohemian Brighton for a night in a hostel that's as vibrant as its seafront surroundings.
Walk two:
Seaford to YHA Eastbourne: 14 miles
You can walk from Brighton but there are seven hours of ups and downs ahead so use the Coaster bus (12/12A/12X) to Seaford instead. Beyond Seaford Head, walk over Cuckmere Haven to the start of Sevens Sisters Country Park. From here it's a breath-taking rollercoaster ramble atop the famous chalk cliffs.
At eight miles in, the National Trust tearoom at Birling Gap makes a perfect pit stop before the final climb up Beachy Head, Britain's highest chalk cliff. From there it's all delightfully downhill. End your expedition in seaside splendour with a stroll along the prom and fish and chips on the pier. A pretty 30-minute walk or 15-minute bus ride brings you to your relaxation destination.
Insider tips from our South East Coast Hostel Managers:
1. Saddlescombe Farm has been a working farm for over 3000 years. You'll find it in the heart of the downland in the valley below Newtimber Hill. The Hiker's Rest café offers a welcome break and a grand stop for a spot of lunch.
2. Bus availability from Ditchling Beacon to Brighton varies depending on the day of travel. One runs directly from Ditchling Beacon at weekends and bank holidays. In the week, you'll need to walk a mile west along the South Downs Way and then follow the Sussex Border Path south west to Patcham for the regular 5A service.
3. Coming over Seaford Head (just before Exceat) you'll clock the coastguard cottages. They're the subject of thousands of postcards and photos, so get the camera out and see if you can snap your own amazing shot.
Secure your seat at the AGM
This year, for the first time, our Annual General Meeting is open to all members. It's a big deal. So big in fact that we're hiring an arena to host it! Don't miss out; register before 9th May 2016 to secure your delegate place and join us at the Motorpoint Arena, Cardiff on Saturday 9th July. We'll be sharing the achievements that made 2015/16 such an incredible year. It's also your opportunity to ask any burning questions and, most importantly, to be an active participant in the election of the new Trustees who will help steer us to further success.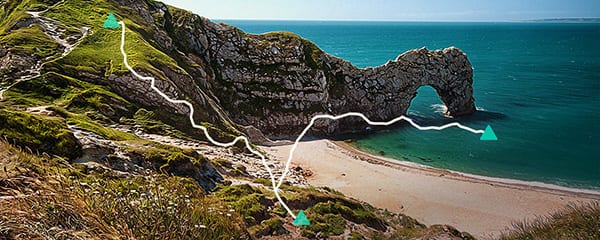 The South West Coast Path
A hike through prehistory
Never mind dinosaurs, you'll be walking with minor sores after this long-distance hike along the Jurassic Coast. It's worth it! The geography is fascinating. The scenery is spectacular and surprising. Turquoise water, white sand, yellow shingle, lush green grass and wild flora and fauna give the area an almost tropical quality. The World Heritage Site offers an awesome adventure, 185 million years in the making.
Walk one:
YHA Lulworth Cove to YHA Portland: 17 miles
A mile south of YHA Lulworth Cove, the natural spectacle of the hostel's namesake is reason enough to holiday here. Formed by water swell at the end of the Ice Age, the cove has been continually eroded ever since. Photographs duly snapped it's time to set off. Today you'll traverse a variety of terrain that includes undulating chalk cliffs, grassy paths and quiet country tracks until you reach the fine Georgian seafront at Weymouth. YHA Portland lies five miles beyond at the northern tip of the limestone isle.
The hostel is spectacularly situated so consider staying an extra night to spend a leisurely day exploring this extraordinary isle. Attractions include Henry VIII's coastal fortress, the 60 hidden sculptures in Tout Quarry, and the exhibits at Portland Museum.
Walk two:
YHA Portland to YHA Litton Cheney: 18 miles
Hit the road early, there's a mammoth day ahead. The first leg follows the West Dorset Heritage Coast, an Area of Outstanding Natural Beauty. You'll pass the UK's largest lagoon – the Fleet Lagoon separates Chesil Beach from the mainland – before a walk inland through farmland and fields to the village of Abbotsbury. The path runs back to the coast where Chesil joins the mainland. You're journey along the South West Coat Path ends at Cogden beach. To reach the picture-postcard pretty village of Litton Cheney, you'll walk up through Puncknowle, a village with a pub that does food – very handy as the hostel is self-catering.
Insider tips from our Jurassic Coast Hostel Managers:
1. Explore the King Barrow Quarries Nature Reserve on Portland. The site hasn't been worked for 100 years but the old quarrying methods have left behind a wealth of geological interest and a haven for rare plants, butterflies and wildlife. And the views across the mainland are striking!
2. Visit the swannery at Abbotsbury. Established by Benedictine monks in the 11th century, it's the world's only managed colony of nesting mute swans and is considered one of the best things to visit in Dorset. Go between May and June as that's cygnet hatching season.
3. Go in search of fossils! The best and safest place to find them is Charmouth beach near Lyme Regis. If you simply want to see some, local museums showcase the area's most spectacular discoveries.
The Norfolk Coast Path
Easy, breezy strolling at sea level
Picturesque, peaceful, flat and really rather fantastic, the Norfolk Coast Path is brilliant for beach lovers and wonderful for wildlife enthusiasts. Salt marshes, flint villages, sandy expanses and small communities characterise this stretch of coastline. And there's no need to walk between them all; you can easily visit the area's best bits using the Coasthopper bus service that connects the towns and villages.
Walk one:
YHA Hunstanton to YHA Wells-next-the-Sea: 20 miles (ish, if you walked the whole way)
Begin with a short ride to the lovely village of Holme-next-the-Sea and then trek eastward and up through Holme Dunes, the first of many Nature Reserves to be found along this coast. Sites of special interest to wildlife watchers include the marshes near Brancaster, Scolt Head Island Nature Reserve and the Holkham National Nature Reserve beyond Burnham Overy.
If you dilly dally anywhere on this day, let it be at Holkham beach on the way into Wells-next-the-Sea. The four-mile stretch of golden sand has been described as one of Britain's most beautiful. Take your boots off for a paddle in the North Sea or cut loose and run up and down the sand dunes. You can access the grand estate of eighteenth-century Holkham Hall from the beach too.
Walk two:
YHA Wells-next-the-Sea to YHA Sheringham: 17 miles
Leave the Georgian architecture, busy quay, beach huts, cafes, pubs and amusements of wonderful Wells-next-the-Sea behind you and journey on. Today you'll walk through one of Europe's most important areas of salt marsh, watch bait diggers busily excavating the mudflats, and marvel at thousands of seals from the shingle spit at Blakeney Point. Twitchers will love Cley Marshes; the reserve is north Norfolk's premiere birdwatching spot. The next section is all shingle until you reach Sheringham's small sandy cliffs. From atop these modest mounds you can spy the rooftops of the town, one of which belongs to your final destination. YHA Sheringham is just a 10 minute walk from the front.
Insider tips from our Norfolk Coast Hostel Managers
1. Make seal spotting extra special and take a boat trip around Blakeney Point. Ferries run from Morston Quay daily between 1 April and 31 October and it's simply the best way to view England's largest seal colony.
2. After two days spent in peace and solitude, you may welcome a change of pace. Extend your stay and take the train or bus to Cromer. The resort has plenty to offer with amusements, variety shows and the fascinating and fun Henry Blogg RNLI Museum.
3. Holkham Gap is so fine it featured in the film Shakespeare in Love! If you visit it in the summer months, you might see the Household Cavalry putting their horses through their paces.
We want you on board!
Next week we'll publish full details of an amazing opportunity to join YHA's Board of Trustees. If you'd like to play a key role in shaping the organisation's future, keep an eye on your inbox for more information.
Next edition: The Perfect Pitch
Oh hello sunshine! We'd almost forgotten what you look like (ok, that's an exaggeration but we're very much over winter and very much looking forward to summer). In anticipation of hazy days, BBQs and outdoorsy stays we're off to set up camp in four sensational spots around England & Wales. From tents to tipis and cosy pods to historic huts, be it 'back to basics' or premium deluxe, you'll find your perfect pitch in our next edition.