Written by Nisbah Hussain from Five Adventurers
Finding properties for extended or large family holidays can be expensive and combined with travelling at peak times can make this type of holiday inaccessible for so many.  I am from a large family (one of six siblings) we often struggle to find suitable accommodation which will be suitable for us all and our families. Even once you have found accommodation for large groups, families then struggle with them not being suitable for young children, affordable (some are priced at over £10,000 per weekend) and be spacious enough that little adventurers are able to have a good time.  On my various searches on the internet, I stumbled upon YHA Exclusive Hire which ticked so many boxes and provided us with a solution that would make travelling in large numbers affordable, fun and a real adventure.
When we hear the word YHA or youth hostels, it is synonymous with backpackers, single travellers, shared rooms and often conjures up images of not the nicest accommodation.  However, YHA caters for a whole range of travellers and some of the venues are truly stunning.  When I realised that hiring an entire YHA venue on an exclusive basis was a possibility, I looked at the options and was really impressed with the variety of options and sizes that they could accommodate.  The locations and buildings which are available for exclusive hire offer family travellers an incredibly diverse choice and it is a great option for a large family holiday.
As we emerge from the pandemic, the idea of YHA Exclusive Hire is more appealing now than ever.  After 18 months of isolated lives, spending quality time with family and friends holds more significance than ever before.  As a family, we are adventuring more in the UK than ever before but are still erring on the side of caution so limiting contact with others outside of our family circle is helping us ease into the new norm.  Having all of our extended family under one roof is something we have longed for and I love that through YHA, families of any size can stay, sleep and adventure together.
Large family accommodation
For this trip, we're looking for large houses to rent for a family celebration and there were 28 of us travelling. The age ranged from 3 – 52 years old and was made up of 6 separate families coming together. The options for a party of 28 usually are eye watering-ly expensive so having a fantastic and reasonable priced option which was available in the school holidays was great to see.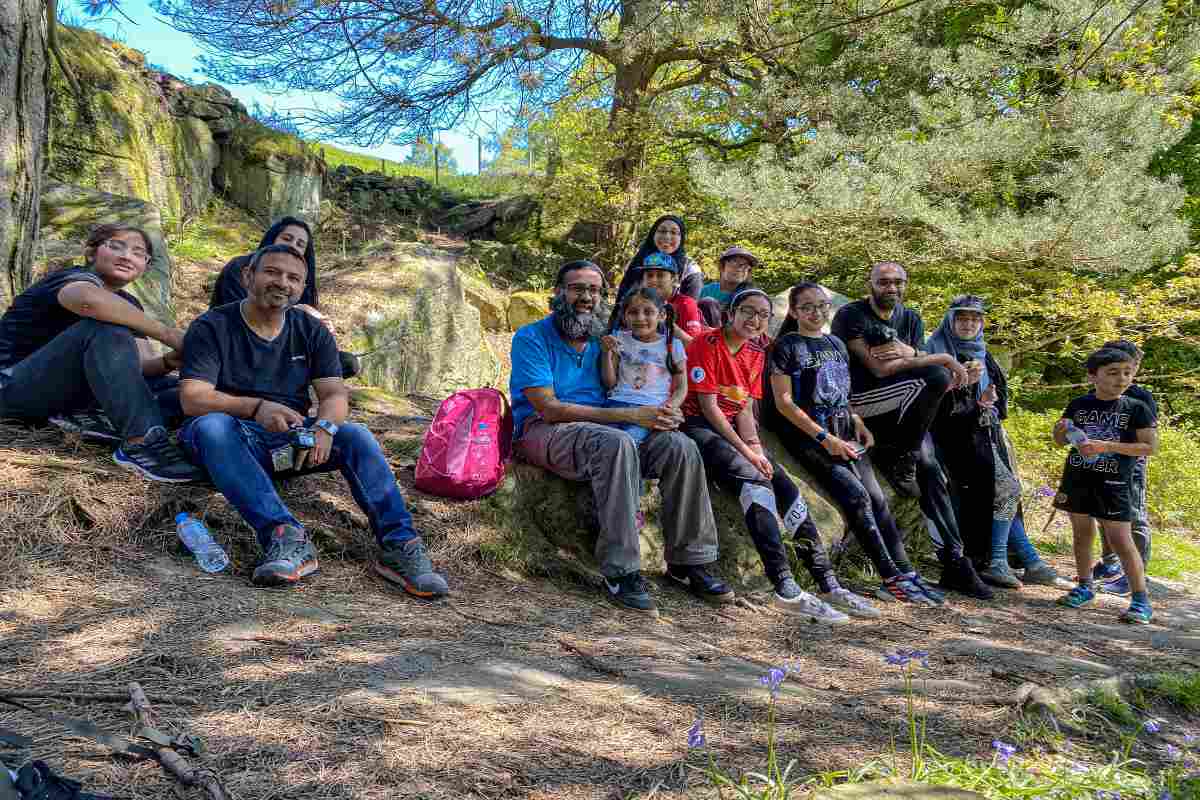 Due to several personal reasons, we were unable to travel too far from home and for the size and group make-up, we needed to have at least 9 rooms on site which is a near-impossible feat elsewhere. YHA Haworth is in Yorkshire in the heart of an area known for its links to the Bronte sisters.  The location allowed us access to lots of outdoor activities within a short driving distance and was a great base to relax in the evenings as a family.  The venue is a beautiful Victorian mansion and was massive. Last summer we hired a lodge in Wales and whilst it accommodated 20 of us, the size was such that everyone was on top of one another.  In comparison, YHA Haworth was spacious, stunning, and much more suitable for a family adventure.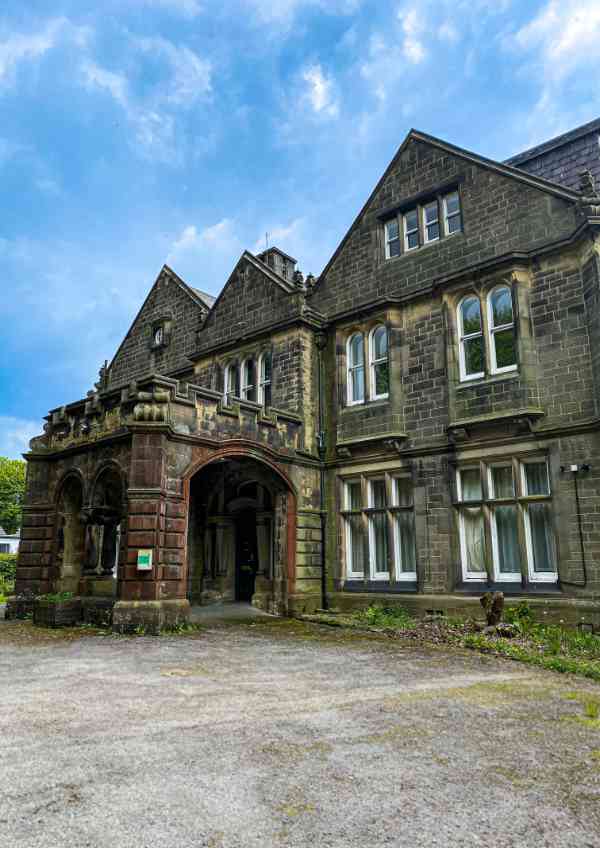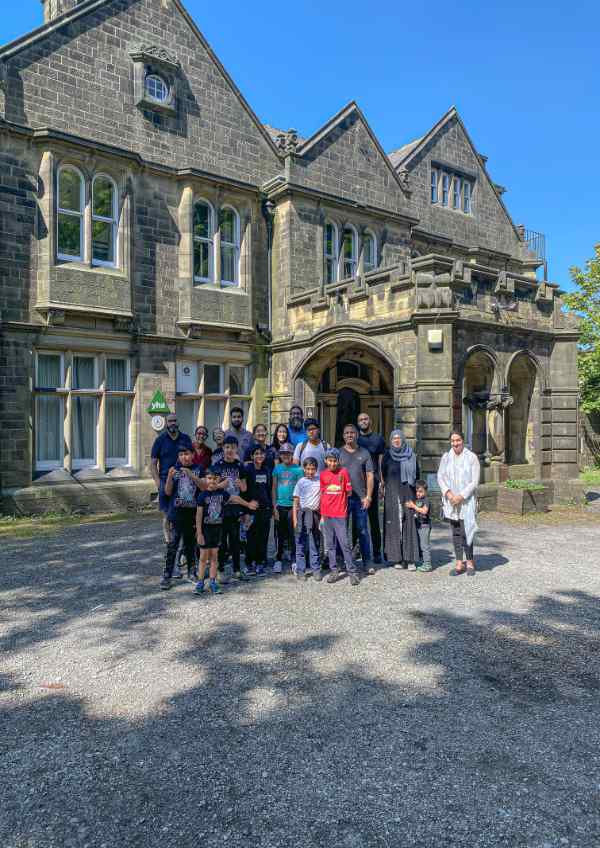 Onsite there are 18 bedrooms which sleep 50 people.  Due to Covid reasons, the venue kept some of the rooms closed but there were more than enough beds for our group in the rooms that were available (and importantly meant we had plenty of rooms for hide and seek).  There is a dining room that comfortable sits around 40-50 people, a fully equipped self-catering kitchen, lounge and plenty of toilet and shower facilities.  The lounge area was comfortable for our stay as the weather was lovely, so the children were outside most of the day, in the evenings we had a projector and film night in the meeting room to accommodate us all.
What we thought of our stay
We arrived on Saturday and stayed for 3 nights, there was plenty to do in the area so even a weeklong break would have been great fun and we would have still not managed to see all the local sites.  The location of the property is at the end of a residential area so not secluded but also meant that the houses on the side of the property can see into the grounds which at times did feel a little exposed but nothing major.
The outdoor and indoor space
There was ample parking for around 10 cars (if not more) and was great to have the car onsite for loading and packing for daily adventures.  It is open access to the property so families travelling with young children may want to keep an eye on them at the front of the property.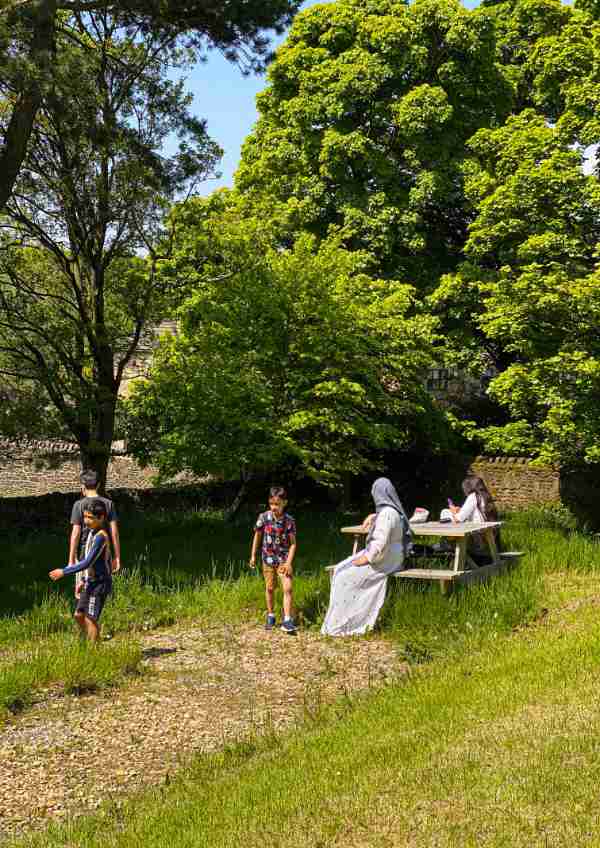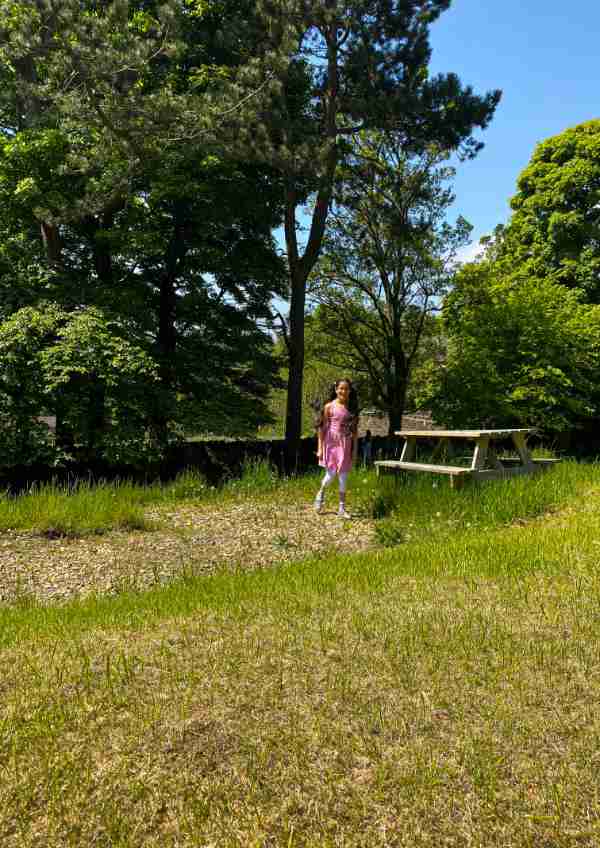 The outside space was ample and ideal for the 15 children we had in the group and as we had three days of glorious sunshine it was good that there was lots of space for families to be outdoors.  The back space had areas of overgrown areas but there was plenty of seating and would have been a lovely area for a BBQ.
Indoors as mentioned there were several communal areas which were great for eating and relaxing together.  There are even a few chairs and sofas scattered around the venue which are great for a little time away from the main group.
Apart from one bed in the downstairs bedroom, each of the other 50 beds are single beds.  Majority of them are bunkbeds but there is a few which have single beds within them.  If travelling with very small children, I would recommend bringing your own cot bed as it would be quite tight to co-sleep on the bunk beds.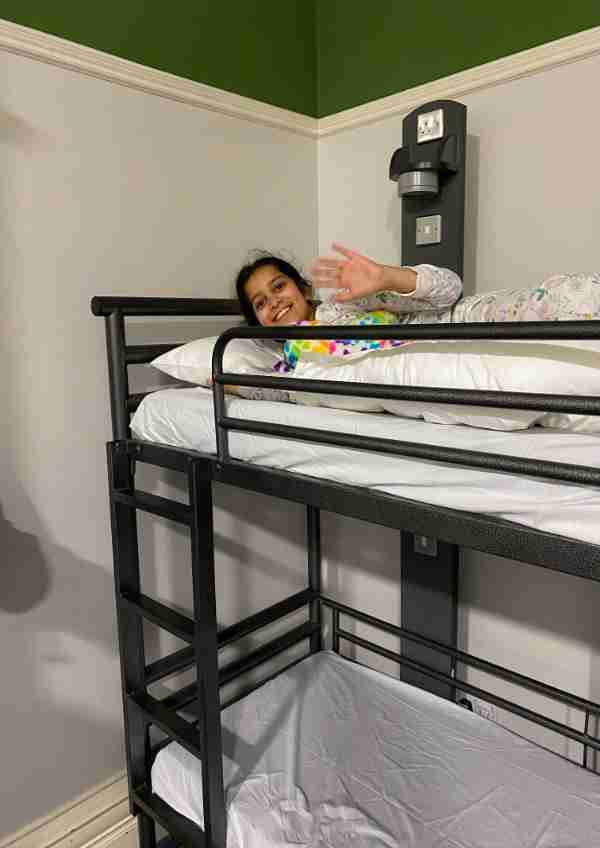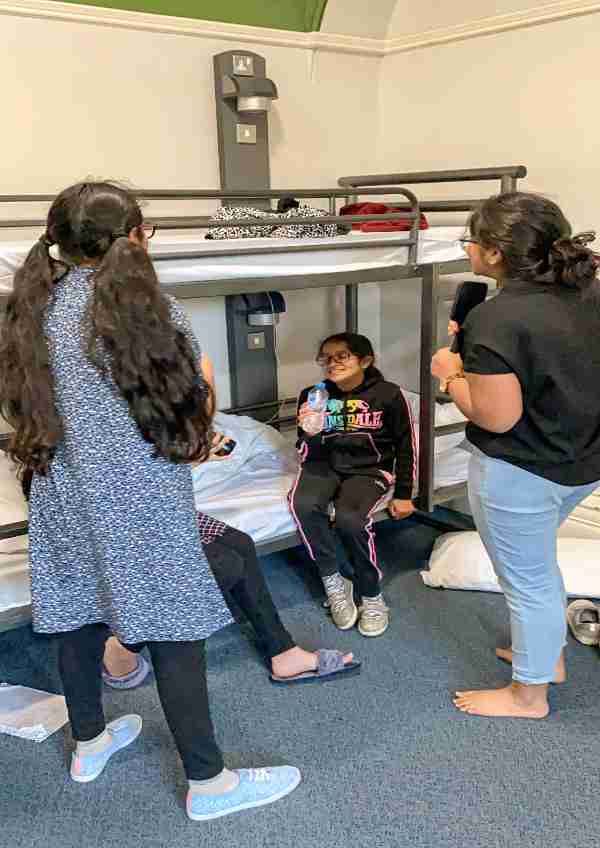 Each room had a different number of beds but given the sheer of the accommodation, there is more than enough space to accommodate most large family groups.
There is a fully equipped self-catering kitchen onsite however this is located in the basement so there were a lot of steps and walking involved at each mealtime.  Given the size of our party, we needed to eat in the upstairs dining room so there were a number of trips to the kitchen and back to the dining room.  However, after the first few meals, we were much better organised and were able to set and clean up much quicker.  Onsite there is more than enough storage, fridge space, cooking, washing space for all.  There was plenty of crockery, cutlery, and pots and pans so there was no need to bring any of these from home.
We brought a number of home-cooked meals, and we ate out on Sunday evening in Bradford and had a BBQ during the day on Monday.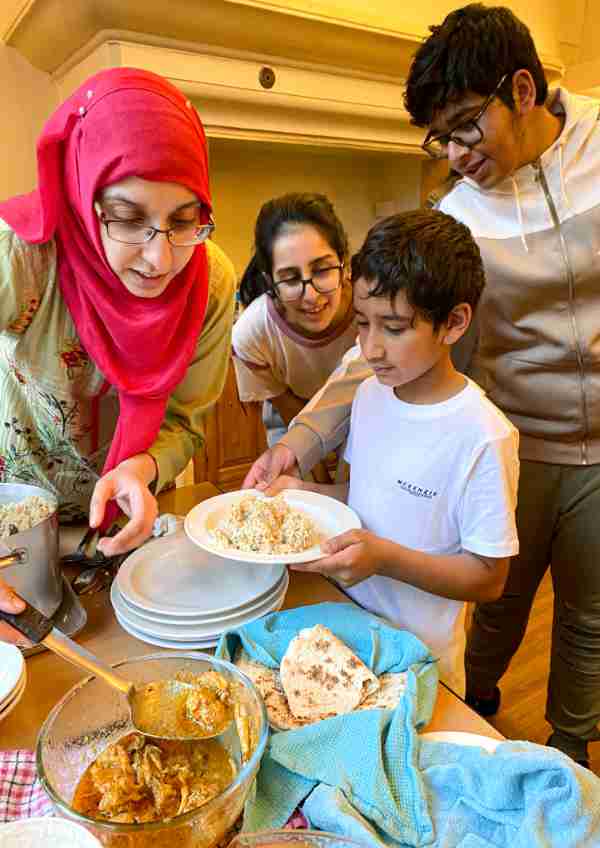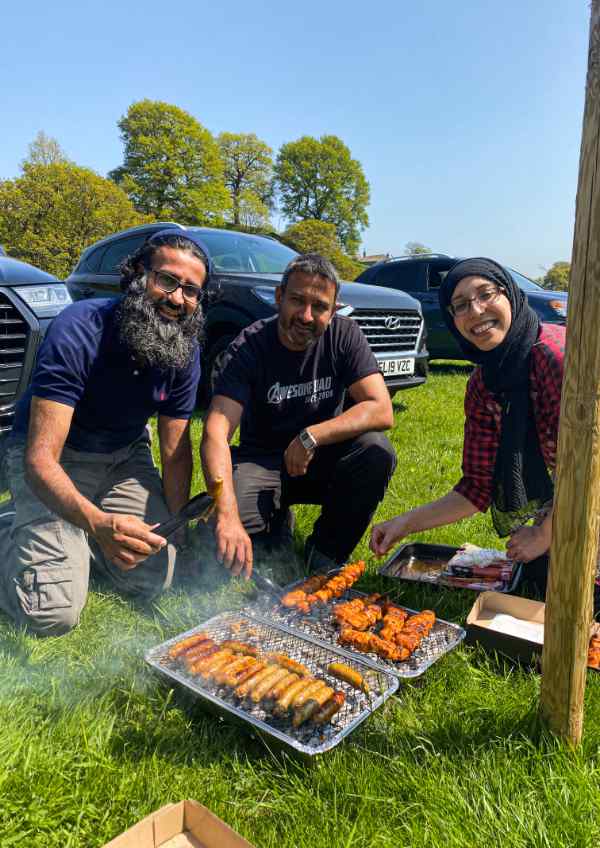 You are in Haworth village and within a short distance of the moors that inspired many of the Bronte tales.  Top Withins is ideal to see the landscapes that inspired the masterpieces.  The walk to starts from the village itself but for little legs you can cut our part of the walk by skipping Cemetery Road and parking in the layby opposite the junction.  The walk isn't easy and for young children may not be suitable, but it is ideal for adventurous families and teenagers.  The views and the ruggedness of the moors are breath-taking.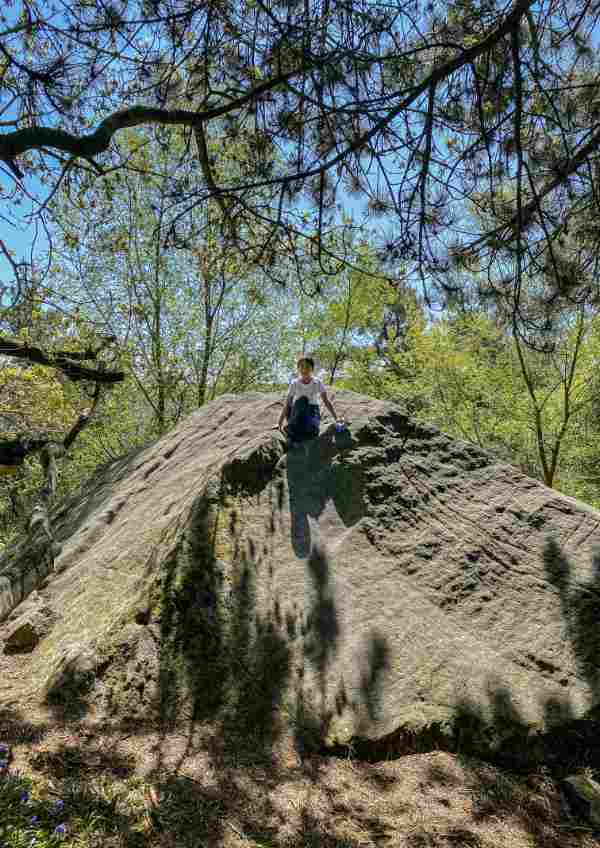 Hardcastle Crags is part of the National Trust sites and is located 20 minutes from the YHA centre.  We spent Sunday morning here and after reading reviews arrived early (tip, arrive before 10:30) as there are very limited car parking spaces.  Parking is free NT members and £5 for others for the day.  There are several walks on site and some of them are easy and accessible so great for pushchairs. The walk we had planned from home was supposed to be suitable for all ages but the children were very excited by the woodlands, we took a look at the map and ended up embarking on the red path which was the more challenging of walks but for scenery was by far the prettiest.
I would take some snacks with you and water as the walks were quite secluded and the snack breaks helped the weary little legs.
There are a number of animals on site and our little adventurers were super excited to see deer roaming amongst the trees.  We had only planned a few hours on site but there are lots to do in the area and if you packed a picnic, you could easily spend the whole day there.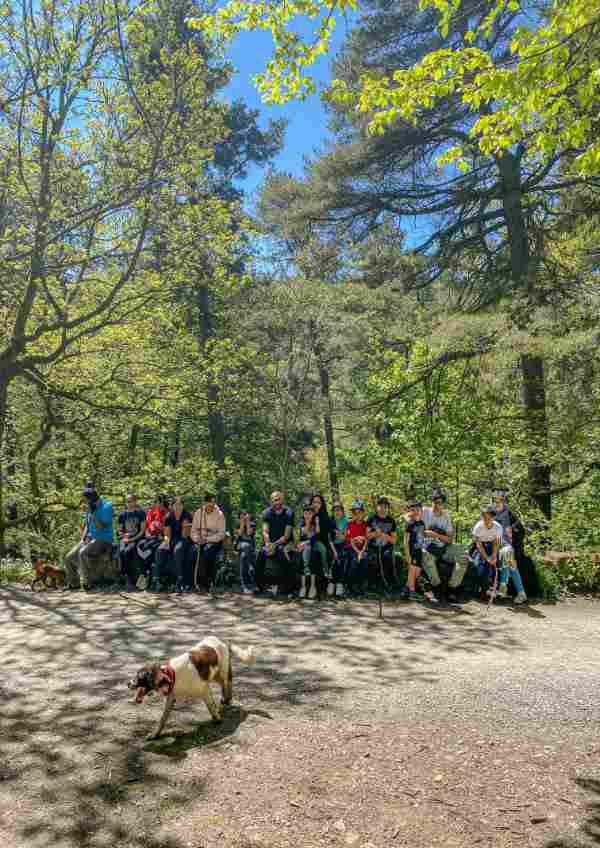 Bolton Abbey is a stunning estate which has so many natural attractions that even a full day you will still need to come back to see the rest.
With the Covid restrictions bookings must be made in advance and you are given a 30-minute arrival slot, however, we were a little delayed but were still able to enter with no issues. The Bolton Abbey grounds are massive and are split into four different areas with their own car parks.  We had previously visited Bolton Abbey in 2014 and there are lots of great walks, stunning scenery to keep little adventurers entertained.
If you are looking for a BBQ site, there is only one site where BBQs can currently take place which is the Barden Field car park.  As that was our plan for the day, we booked that site but hadn't realised that the walk to the main sites and walks in the estate was nearly a 2-hour walk from the BBQ area so we stayed in this area.  Parking cost is normally £10 per car but £15 for the BBQ area.
I would suggest arriving before 1 as in the afternoon the carpark was busy.  There are several stones on which to place your BBQs and cook around your car area.  Th car park is a field and for the first few hours there was lots of space to play outdoor team games.  Over time as the car park became busier, it was harder to play so we decided to walk down to the stream, skim some stones and cool down in the water, it was the perfect way to spend a hot afternoon.
Overall, we had an incredible weekend.  Staying with all the family under one roof is memorable and truly highlights the joys of family travel.  The accommodation was stunning and was a great base for a pre-wedding celebration.  All adventurers (little and big) had a great time, and we highly recommend it to families and friends.  Over the summer we are looking forward to a number of other smaller family adventures at the YHA (the landpods look amazing!)
Take a look at Five Adventurer's blog.