"The road to the Honister Pass has turned into a waterfall!" "Abandoned cars are blocking the road to Keswick." "A four-wheel drive might be able to get out via Grange." Reports came in thick and fast as the rain fell in sheets, non-stop, for three days; the River Derwent burst its banks, and most of us staying at YHA Borrowdale hunkered down to wait until it was over.
I had expected it to rain, if not quite this much, because the place we'd chosen to spend October half term is on the edge of a rainforest. Not the Congo Basin kind, but a small, surviving fragment of the temperate rainforest that once covered large swathes of western Britain. Johnny Wood, behind the hostel, is classified as ancient Atlantic Oakwood habitat. Because it contains rare mosses and liverworts — the amphibians of the plant kingdom — the wood is protected as a Site of Special Scientific Interest. The limbs of its gnarly sessile oaks are covered in a velour of bright moss; they have hart's tongue and maidenhair ferns tucked into their elbows and intriguing fungi skirting their trunks.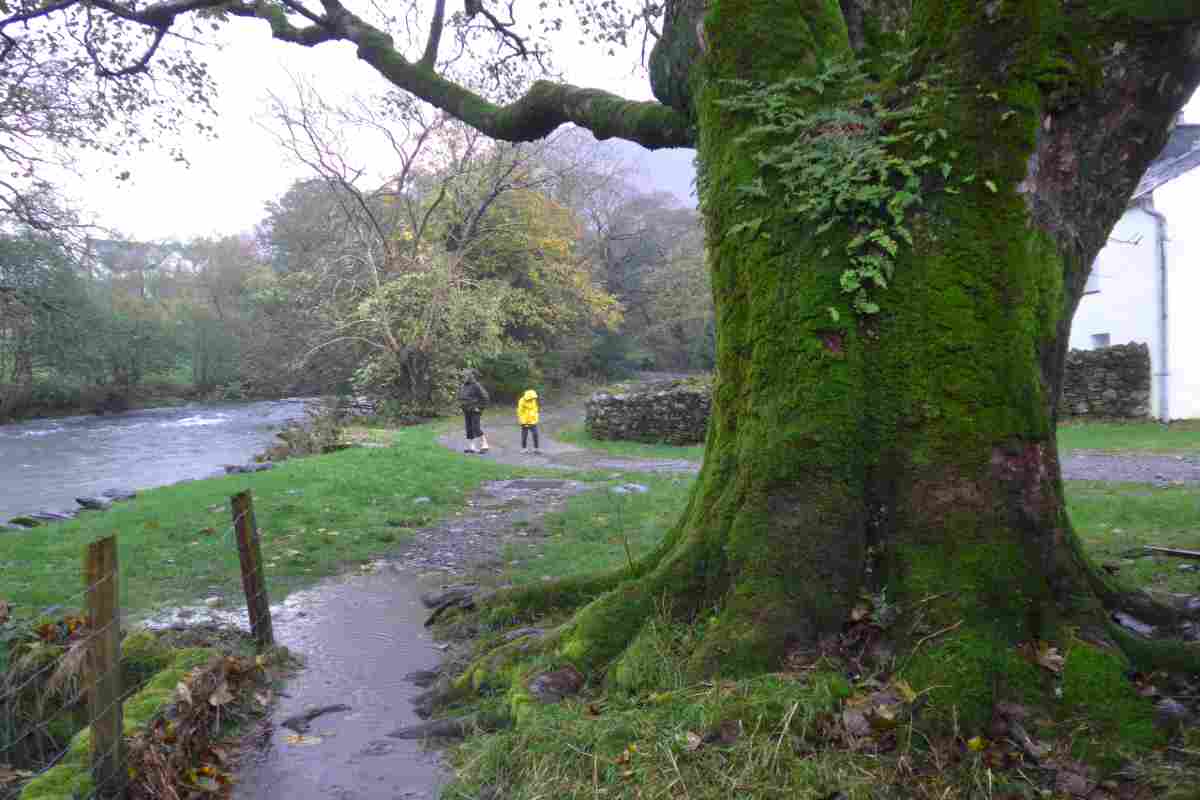 YHA Borrowdale is only two miles from the rainiest inhabited place in England, the hamlet of Seathwaite, which receives around 140 inches (3,556mm) of precipitation per annum. But the condition of the Honister Pass road during our stay was explained by the fact that 12 inches of rain had fallen there in just 24 hours. The chaos caused by flooding across Cumbria was featured each evening on the national news.
We had to abandon our plans for walks, but at least we had a warm and welcoming place to sit it out. We appreciated the burbling continuous hot water machine in the self-catering kitchen and the cheerfulness of the hostel staff, who kept our spirits up, provided road updates, made pizzas and pulled pints of Night Vision. They even found time to carve some Halloween pumpkins. One team member pointed out that kids don't necessarily see rain as a bad thing, more an opportunity to get muddy.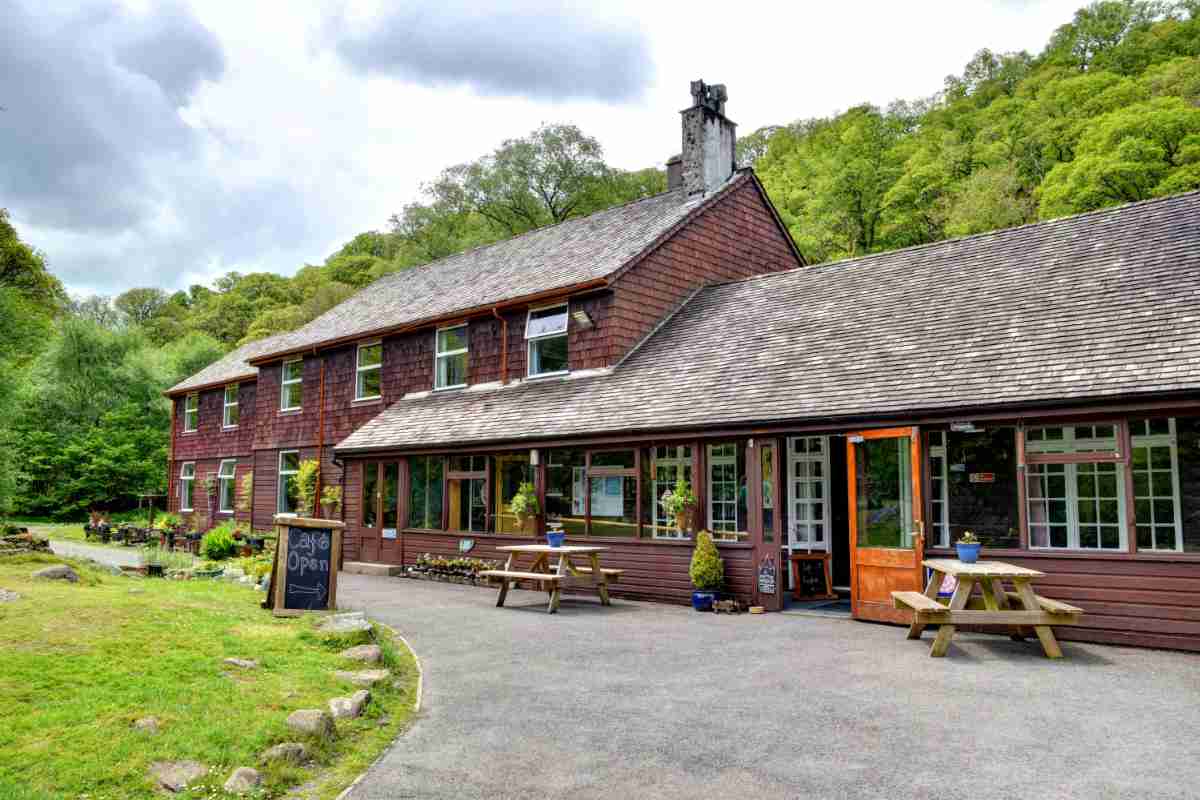 Though we couldn't make it to the Alhambra in Keswick because the road was impassable, a couple of duvets draped over a bunk bed made a comfortable cinema, and our children also enjoyed playing Snakes and Ladders in the bar and dining room. Our daughter knitted, and became absorbed by a computer game called Toca Vacation, an imaginary world where it doesn't rain at all.
I read a great book: Mike Parker's The Wild Rover, a fascinating history of public footpaths and access to the countryside. There was also plenty of time to chat with fellow hostellers, including several regular visitors with a deep love of Borrowdale. One was a woman from Liverpool who runs a walking group for visually impaired people. In past years she has brought the members and their guides to stay at the hostel and climb Catbells.
A man who was camping in the grounds to test out his new sleeping bag before climbing Great Gable on Remembrance Sunday recalled walking in Borrowdale at weekends when he was a schoolboy in Manchester in the 1960s. Catching the 6pm bus back from Seatoller on Sunday evenings meant he got back just in time to do his homework.
The wood-panelled bar was warmed by an open fire and had the cosy feel of an alpine cabin. The walls were decorated with walking and climbing kit, including skis, ice axes, and old canvas rucksacks covered in badges. One was just like my first rucksack, handed on to me by my Dad, who got it doing his National Service in the 1950s. I remember the curved metal frame digging in to my sides as I plodded towards a hostel at nightfall.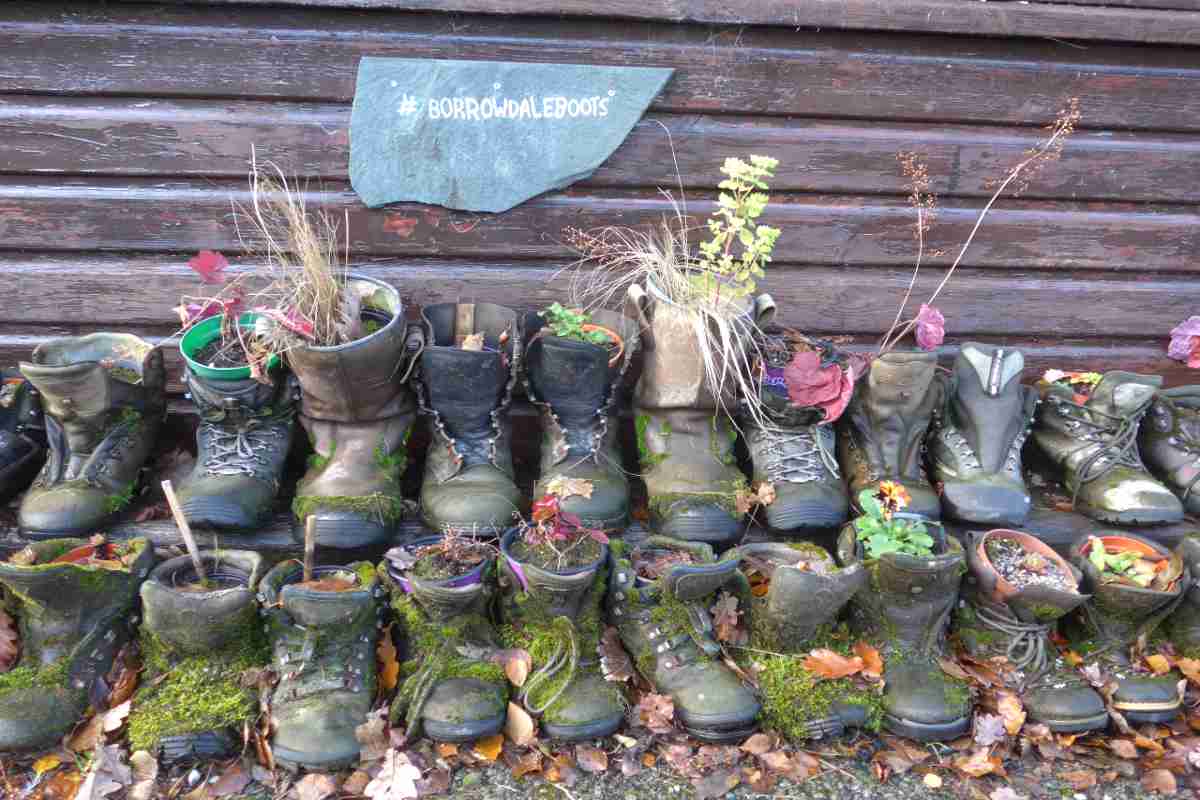 I spent some time each day studying the Mountain Weather Information Service forecasts, which were pinned up in the bar, pondering the precise but also poetic terminology they use. When do 'difficult' conditions become 'arduous'? When does 'incessant', or 'heavy' rain tip over into 'torrential'?, or 'blustery' wind become 'ferocious gusts'? This carefully-collated information can save the lives of mountaineers and fell walkers who understand how to interpret it and make a sensible risk assessment.
The large and well-used drying room, its dehumidifier humming away like a chorus of cicadas, contained a mirror on which someone had written the adage: "There's no such thing as BAD WEATHER … only the wrong clothes." I'm sure this is true, but unfortunately we did have the wrong clothes: coats that let in the rain after a few minutes, leaky boots, and only one pair of waterproof trousers and one pair of wellies between the four of us. Despite this, we went out now and then for fresh air, leaning over the old stone bridge to wonder at the change in the river, normally a shallow brook where children can paddle, but transformed in full spate into a frothing, churning torrent.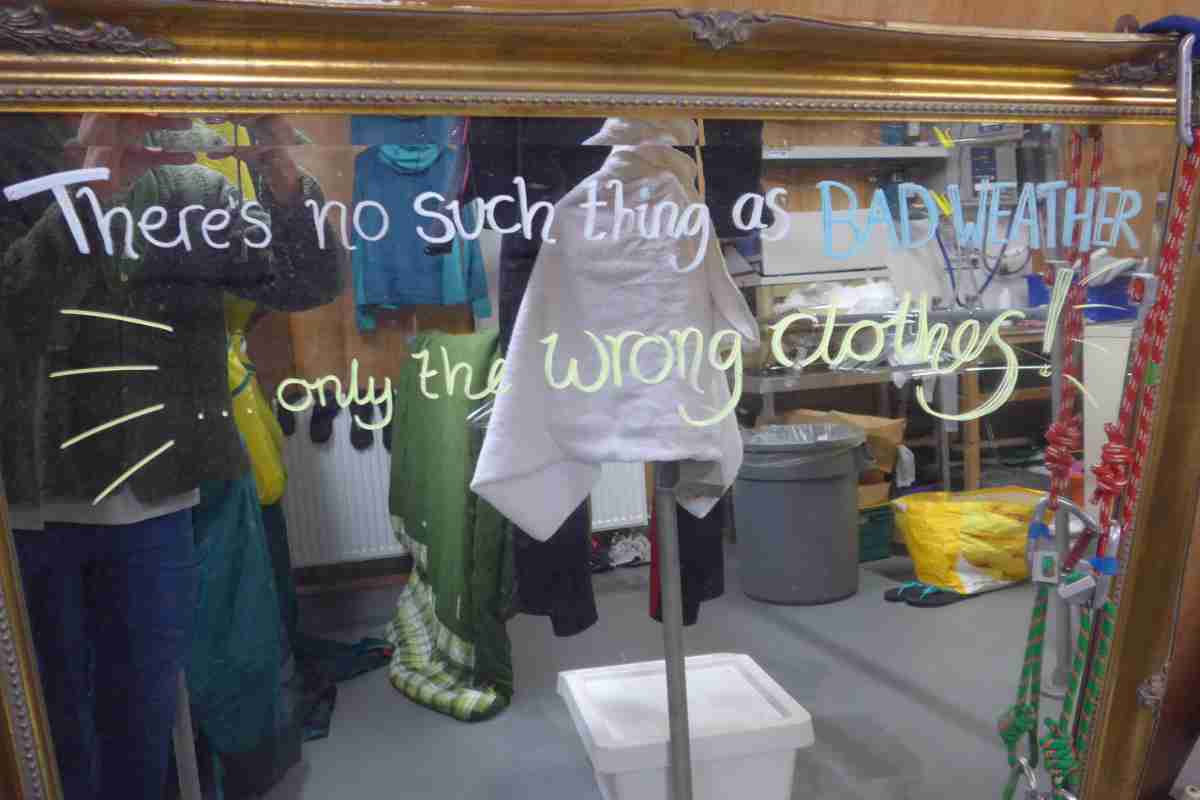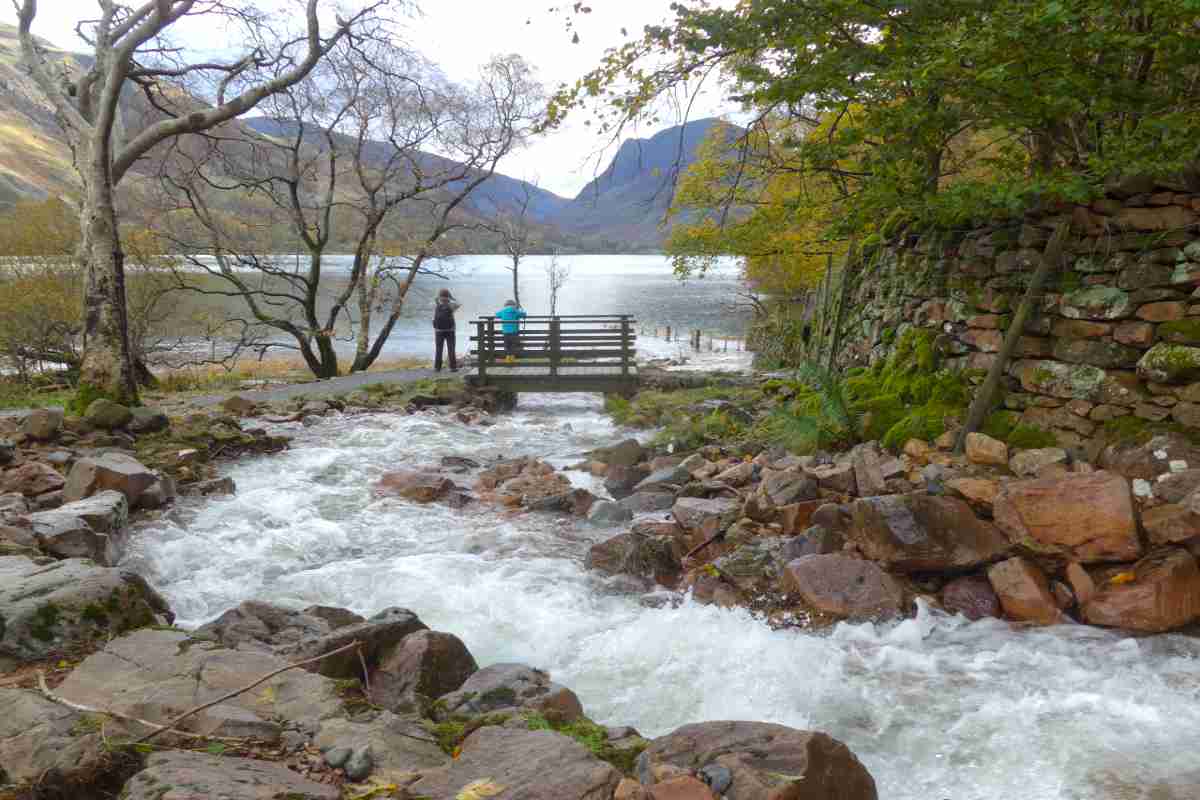 I went on a fungi foray. This autumn's combination of damp and warmth have made it a good year. I found one tree near the river hosting the fruiting bodies of three different species and thought of Merlin Sheldrake's recent book Entangled Life, which has highlighted the often-overlooked importance of fungi in ecosystems and human culture and reminded us that fungi do most of their vital work out of sight, underground, in the Wood Wide Web.
The rain and wind stopped at last. We spent a bright, calm day admiring the scree slopes of the austere Honister Pass and walking around Buttermere, appreciating every nuance of light and colour all the more because of the dour cloud cover of previous days. Everywhere waterfalls were pounding down the fells. What great names: Sour Milk Gill, Moss Force …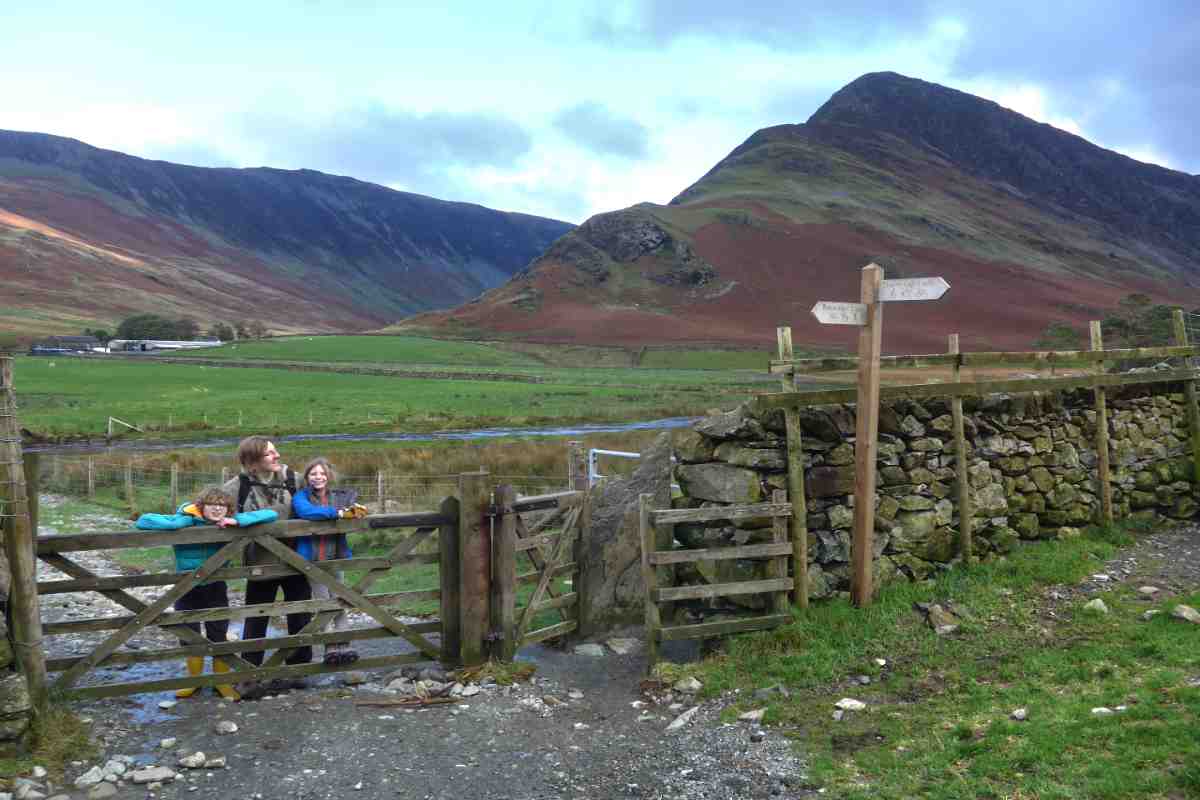 This is the very bridge next to YHA Borrowdale from which we'd been watching the River Derwent in spate. Turner depicts a golden evening with cows cooling off in the shallows and Castle Crag towering in the background. The scene couldn't have been more different when we were there, but we hope to return — in less arduous conditions — for a swim and a walk through Johnny Wood with a magnifying glass.