YHA Milton Keynes
Ben Lerwill headed to YHA Milton Keynes with  a large group of university friends.
 In honesty, Milton Keynes wasn't where we thought we'd end up. We were five families in search of somewhere to spend Easter weekend together. The parents were all one-time university friends, the kids were all devotees to the idea that life should be lived very loudly (seriously, all of them). We needed somewhere central to all five families – ideally somewhere with character but without a hefty price tag. The holiday cottages we looked at were either too small, too expensive or looked too easily damageable by rampant four-year-olds. A hotel? No chance. Bedtimes would be a nightmare. 
 So – and you're ahead of me here, I can tell – when an Exclusive Hire of YHA Milton Keynes was suggested, online reviews were checked, group emails were exchanged and websites were consulted. The price was attractive. We booked. A few months later, five family cars could be found convening on a corner of Buckinghamshire that none of us knew  much about. 
Because – let's be frank, and this is no slight on the good people of the town – Milton Keynes doesn't tend to feature too often in travel magazines. It's all concrete cows and endless roundabouts, surely? Well, surprisingly, no. The historic core of Milton Keynes is a small village with a 13th-century thatched pub and an even older church. The hostel occupies a converted farmhouse in this village. 
 The location was the first plus. The second was the hostel itself. It had a big garden. It had a big kitchen. It had dorm rooms upstairs and common rooms downstairs. It was far enough from other houses for the kids to roam freely and excitably, and it held enough big green duvets to create a massive den that may not have been stable but was at least soft. 
 By day we turned the communal dining area into a Disney-soundtracked craft room – lots of colouring-in and gluey hats – and on the Sunday the garden became the scene of a half-delirious chocolate egg-hunt. In the evenings we put the kids to bed, then put them to bed again, then gathered around huge one-pot stews and watched the wine stocks diminish. We cooked group breakfasts fit for armies and even managed a walk out to the infamous concrete cows (they confused the kids, I have to say). The weekend was what we wanted it to be: long, fun and full of silliness. And the best part? Being our own bosses in a building big enough to keep all seventeen of us happy. 
YHA Tanners Hatch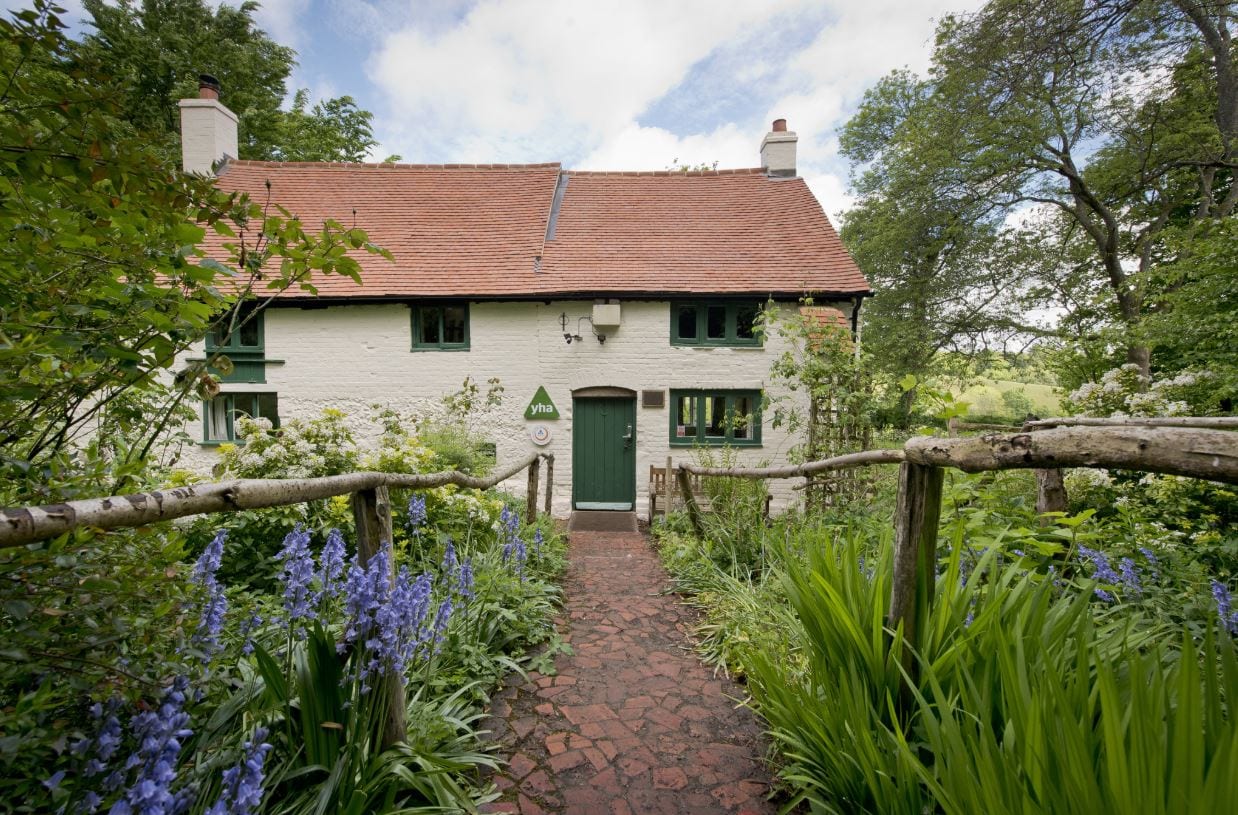 For Cat Scully's family and friends, a weekend of rural seclusion proved a winner!
 The idea was to get the kids out. Some place where their noses weren't pressed up against screens and their auditory senses would be engaged without headphones. YHA Tanners Hatch sounded like the perfect spot. A remote cottage stuck in the middle of the Surrey Hills woodland, available for anyone to rent exclusively through YHA. We recruited another family of mud-seekers, making our party four adults and five kids in total. For two nights, wellies were going to replace Heelys, sticks instead of tablets and tiredness would come from fresh air, not brain drain.  
 On a grey February evening, we rolled up to the entrance of the track that led to our temporary haven. Peering down the muddy path, it was apparent utopia required gaiters and Gore-Tex. But, we had come prepared: every child had wet weather gear and wellies were quickly lobbed around like American soldiers dishing out chocolate bars. Office worker grunts were muttered as us parents hoiked on our overstuffed backpacks, food supplies and wine stock. And within two steps into a leafy tunnel, our adventure had begun.  
 Like hostels across the country, the best part about YHA Tanners Hatch is its location. It is almost a mile away from the road, making any trek to and from your car nearly not worth it (depending on your urgency for more nappies or wine). Quaint, clean, warm and cosy, it is the perfect family getaway. As a full-functioning hostel for most of the year, it has an ample number of bunks and beds to choose from, new kitchen appliances, plenty of crockery – and most important of all (when you've come to play in the woods), hot showers and heated rooms. Walks tend to be even better, I've found, when you can stick the kettle on and open a packet of biscuits as soon as you spill through the door.    
 The kids 'bagged' their bunks, enjoying their freedom to clamber and explore the place. "We have it all to ourselves?!!" they marvelled. Yes. The whole thing. Not only the cottage but the incredible view it has of this Area of Outstanding Natural Beauty. There was no one to bother and not one to bother us. We could make as much noise as a bunch of excitable kids' decibel levels go, or we could enjoy the peace and quiet the surrounding woodland offered.  
 The weekend unfolded as we had hoped. During daylight, the kids played in the woods, making dens with tall tree branches, burying each other in leaves, playing tag in floppy wellies (several falls and tears were not amiss). A few times we assembled the troops and headed out to explore the intertwining paths found leading past the cottage. Evidence of other hikers or horse riders were found in muddy prints left behind, but we rarely bumped into anyone. We saw a weasel. We made walking sticks. Our youngest made up a song called "fallen tree". When evening called, the kids would bound into the cottage rosy-cheeked and hungry, where we could answer their needs with a lit fire and a big hot bowl of 'help yourself'. Admittedly, books and board games tended to be left untouched in favour of pillow fights or hide and seek, but when the kids did need some 'down time,' we simply sat and watched the fire and practised an ancient form of entertainment: talking.  
YHA Rowen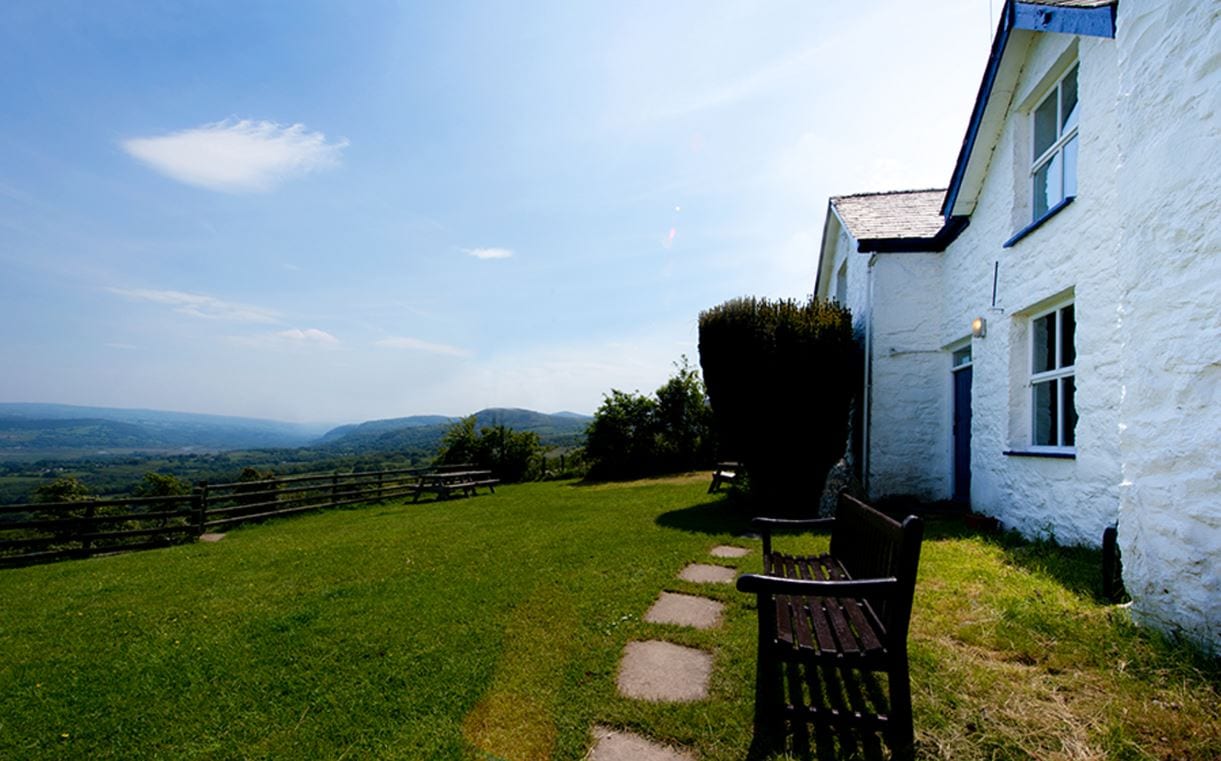 When Daniel Neilson needed a North Wales base, this hillside hostel fitted the bill! 
 The idea was a simple one: get a couple of friends together and run the Anglesey Half Marathon on an early Sunday morning in October. The logistics were mildly more complicated. How to get there? Where to stay? I can't remember who suggested it, but YHA's Exclusive Hire came up. A cursory search of hostels in North Wales turned up YHA Rowen, a rural farmhouse with four bedrooms and space for 20 guests. Why not bring the families? Log fires, a well-equipped kitchen and a large garden for the kids to run around in. Plus it was only £225 a night all in. Split between three families, well, there was little convincing needed.  
 A couple of months after booking, 11 of us, five under the age of six, converged at a nearby town for supplies, picked the keys up and then made the steep, steep drive up to YHA Rowen. Like many hostels, and especially those available for Exclusive Hire through the winter months, its secluded location came bundled with views. In YHA Rowen's case, panoramic views from high above the Conwy Valley. Early one morning we had coffee outside in the clear, cold dawn, our mugs steaming as we watched the low cloud burn away to reveal the river.  
 There are more than 100 YHA properties available for Exclusive Hire, from YHA Wooler in Northumberland to YHA Land's End. YHA Tintagel starts at £199 a night, while YHA Hawkshead is from £499 a night and has 72 beds. There are barns and farmhouses, old schools, mansions and former shooting lodges.  
 It's not all about the location. For a group of families and friends, other elements make an Exclusive Hire stay as straightforward as possible. A quality kitchen and a big fridge, books and board games, multiple showers and enough rooms for the kids to play seriously lengthy games of hide-and-seek.  
 While the 'grown-ups' cooked, stoked fires and opened beers, the children were outside exploring, yelping with what we hoped wasn't pain, not quite yet convinced of their new-found freedom. 'What, you mean, I can just go out there, on my own?'. We settled in for three nights. One morning three of us hobbled for 13 miles around Anglesey, but the rest of the time was taken exploring the local area, taking long walks in the hills, relaxing by the fire and spending hours over dinner. Would we do it again? We already have!