By two (ok, three!) very happy camping pod guests – Annette Hames & Ian Inglis…and Robbie!
From a distance they look like the upturned hulls of freshly varnished boats or traditional Romany caravans, but the camping pods recently installed by YHA in the grounds of selected hostels have been a real boon to us and our border collie, Robbie, over the past few months.
We've been members of YHA for many years, but faced with the perennial problem of finding dog-friendly accommodation, sadly we've been unable to stay in Youth Hostels as often as we would have wished. So we were delighted when, in the spring of 2017, we learned that YHA has equipped several of its hostels with pods, cabins and tipis, thereby enabling guests to bring dogs. Since our three children have moved away from home, it's not always possible to find dog sitters, so we were keen to Youth Hostel with Robbie as soon as possible. In the past few months we've visited four hostels, all within striking distance of our home in Newcastle upon Tyne: YHA Grinton Lodge and YHA Malham in the Yorkshire Dales in May, and YHA Hawkshead and YHA Borrowdale in the Lake District during August.

So far, we have chosen to stay in the two person pods. They have a small platform at the front, usually with two plastic chairs, and a wooden picnic table nearby. The pods contain two single beds, an electric heater, lamp, and space between the beds where Robbie can curl up comfortably. The pods are within the hostel grounds, although dogs are not allowed within the hostels themselves, and so we take it in turns to shower and go to breakfast. However, at YHA Borrowdale we were glad to find that dogs are allowed in the bar/cafe, allowing us to have breakfast together and (it is the Lake District after all!) to have a cup of tea and shelter from the rain. At YHA Hawkshead it was also possible to eat on the veranda, just outside the breakfast room, and have Robbie join us. He was very happy to wander round the extensive grounds at YHA Hawkshead and YHA Borrowdale, and all four hostels had loads of walks for him, right from the hostel entrance. He was less happy at YHA Malham, where the pods are situated by the gravel car park which he found a little difficult to walk on, as he now has very arthritic joints.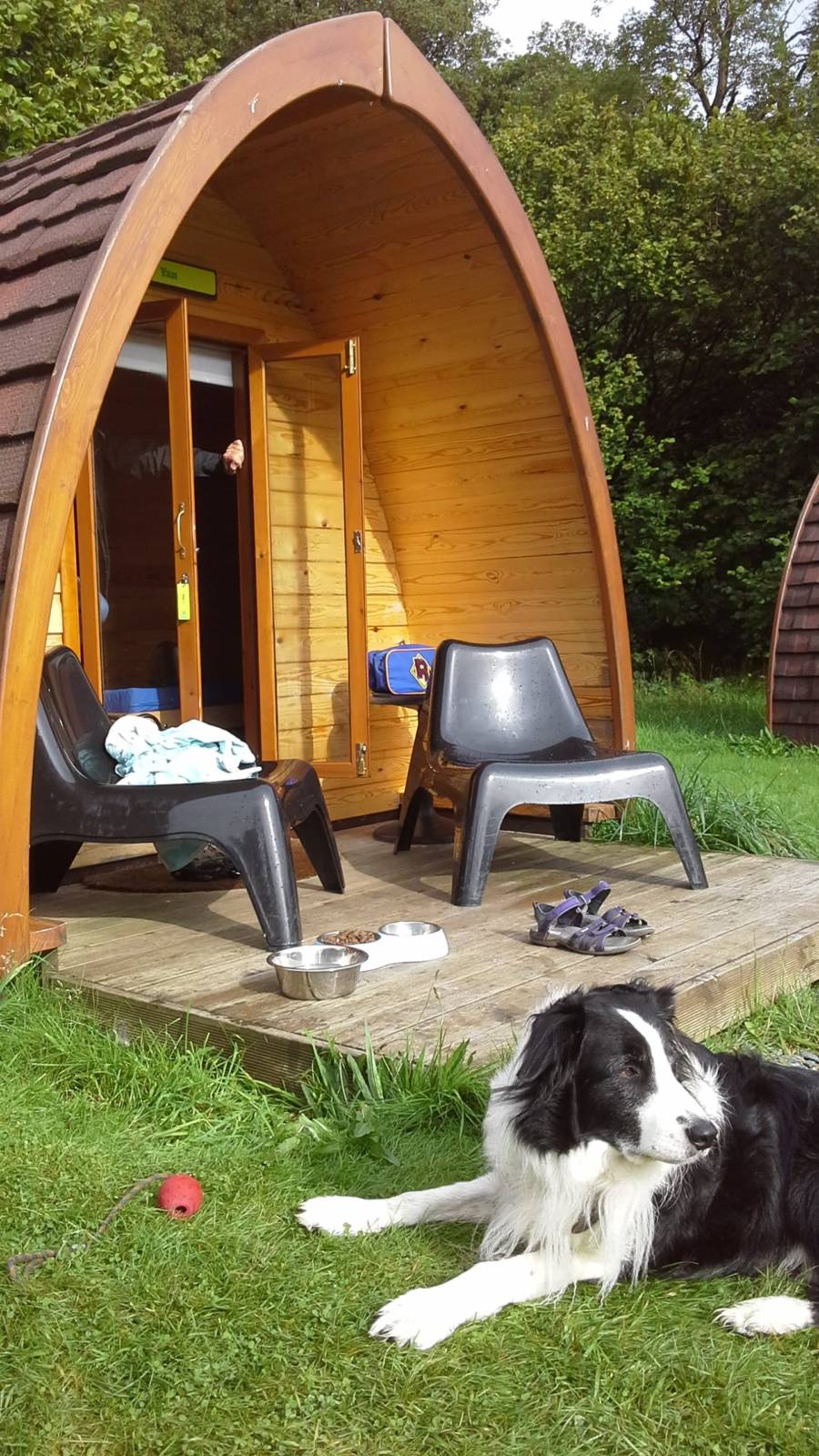 Each pod benefits from not being directly overlooked, and – when we want it – privacy is ensured by the full-length blinds covering the glass-fronted door. One of the joys of staying in the pods is to look out of the door as dawn breaks over the hills, fields and woodlands, or to sit on the platform in the evening and take in the starry skies, while Robbie lies outdoors. We've found that our fellow pod-dwellers are keen to talk and to share their experiences, with or without dogs.
The pods have definitely reinvigorated our enthusiasm for Youth Hostelling, and we're already planning our next trip, to the Brecon Beacons. And Robbie? Well, he seems to have enjoyed our recent visits as much as we have.