Pegs and poles? Check. Sense of adventure? Check. Ben Lerwill takes his family on a camping trip to Snowdonia.
A night to remember
The way you stay can be as important as the place you stay. That's why we offer so many unique and unusual overnight options. Forty YHA hostels have camping pitches, while 20 offer glamping, 10 have camping pods, cabins or huts and two have deluxe pods or cabins. We also have two camping barns. Who says sleep can't be fun?
We're just back from a long weekend's camping trip in Snowdonia. Four of us – me, my wife, our eight-year-old son Joseph and our four-year-old daughter Bethan – stayed at YHA Idwal. Other than the myriad joys of family life under canvas (woodland walks, healthy debates over the whereabouts of the mallet, discovering Lego in your sleeping bag at 2am), we also got out into the national park itself. These were the two stand-out experiences.
Adventure one: Conquering Snowdon
Bethan has a new word. Ginormous simply won't do. "Snowdon is GI-MASSIVE!", she informs us excitedly. Her enthusiasm is understandable, given that she's just arrived at its summit. Below us, a deep green view of the valleys is splashed with sun and pooled with patches of white cloud. The sight is one to linger over. Unless, of course, you happen to be four years old. "What flavour ice cream can I have?" she continues, not missing a beat.
The four of us have reached the top of Snowdon, but we didn't arrive together. Joseph and I have made a three-hour clamber up the Miners' Path, while my wife has brought Bethan, for whom we felt an on-foot ascent might be stretching it, on the railway from Llanberis.
So far, so good. The Miners' Path has proved ideal for Joseph, with an easy initial incline and plenty of hands-on scrambling (although nothing too taxing) towards the top. And while Snowdon's mountaintop café might have its detractors, the promise of a snack counter serves as serious motivation for an eight-year old who would climb K2 if you told him there was a KitKat to be had.

So having convened for lunch at the top, and given both kids the chance to sit on our shoulders and be "the highest-up person in Wales AND England", we turn our attention to the descent. The plan is to head back down the Miners' Path together – a good idea, as it turns out. Time is on our side, and we work our way down slowly, filling water bottles from streams and pointing at helicopter fly-pasts. We even manage a paddle in Llyn Llydaw.
It takes hours, of course. Four-year-olds don't move at fell-runner pace. But the afternoon light bathes the eastern peaks of the national park in a woozy glow, and by the time we make the 30-second walk from the end of the trail to the door of YHA Snowdon Pen Y Pass (open to non-residents, naturally), there's a huge sense of achievement. Pizza and beer have rarely tasted so good.
Fun factor: Parents 9/10, Kids 8/10
Value for money: 10/10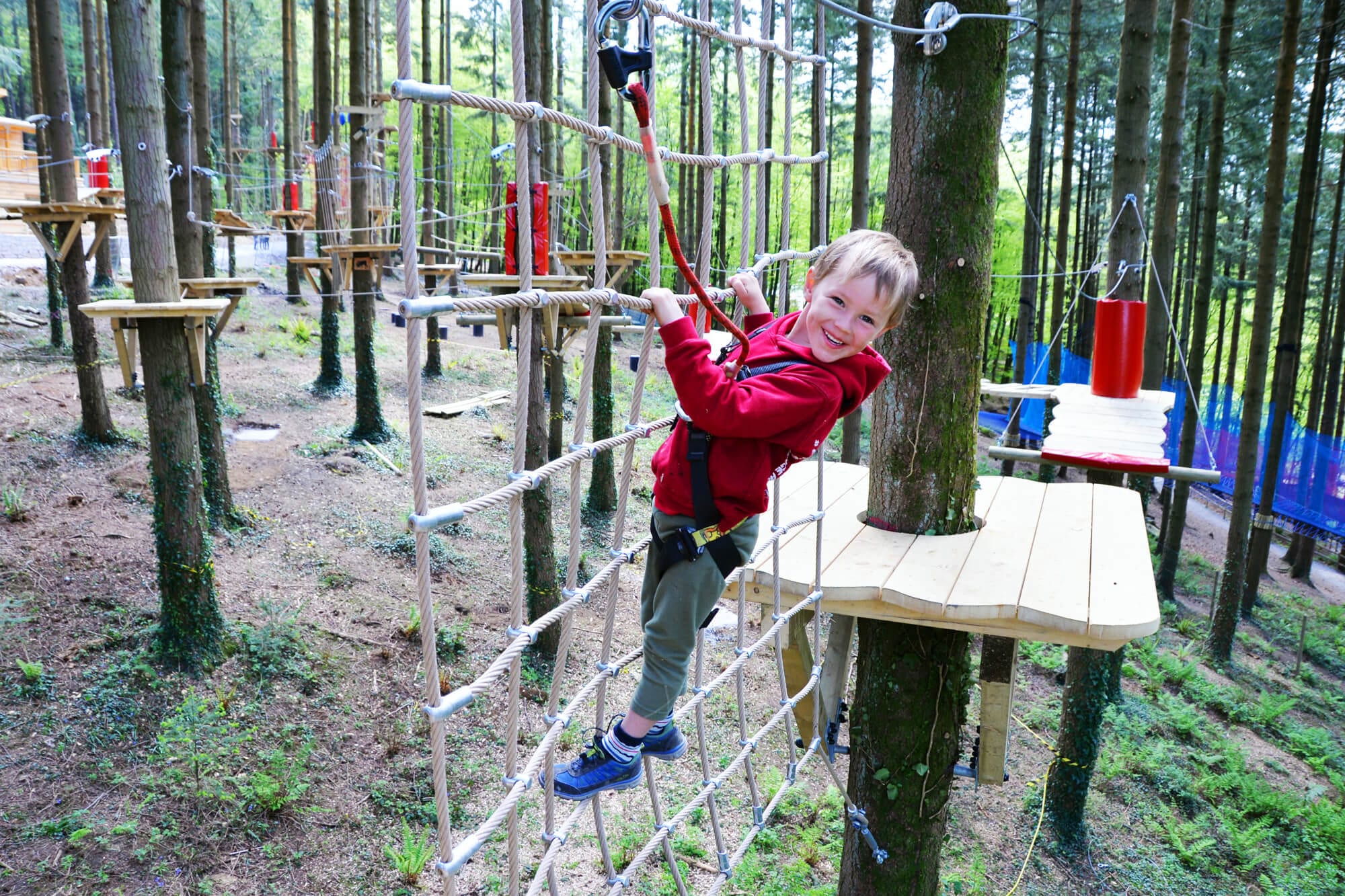 Adventure two: Taking on Zip World
Experience now tells me that if you're an eight-year-old boy with a liking for speed and adventure, few things are likely to get you more geed up than the prospect of a toboggan-style roller-coaster that hurtles downhill through woodland, whizzing past trees at 25mph. Zip World's new Fforest Coaster does just that, channelling a combination of adrenaline and the outdoors into 710 whoop-inducing metres of straights and bends.
Zip World itself is spread over three Snowdonia sites. There's the signature Velocity zipline – Europe's longest and the world's fastest – at Bethesda (it's popular, so book months ahead
if possible), a range of other ziplines and activities at Blaenau Ffestiniog, and a further set of outdoor thrills, most of them family friendly, at Betws-y-Coed.
We start the day at Blaenau Ffestiniog, where the headline draws include Bounce Below, a set of trampoline nets suspended in a cathedral-sized underground cavern. We're here for something on an even grander scale, however: Titan, billed as Europe's largest zip zone. Like Bounce Below, it's good for kids aged seven and over, so Joseph and I tackle the three ziplines together.
Thick cloud means the views across the mountains and mines are largely obscured, but the three lines – Alfa, Bravo and Charlie, covering an impressive combined total of more than 2,000 metres – all serve up highspeed kicks that have Joseph giddy with glee, particularly when he's given a 10kg "turbo bag" to get him going faster still. We're even able to ride one line in tandem.
Then it's onto Betws-y-Coed, where all four of us try out the new Go Ape-style Tree Hoppers course (for age 5+). It has Bethan swinging, climbing and jumping with a smile best described as "gi-massive". For the kids, however, it's all an hors d'oeuvre to the Fforest Coaster. We split into two parent-child toboggan teams and go for it. Each ticket allows for three rides – and if your kids enjoy it even half as much as ours did, you'll be mighty glad of them.
Fun factor: Parents 8/10, Kids 10/10
Value for money: 7/10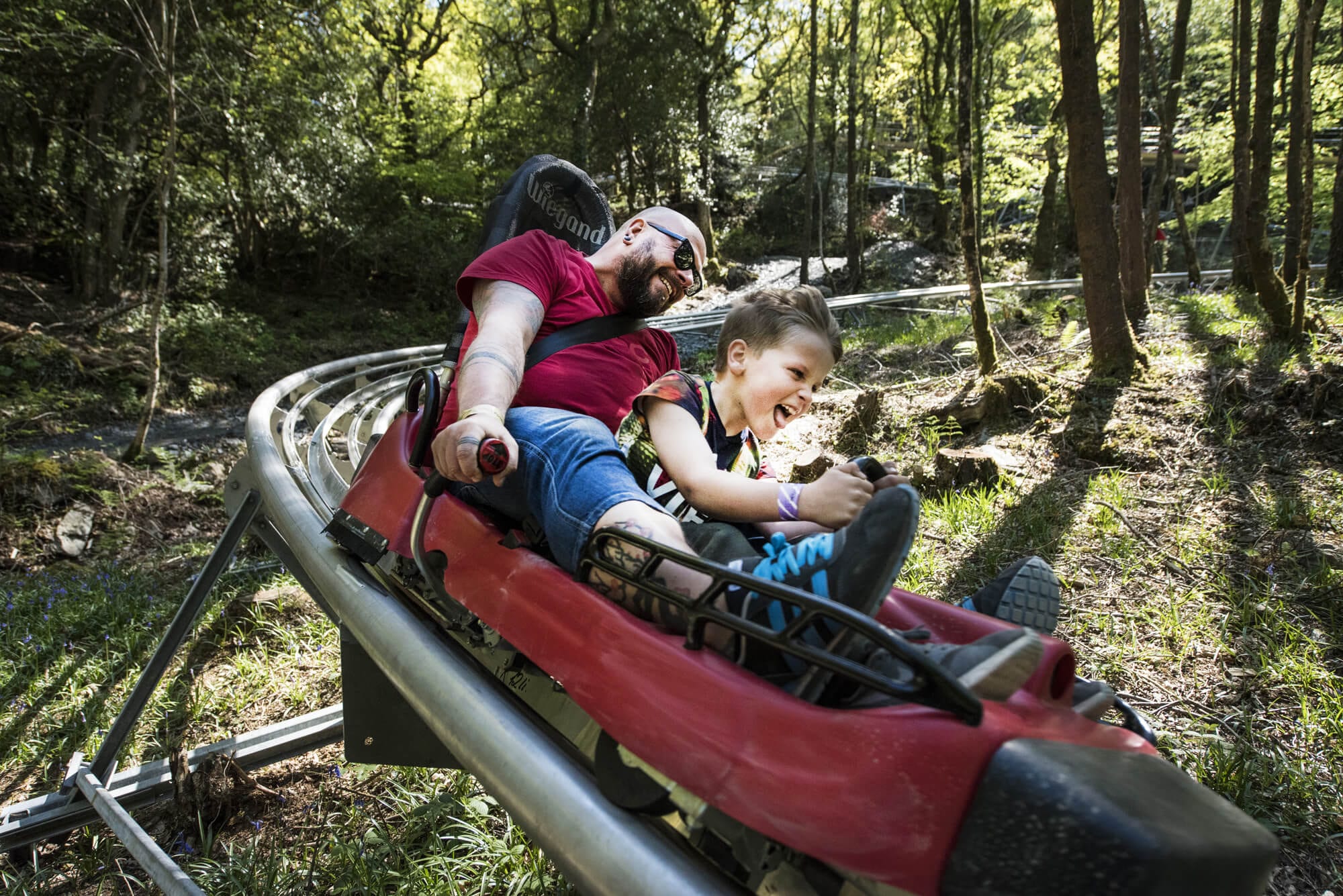 Discover more about YHA.