Family autumn walks full of muddy puddles, piles of crunchy leaves and rosy cheeks are what autumn is all about really, isn't it? We know that sometimes, however, even the most daring young explorers need a bit of persuading to get them bundled into their coats and excited about a walk in the great outdoors.
We're going on a bear hunt!
We're going to catch a big one
What a beautiful day!
We're not scared
As well as writing one of the best loved and satisfyingly repetitive children's books of all time, Michael Rosen's 'We're Going on a Bear Hunt' also provided the perfect blueprint for making family walks into an intrepid adventure. The brave family in the story set out on a bear hunt that leads them to several natural obstacles and they find they can't go over it, they can't go under it, they'll have to go through it.
All you need are a few focal points from the story to build your family autumn walks around, a big imagination and a small pot of honey to distract the bear when you find her.
Long wavy grass
This shouldn't be too hard to find! Many good public footpaths wind their way through fields, bracken and overgrown weeds — any of these could add the long wavy grass to your walk. The meadows of the Brecon Beacons are the perfect place to forge your way through swishy swashy grass on your hunt for a bear.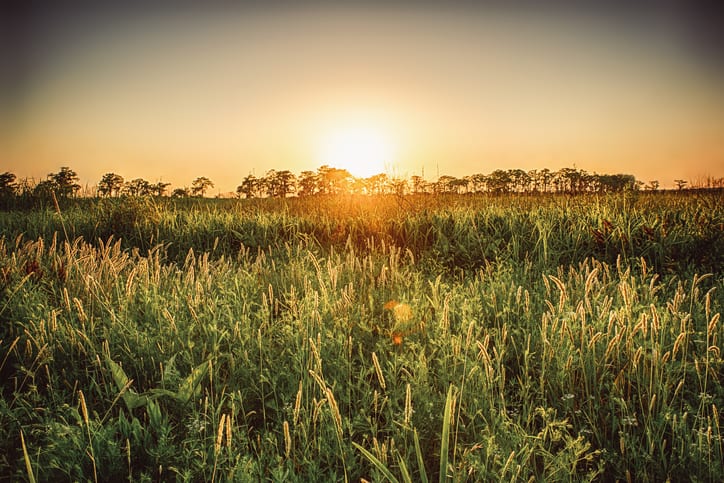 A deep cold river
Luckily, at this time of year most rivers do tend to be deep and rather cold. This could be one of the more dramatic points on your bear hunt, especially if your river leads you to a waterfall or a lake. Now, autumn is not the best time to slash splosh through your deep cold river, so your hunters may have to settle for going over it. However, if you set out from YHA Ilam Hall in the Peak District it's only a 30 minute walk to the Dovedale Stepping Stones, where brave bear hunters can go through the river without getting their feet wet.
Thick oozy mud
Funnily enough, thick oozy mud shouldn't be too hard to come across either. This one is probably already a firm favourite thanks to Peppa and her pals and no doubt your little hunters are experts at finding it on their own (whether you want them to or not). It's likely that any walk you go on will have an abundance of thick oozy mud to jump in and squelch through, maybe even enough to show up a paw print or two…
A big dark forest                        
The Forbidden Forest in Harry Potter, Winnie the Pooh's Hundred Acre Wood, the snow-capped trees of Narnia… You can't pick up a children's book without reading about an enchanted forest inhabited by fairy-tale beings. They're places where our imaginations run riot and autumn's the perfect time to give it free reign. For a truly magical experience explore the rainbow of seasonal colours in the Forest of Dean before staying the night in style at YHA St Briavels Castle.
A swirling whirling snowstorm
Huh. Well. Barring a sudden deluge from the Beast from the East 2, there's not much we can do to help you with this one, so you'll have to get creative. Bubbles, breadcrumbs, confident renditions of Let it Go (we all know the words, you're not alone) could help your little bear hunters battle through an imaginary blizzard. Of course, you could always plan an adventure in Snowdonia National Park and plead a technicality.
A narrow gloomy cave
The final destination in the story book is likely to be a firm favourite with your little adventurers – a narrow gloomy cave where you may finally encounter a slumbering bear. Often enough a child that can't be tempted by soaring mountain views will jump at the chance to explore the underground world of caves on a family walk, so if you can work this in you're onto a winner. Many family friendly walks from YHAs in the Lake District feature caves on their route, or if you're looking for a more unique experience you can stay at YHA Castleton Losehill Halle in the Peak District and take a boat through a horizontal mine shaft into Speedwell Cavern.
And there we have it. Your bear hunt blue print for an idyllic family walk this autumn. Using just a couple of these focal points to theme your walk could inspire little imaginations and create a lasting memory for your family.